Follow us on Instagram, Facebook and Telegram for the latest updates.
Wild Rice's annual Christmas pantomime is back. Playing at full capacity for the first time in three years (yes!), this year's edition gives a 140-year-old Tuscan folktale the Wild Rice treatment for all the fun and warmth we've come to expect from its pantomime alone. from Singapore.
Pinocchio, Wild Rice's sixteenth original Christmas musical, is a heartwarming and heartwarming celebration of friendship and family ties. Playwright Thomas Lim has taken elements of both the original tale and Disney's best-known adaptation and skillfully translated them into the Singaporean context of P-plates, learning trips and aunty con artists to chronicle the adventures of the puppet who wants to become a real boy
---
Wild Rice's Pinocchio: Colorful Characters – From Plate Fairies P and G-Hoppers That Make You Smile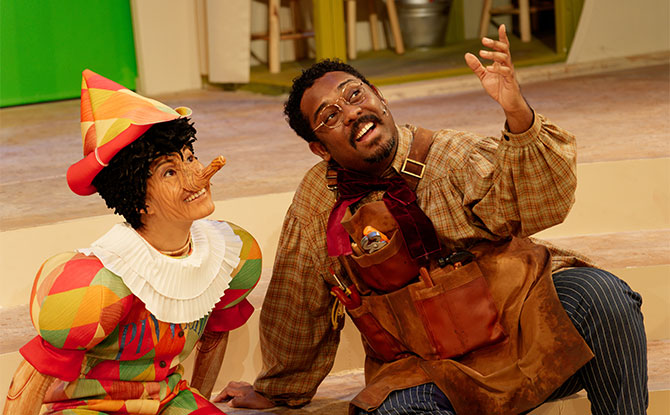 Mae Elliessa and Ebi Shankara led the cast with strong performances as the serious Pinocchio and the gentle Geppetto, respectively.
But it was the colorful cast of supporting characters that took the cake for me, from the P-plate blue fairy (Dwayne Lau) to rapper G-Hopper, NOT a cricket, ok! – (Siti Kalijah Zainal) and Kena's con-turned-con duo Franky Lee (Vester Ng) and Lucky Lee (Michelle Ler). All possibly local stereotypes, perfectly executed and warming the cockles of my heart.
Also deserving of a mention are the adorable and talented First Stage Kids who took on the role of the choir, very creatively deployed by director Pam Oei.
As a bonus, the intimacy of the push stage at Wild Rice @Funan allowed us to get up close and personal with the performers and created an immersive experience for my young viewer.
---
Rich Themes: Of Truth and Parenting
In addition to the riotous fun, the production was also home to surprisingly rich themes.
My own childhood memories of Pinocchio are mostly of the nose not allowing the puppet boy to tell a lie undetected. To my young mind, the moral of the story was simple: don't lie. But what if the truth is not black or white?
As the irrepressible Franky & Lucky teach Pinocchio a lesson in lying, young audiences are cheekily introduced to the concept of euphemisms in the charming "Half Truths" number with irreverent references to "seasonal ponds" and "automatic switches" by way of of illustration.
Experiencing Wild Rice's nuanced interpretation of the story as a parent also revealed a surprisingly resonant theme: that of parents who stumble while trying to do what's best for their children. Geppetto's lament over failing her son in the song "Gently Goes the Parents Hand" was strangely poignant and sobering, as scars inflicted by parents in childhood can often have consequences in later life. Here, as at many points in the production, Julien Wong's music and Joel Tan's lyrics shone, with the band under the musical direction of Joel Nah.
---
Creative art: wooden or real? And that nose!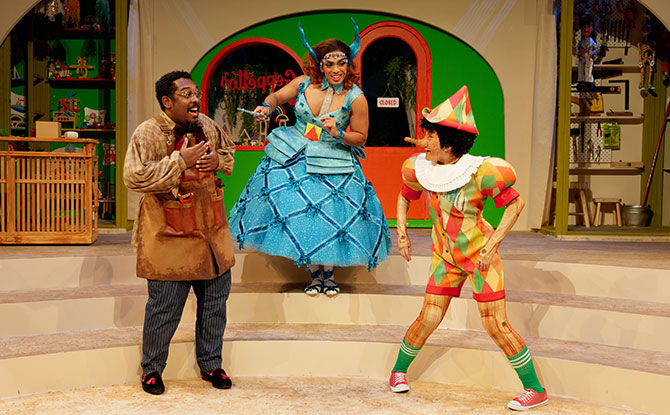 Congratulations also to the creative and artistic team.
My young viewer, who is mechanically inclined, was fascinated by the revealing of Pinocchio from his block of origin (wood) and his subsequent transformation from wood to flesh. Some very clever wardrobe and a brilliant performance by the talented Mae Elliessa initially had him undecided for quite some time, whether he was a human or a "robot" on stage!
And how did the team tackle the puppet's infamous growing nose? No spoilers, you'll have to go see for yourself! Suffice to say, he was pretty resourceful.
Billed for ages 5-105, Pinocchio is a truly fun romp for the whole family. As a bonus, the downloadable kids' activity book and cast recording available on Spotify and other streaming platforms will easily extend the fun for a while beyond the theater walls.
Pinocchio is now at Wild Rice @ Funan through December 24, 2022. Get more details here.