Le Diplomate goes all-in on winter wonderland decor for the holidays. Photography by Nicholas Karlin Photography
Christmas Eve (Saturday, December 24) is the best time to dine in DC, whether you're looking for a festive brunch, a spectacular dinner, or a casual place to gather with family and friends. If you're looking for a seafood indulgence for Christmas Eve, check out our guide to Feasts of the Seven Fishes in the city.
Dinner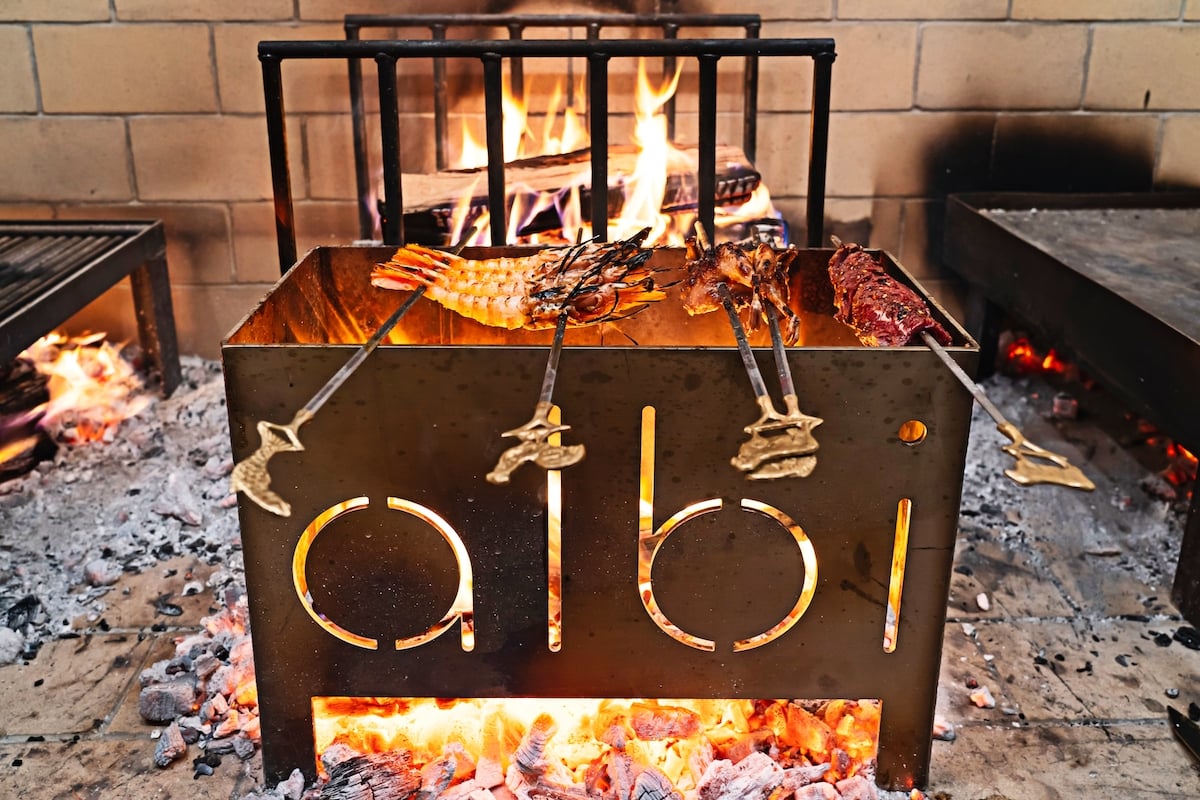 Alby
1346 SE 4th Street
Chef Michael Rafidi hosts Christmas Eve "sofra" feasts in his Michelin-starred Levantine wood-fired dining room. The feast ($125 per person) is "subject to spontaneity" with a mix of individual and family dishes from home. Ticketed reservations are available here.
amber
523 Eighth Street, SE; 1547 Seventh St., NW; 2901 Wilson Blvd., Arlington
Hours: 4 to 11 PM
Celebrate Christmas Eve with an all-you-can-eat Balkan feast with unlimited small plates ($79 per person). Specialties include beef schnitzel, Black Sea bass with lentil stew, and Istrian pasta with wild mushrooms, truffles, and Parmesan. A take home option is also available.
Anju
1805 18th Street, NW
Hours: 11 AM to 7:30 PM
In lieu of brunch, the contemporary Korean restaurant near Dupont Circle serves its normal menu all day on Christmas Eve. Enjoy Mama Lee's classics like chili-braised chicken thighs, or chef Angel Barreto's standout dishes like a ssam galbi board or crispy whole branzino.


blue duck tavern
1201 24th St., NW, Park Hyatt
Hours: 5:30 to 10 PM
A la carte dinner offerings at the upscale West End restaurant include jumbo crab cakes, roasted chestnut soup, and pan-seared scallops. Choose between the Mont Blanc candied chestnut cream or the dark chocolate Black Forest cake for dessert.

the bombay club
815 Connecticut Ave., NW
Hours: 5 to 10 PM
Christmas Eve diners seeking upscale Indian cuisine can choose from an a la carte menu featuring holiday specials such as lamb osso buco with cinnamon and cloves and steamed Christmas pudding with maple-walnut ice cream, all served in a stately dining room near the House. White.

bourbon steak
2800 Pennsylvania Ave., NW
Hours: 5 to 10 PM
The Four Seasons hotel in Georgetown went all out for the holiday decorations, from the lobby lights to the cozy open-air "chalets" inspired by the luxury hotel's ski resorts. Guests can reserve the chalets and choose between different "resort" menus such as Hot seafood with miso butter from the Whistler suite. A full Bourbon steak menu is also available.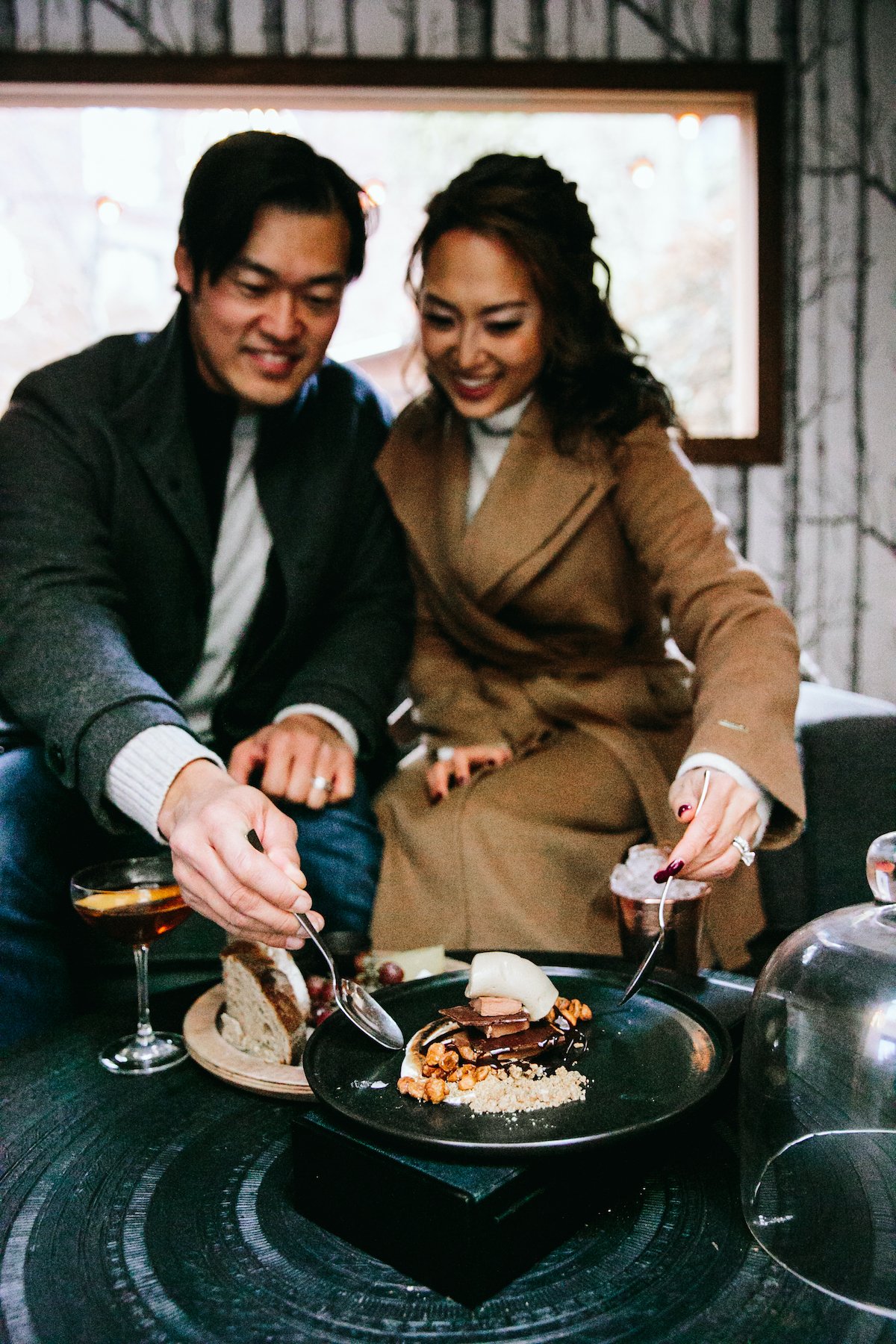 boy
2029 P St., NW; 423 Eighth Street, SE; 7280 Woodmont Ave., Bethesda
Hours: 11 a.m. to 9 p.m.
Anju and Mandu's Chinese-Korean sister restaurant is offering a Christmas Eve grab-and-go feast starring a half Peking duck and all the fixings, a snack pack, wagyu beef egg rolls, coconut sugar cookies and more ($95 serves two).
Cut by Wolfgang Puck
1050 31st Street, NW
If prime rib is your holiday favorite, Puck's Restaurant at Georgetown's Rosewood Hotel is a good holiday option. The kitchen offers deluxe to-go packages with the Meaty Centerpiece for Two ($325) for Christmas Eve and Christmas Day (available to order here). Christmas Eve and Christmas Day dinner reservations ($185 per person) are available on OpenTable.
Gravity
1401 Okie St., NE
Hours: 5 to 10 PM
Chef Matt Baker's Michelin-starred restaurant serves a $165 menu with luxurious dishes from lobster, seared scallops, Wagyu beef and more. Dinner reservations can be made here. Baker also offers takeaway holiday packages through its catering division with prime rib and Yorkshire pudding, spiced date cake and other holiday classics (options and orders can be found here).

Relationship
1015 7th St., NW
Hours: 6-8:30 p.m., Pickup to Go 5-5:30 p.m.
For $150 per person, enjoy a five-course menu of blue fin bull sashimi, blue crab and winter spice emulsion, and a choice of grilled Maine lobster or beef tenderloin. Reservations can be made at Tock. Chef Eric Ziebold also offers celebration meal packages for two ($200) with dishes like truffle-stuffed roast chicken. Reservations and takeaway packages can be booked here.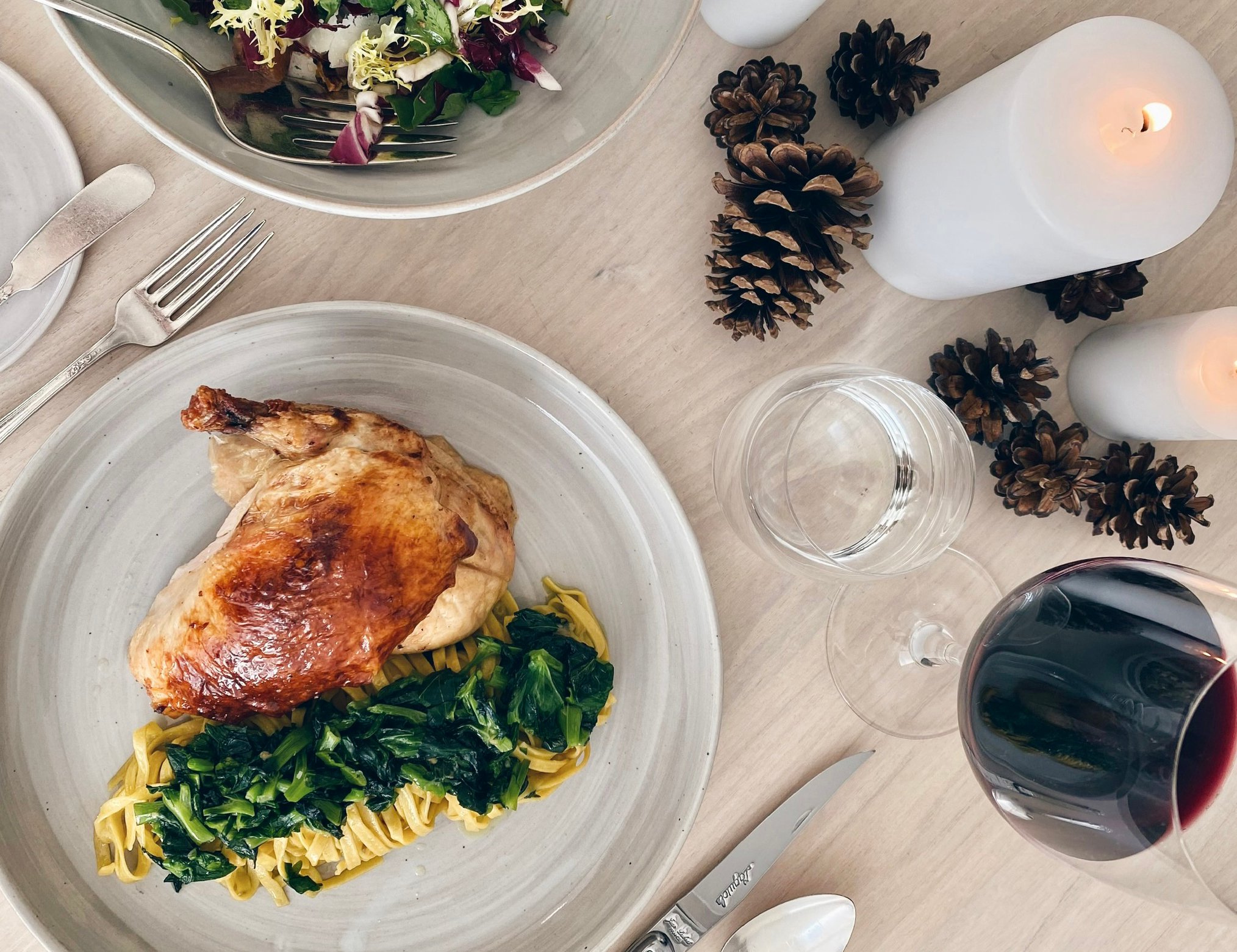 the graduate
1601 14th Street, NW
Hours: 9:30 a.m. to last seat at 9 p.m.
Logan Circle's bustling French brasserie is decked out for the holidays with sparkling lights, Christmas trees and abundant garlands. On both Christmas Eve and Christmas Day, the restaurant will serve its regular a la carte menu throughout the day with additional festive specials such as turkey bagel or Rossini filet de boeuf with wild mushrooms, brioche, foie gras and juice truffle. For dessert: bûche de Nöel.
moon rabbit
801 Wharf Street SW, Intercontinental Washington DC at The Wharf
Hours: 11:30 AM to 12 AM Sunday morning
Celebrate the holiday with contemporary Vietnamese food, available for dine-in or takeout. Chef Kevin Tien offers char siu smoked brisket, spinach and artichoke dip, miso parmesan potatoes and five-spice chocolate cake with Vietnamese coffee ganache. The reservations are here. The pasta is also available to go ($250; serves four) and can be ordered here.
Old Ebbitt's Grill
675 15th Street, NW
Hours: 9 a.m. to 2 a.m., kitchen closes at 1 a.m.
Christmas Eve is a typically busy night at Clyde's Restaurant Group locations, and its stalwart spot next to the White House is no different. Choose from fun decorations and an a la carte menu of American dishes, plus a full raw bar.
stable dc
1324 H St., NE
Hours: 5 to 10 PM
The Stable's Festive Menu offers a fondue set menu for $56 per person and includes a glass of sparkling wine, a selection of appetizers, a signature fondue and a selection of desserts. The Swiss mountain cabin-inspired restaurant also has its usual menu available, including braised lamb shanks, venison meatballs, and chicken vol-au-vent dumplings.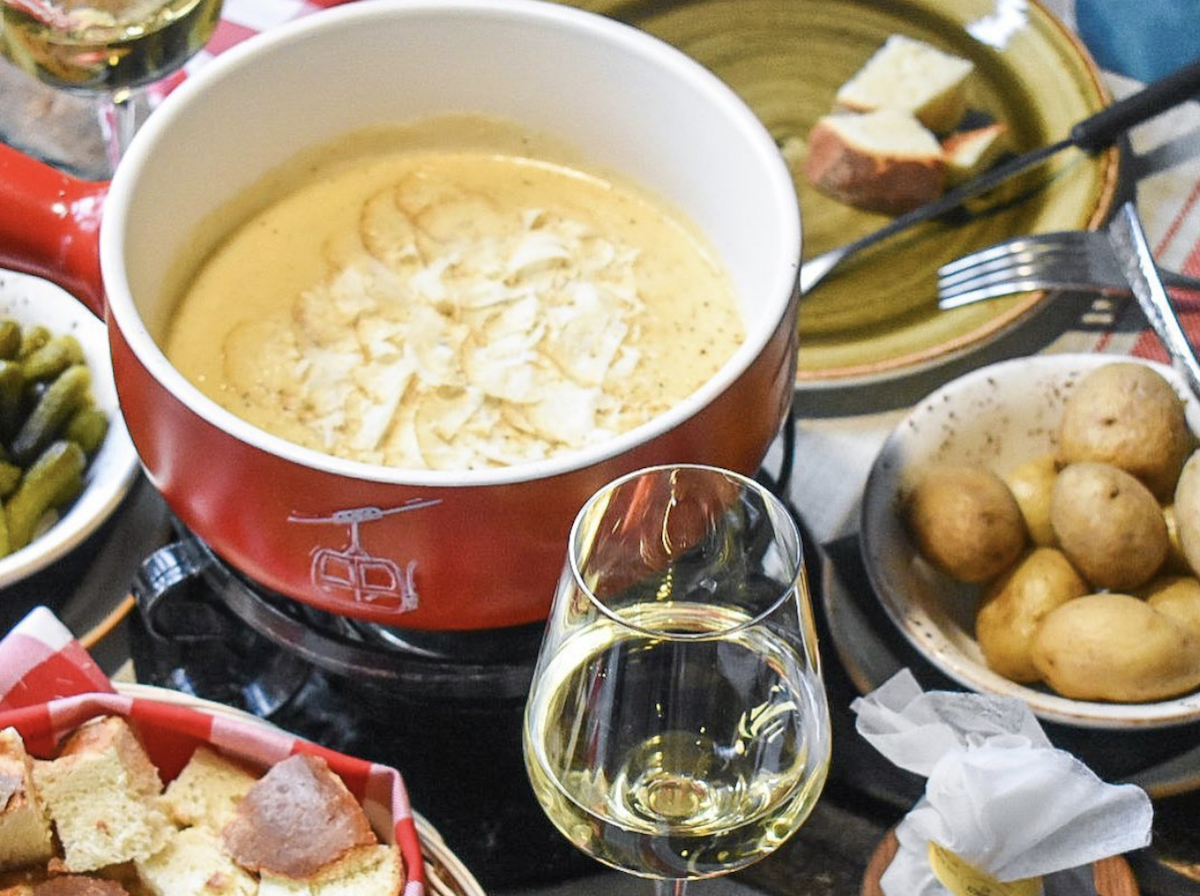 lunch
Food for immigrants+
925 13th St. NW, Planet Word Museum
Hours: 11 AM to 3 PM
Diners can enjoy a pop-up Christmas Eve brunch that channels global flavors with Turkish eggs, churros, and a Christmas Milanese sandwich.
Martin's Tavern
1264 Wisconsin Ave., NW
Hours: Brunch from 9 am to 4 pm; Dinner from 4:30 p.m. to 11:30 p.m.
Martin's Tavern is a Georgetown vacation staple between the festive decorations and comfort cuisine. In addition to the full menu, Christmas Eve specials include oysters on the half shell, prime rib, and braised rack of lamb along with espresso martinis, hot buttered rum, spiced apple cider, and George Washington eggnog.
mari vanna
1141 Connecticut Ave., NW
Opening hours: Bruch from 12 to 16; Dinner from 4 to 10 PM
Warm up with Eastern European cuisine on Christmas Eve. For brunch, dishes include Georgian-inspired cheesecakes and potato pancakes with cured salmon. Start dinner with a selection of caviar and choose from Ukrainian borscht with beef, cured herring, kyiv chicken or Russian beef stroganoff.
Vermilion
1120 King St., Alexandria
Hours: Brunch from 10:30 a.m. to 1:45 p.m.; Dinner from 4 to 8:45 p.m.
Head to the newly renovated Old Town Restaurant for ricotta pancakes, cilantro French toast, or a BLT for Christmas Eve brunch. Reservations are available on OpenTable. For dinner, the seasonal American restaurant offers a four-course tasting menu for $105.