Korean military hotpot, also known as budae jjigaeit's a quick, no-fuss meal that's great for sharing, perfect for a post-happy hour meal if you're with a group of friends in Singapore.
Here you'll find anything from tofu, kimchi, and mushrooms to spam and ramen noodles bubbling in a fiery red broth, and the entire pot is served piping hot to guests, sometimes with a slice of cheese on top. While certain elements of the dish seem quite Korean in nature, it's the addition of spam, baked beans, and cheese that puts many first-time diners off guard.
This is where a little history lesson comes in: Army stew was invented shortly after the Korean War in the 1950s. Food was in short supply and citizens had to make do with what they had. This included a surplus of canned ingredients from US military bases, like spam and baked beans, and with them an easy-to-fill-up fusion stew was born. The dish's painful history has been greatly improved since then, and it is now a popular dish not only in South Korea, but internationally as well.
Hungry yet? In no particular order, we've rounded up some of the best Army stews in Singapore to savor.
Where To Find The Best Korean Army Stews In Singapore:
(Hero and Featured Image Credit: Seoul Shiok)
This story was first published on Lifestyle Asia Singapore
Jump to / Table of Contents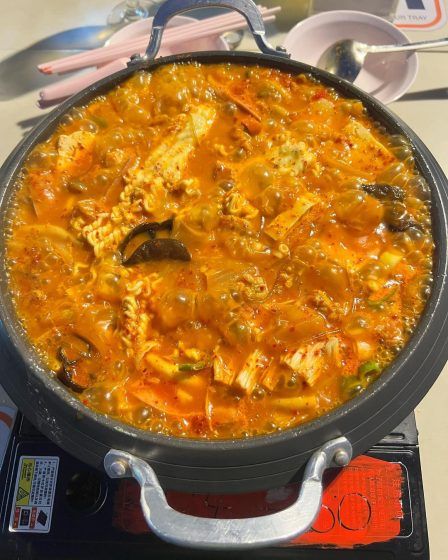 144 Upper Bukit Timah Rd #04-60 Beauty World Centre, Singapore 588177
Pink Candy is a hidden gem, known only to those who love to eat Korean cuisine. The affordable hawker stall, located in the Beauty World Center's outdoor food court, offers a pot of Korean Army stew for two, complete with a generous helping of enoki mushrooms, sausage, cheese, ramen, and kimchi. love the ban chan (garnishes) here? You can order them and receive them packed in tubs to take home.
(Image credit: @tiramisoooo via Instagram)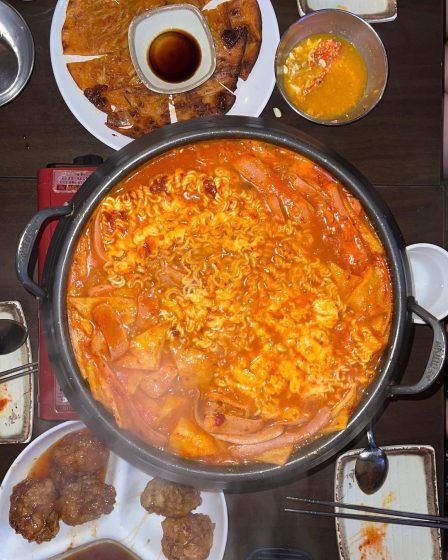 We really enjoyed having the army stew at Woorinara. The big army hotpot comes packed with instant noodles—two, in fact: spam, sausage, kimchi, and fish cake—and made a great sharing centerpiece at the dinner table. It has a much thicker consistency compared to other places, so be sure to wash it down with some soju as well. With a couple of extra sides, it can easily feed four to five diners.
(Image credit: @jeraleats via Instagram)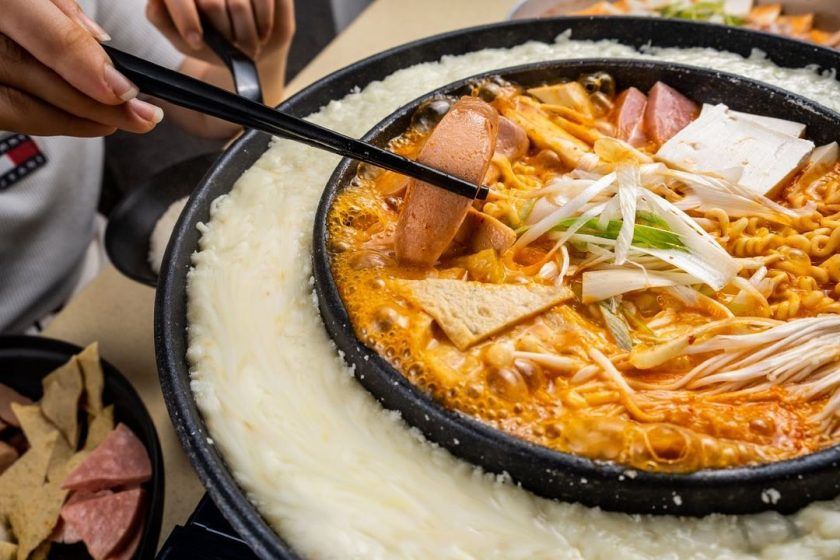 For a superior military hotpot experience, be sure to get the cheese ring military hotpot the next time you're in Seoul Shiok with your friends. Diners are invited to scoop the ingredients for the hearty, bubbling stew in the middle, before wrapping it in some stretchy cheese on the side for a little extra flavor and chew.
(Image credit: @seoulshioksg via Instagram)
04
Ajumma Korean Restaurant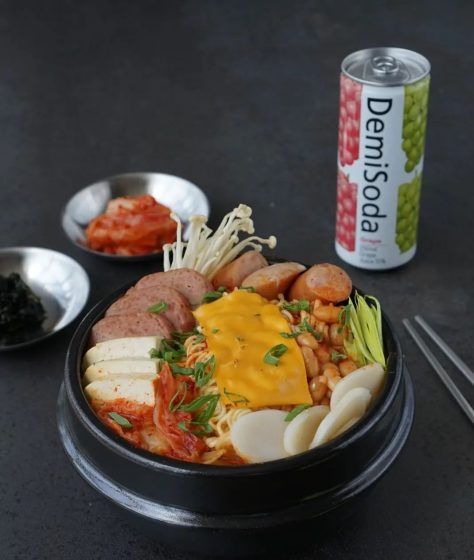 Army hotpot is usually a shared dish, but Ajumma's Korean restaurant caters to all those dining alone, or those whose friends don't want military hotpot that day. These individual servings of Korean stew see a mix of ingredients in kimchi and anchovy broth – think rice cakes, baked beans, sausage, tofu, mushrooms and spam.
(Image credit: @ajummasg via Instagram)
05
Bigmama Korean Restaurant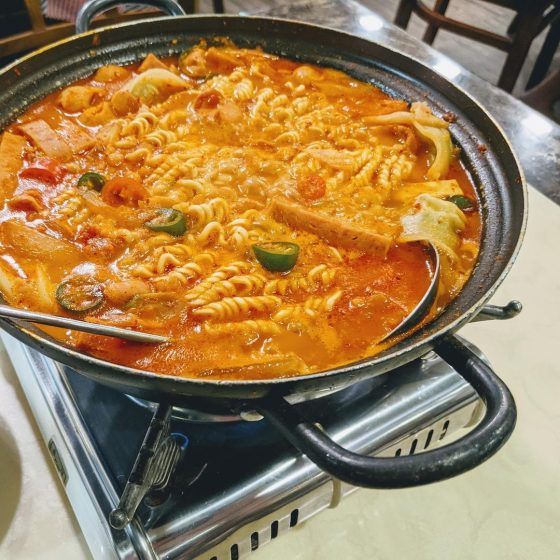 2 Kim Tian Rd, Singapore 169244
Whenever we miss the warm embrace of Korean comfort food, we make a beeline for Bigmama Korean Restaurant. The army stew here is packed with all the usual suspects that are sure to warm your stomach on a cold day. Don't you fancy soup? Dakgalbi (spicy fried chicken) is also a popular sharing dish among guests here.
(Image credit: @zang_thio via Instagram)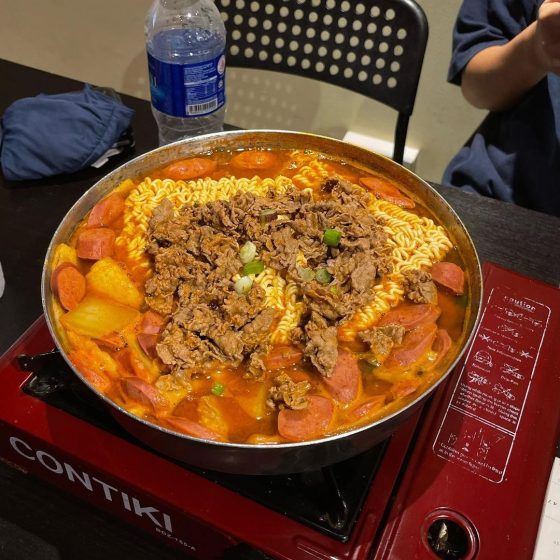 11 Tanjong Katong Rd, #01-30/31, Singapore 437157
The Mukshidonna Army Stew is what many travel here for. It's quite customizable: diners can add helpings of scallops, sliced ​​beef, chicken sausage, crispy fried calamari, mandu (dumplings), and cheese to make their dining experience even more decadent. Once you only have a little broth and ingredients left, you can opt to have some stir-fried cheese fried rice with all the good stuff.
(Image credit: @averagenoms via Instagram)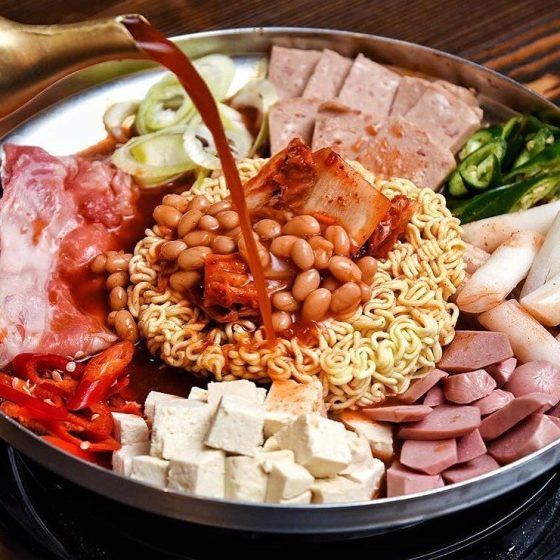 #01-03, 2 Havelock road Singapore, Singapore 059763
We are salivating just looking at this military stew from Daejon House. the budae jjigae diners are served with almost anything you want in one pot: rice cake, garlic, tofu, vegetables, meat, spam, and sausage. The soup base is poured right next to the table, and it's also free-flowing so you can slurp down as many bowls as you like.
(Image credit: @daejonhouse via Instagram)