Desserts can be a sweet and lasting memory of an extraordinary travel experience. When the hosts of Fast Women of Newsweek podcast travel, we do not leave the search for the best cakes in the city to chance. Instead, we ask the locals which restaurant, shop, or stall does the best; the hotel concierge is often a great resource as well. From coffee cake at Olsen's Danish Village Bakery in California to milkshakes at Diesel & Crème in South Africa or Sacher Torte at Café Sacher in Austria, the sweets on this list are some of our favorites around the world, and well worth a trip to discover.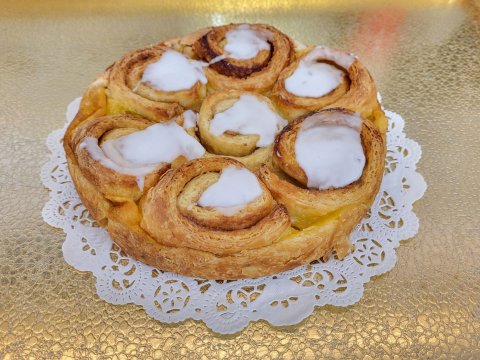 Seven Sisters Butter Ring Coffee Cake at Olsen's Danish Village Bakery
Solvang, Calif.
Layers of almond and custard filling are combined with traditional coffee cake to make a heavy cake that weighs several kilos. Get yours fresh from the bakery and ride home with it; it's good for days after purchase and can be reheated in the oven.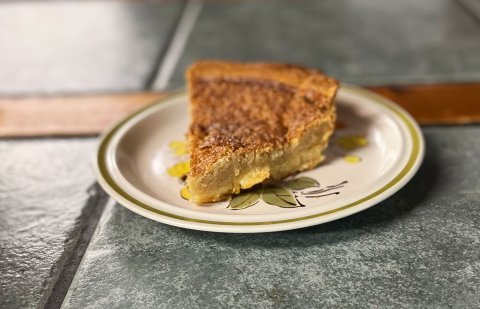 Buttermilk Cake at Greenwood Grocery
Greenwood, Texas
The key to acquiring this mild yet spicy buttermilk pie is to get to Greenwood, near Dallas, early in the day. Commonly sold by the slice instead of an entire pie tin at a time, it's so good you won't want to share slices. Bring cash.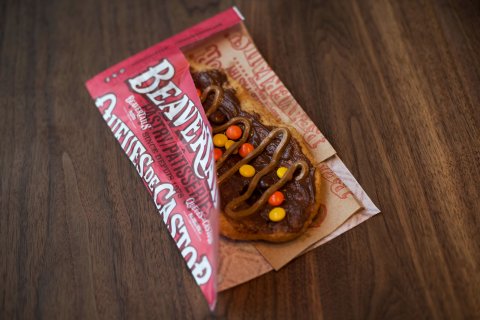 Beaver Tail on Mont Tremblant
quebec city
Right next to the ski slopes of Mont Tremblant is a patisserie selling deep-fried whole-wheat-crust delights that taste similar to an American funnel cake, topped with fresh fruit, drizzle, sprinkles, some chocolate, or a large number of other options.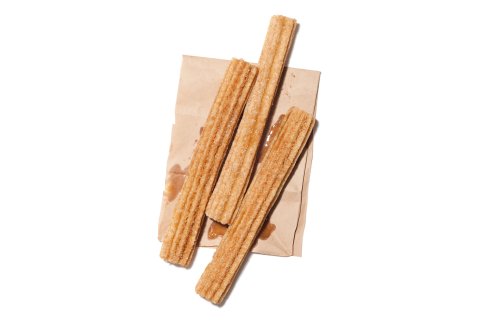 Churros and Chocolate at Chocolatería San Ginés
Madrid
Chocolate shop and pastry. What more could you want? Enjoy a heaping plate of hot, fresh churros along with a full cup of hot chocolate for dipping. A stop at the circa-1874 restaurant is the perfect way to end a day exploring vibrant Madrid.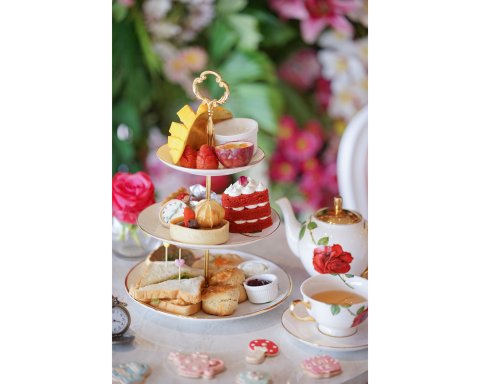 Afternoon Tea at The Langham
London
Dress up when you're in London with a nice afternoon tea. Choose from over 30 different teas to enjoy, along with sandwiches, cakes, assorted sweets and delicious British biscuits. Splurge on a glass of champagne to finish off the experience.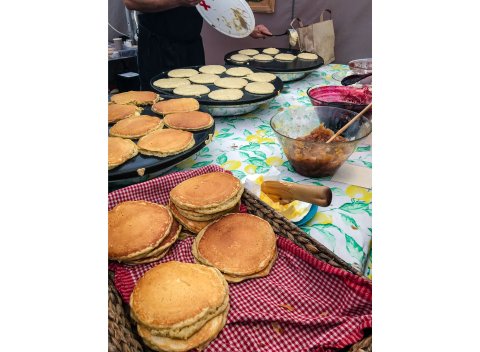 sveler on ferries
Throughout Norway
Traveling around Norway means hopping on a ferry or two, which is the best place to try sveler. Like American pancakes, they are served as a snack rather than for breakfast. Instead of syrup, these treats are served brushed with butter and a sprinkle of sugar, then folded in half for easy on-the-go eating.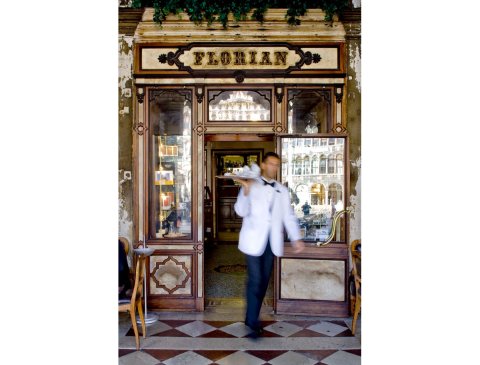 Hot chocolate at Caffè Florian
Venice
Take in the sights and sounds of St. Mark's Square over a delicious cup of hot chocolate at this 300-year-old cafe. You can even get the signature chocolate mix sealed in a little brown velvet bag to go so you can recreate this treat at home.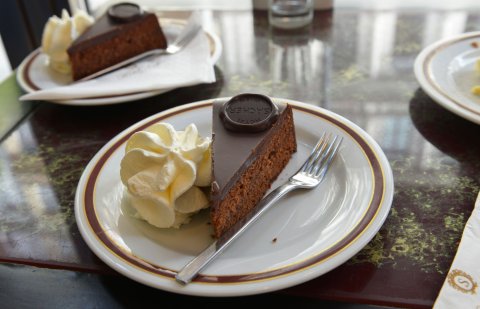 Sacher Torte at Café Sacher
vienna
This famous sweet is served in the cafeteria of the Hotel Sacher. Created by Franz Sacher in 1832 for Prince Metternich, this cake has layers of rich chocolate cake interspersed with a thin layer of apricot jam. Everything is covered in chocolate glaze, making it a truly royal dessert.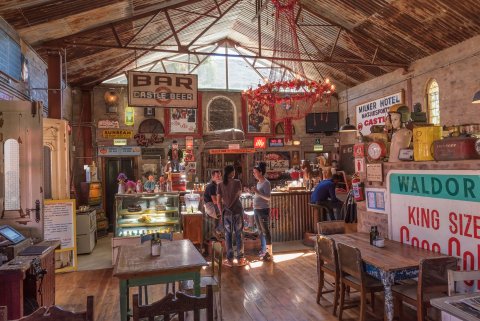 Milkshakes in Diesel & Crème
Barrydale, South Africa
This former restaurant and motel along the South African version of Route 66 has delicious creamy shakes that serve as the perfect sweet treat and stopping point as you head out for a day out east of Cape Town. Switch up your regular order and try their unique flavors like lemon meringue or cranberry raisin rum.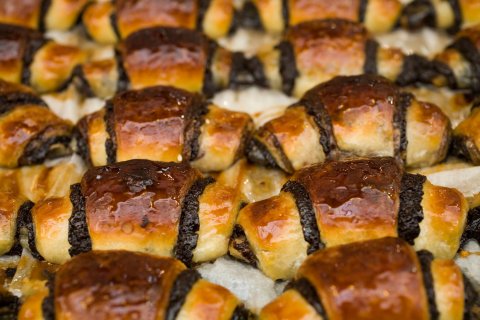 Rugelach in Marzipan
Jerusalem
Follow the enticing smell of pastries and breads to the discreet entrance of this bakery on Agrippas Street in the Mahane Yehuda market. The stall sells wet, billowy rugelach (sold by the kilo) as a house specialty. Grab a sesame honey Jerusalem bagel for the walk to your next destination, and you won't regret it.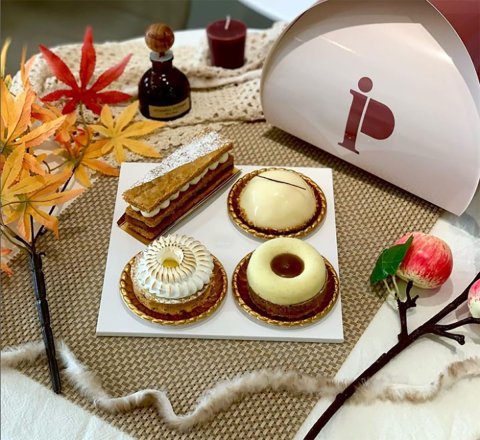 French-style pastries at Pâtiss-Ian
Seoul, South Korea
The clean white structure of this French pastry shop near Seoripul Park welcomes locals and visitors alike as one of the city's must-visit dessert spots. You really can't go wrong with anything you order, and each offering looks like a work of art with flavors ranging from chocolate to mango to cheesecake and just about everything in between.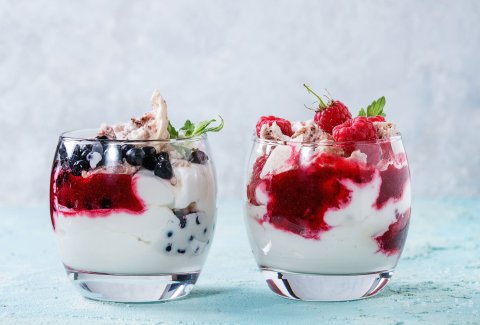 Eton Mess at F.G. Smith restaurant
Hawke's Bay, New Zealand
This casual and modern cafe in the center of Napier pairs their excellent flat whites with delicious homemade desserts. The Eton Mess (white chocolate raspberry meringue, fresh berries and cream) is a perfect way to cap off a day of wine tasting in the heart of New Zealand's wine country.