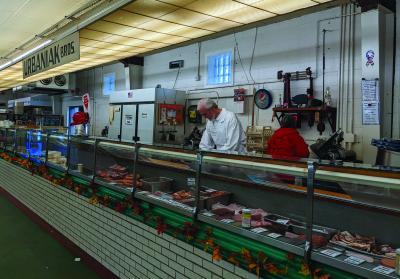 erin phillips
Gerry Urbaniak works the deli counter, which looks almost exactly the same as it did when his father, Chet, moved the business to this building at 24th and German in the late 1950s.
Our sense of smell is a powerful memory trigger. Multiple scientific studies have shown that there is greater brain activity associated with olfactory stimuli than with visual ones. But anyone whose childhood included regular trips to Urbaniak Brothers Quality Meats, a generational meat and deli market at 24th and German, knows this fact intrinsically, without the need for empirical data. The smell of wood smoke from Urbaniak, which they use to smoke sausages, bacon, salmon and other meats at home, permeates everything. It follows you home and scents the air well after you're gone.
Gerry Urbaniak, one of two Urbaniak brothers who currently run the store, says these shared memories are part of why his business continues to succeed: "Not only do people go out of their way to come here, people have been coming here for generations. It's an intergenerational business. People make a point of coming here, even from out of town. They make the effort to travel here because this is what they want, because they were raised on it. So their children and those children's children They come here. very traditional".
Whether you've been raised on Urbaniak products for generations or are a newcomer, one thing is for sure: you can feel the building's tradition and history as you walk inside. The meat counter, deli counter, produce bay, and bakery have been largely unchanged since Gerry's father, Chet Urbaniak, moved the family business into this building in the late 1950s. There is a note above the door of the original cold room, written on the wood, which shares its opening day: "December 4, 1958".
"The Urbaniak family farm was on East 11th Street, off East Avenue. There were four boys and four girls and two cousins ​​who lived in that house with my grandparents. The older brother, my Uncle Benny, started the business when I was 17 He worked in slaughterhouses and packing houses when he was younger (people started working much younger in those days), then he started his own meat business in the old Market House at 12th and French, so it would have been around 1927 . ." Urbaniak goes on to talk about the history of the market: "About four or five years later, my father, Chet, joined his brother, and instead of Urbaniak's Meats, it became Urbaniak Brothers Meats."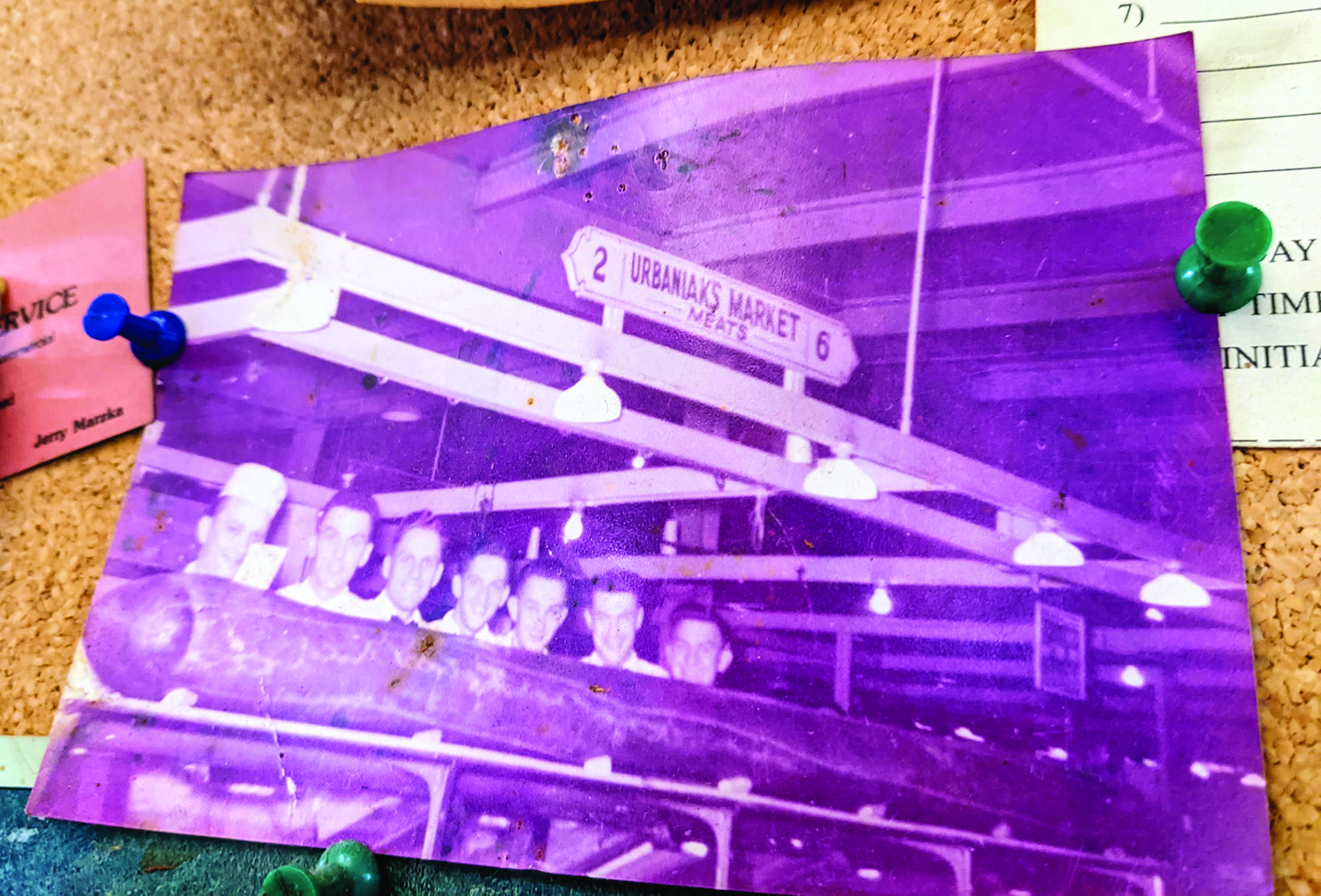 This old, faded photo shows the early days of Urbaniak Brothers Meats, when they ran their operations out of the Erie Central Market. From left: Ben Urbaniak, Chet Urbaniak, Eddie Urbaniak, Ted Urbaniak, Richie Izbicki, Joe Wasielewski, and Danny Ropelewski.
After the 12th Street Market House burned down in 1951, the brothers moved their business to Erie's Central Market House at 16th and State. This was just south of the railroad overpass on the west side of State Street and took up almost the entire block. The Urbaniaks stayed there until the mid-1950s, when the Erie Redevelopment Authority decided to demolish the Market House in favor of building a centralized shopping center. At that point, Chet decided to build his own market.
"So my dad and his brother Ted hired a consultant from New York City to figure out the best place in Erie to build the market. He came to Erie and inspected everything and said 24th and German is the center of population of Erie. So they took his advice and bought all this property around here and built this market." Gerry continues, "And pretty much every day since that day, the population of Erie has been steadily moving south of us. But they didn't know that was going to happen, which is why this building is here today."
The Urbaniaks have always embraced their neighborhood and the patrons that come with it. "There have been a lot of developments in the city that have wanted us to join them. They're saying, go somewhere where they're busier. We're not leaving this neighborhood. We love these people. They've been supportive all these years," reflects Gerry. Apart from the fact that his business is constant, it is unthinkable to walk away from the shop established by Gerry's father. When Chet Urbaniak built this store, there were little "Mom & Pop" grocery stores everywhere. But now nearly everyone has left, and with growing awareness of food deserts, Urbaniak Brothers plays an important role in serving their local community: "Many people, including congressmen, mayors, councilors, have told us how grateful that we're here. Because we serve this community that has had many challenges. And we're happy and grateful to serve you."
Gerry and his brother Andy are always working to help the business grow as the years go by, while holding fast to the traditions that have made the business what it is today. They are uncompromising when it comes to the food they prepare and if a certain required ingredient is not available, they just won't settle for a different product. Gerry pulls out what he calls the "Family Bible," a yellowed, leather-bound, grease-stained cookbook that the family has used (and expanded upon) since the early days of the business. It's this kind of tradition that informs everything they make and do, ensuring that all products taste exactly as expected every time.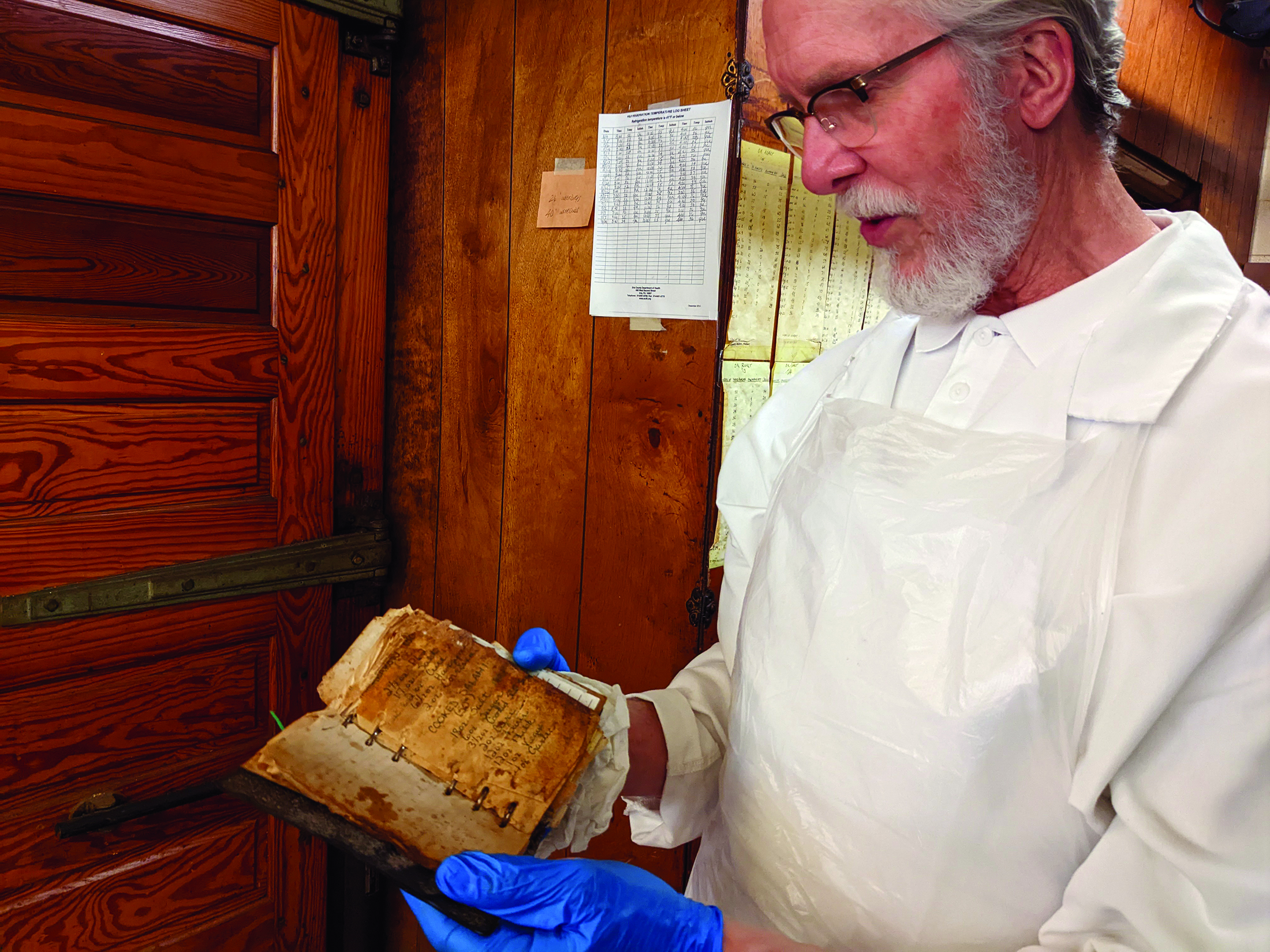 Gerry Urbaniak searches his family "Bible," a cookbook that has been around since 1958 and contains all the recipes that the Urbaniak Brothers use to create all of their foods. Consistency is important, and following those recipes means your food will taste the same today as it did 50 years ago.
Gerry's father, Chet, continued the family business until his death at the age of 97, just six years ago. He worked for two weeks before he passed away: slaughtering meat, serving customers, and finding satisfaction and fulfillment in the family business. Gerry reflects, "He loved our store and was delighted to be able to keep working every day, and so are we! He was a legend in the Erie meat industry." Gerry's mother, Rita, also worked until her retirement at age 90. Many of the recipes that are still used by her (and kept secretly bound in that historic book) were hers. "All of our employees and customers loved her." It's a tight-knit group at Urbaniak Brothers; whether by blood or experience, they are all family.
When Urbaniaks first opened, the brothers' station was simply the butcher's counter. They rented the other stalls in the store to different owners, just as the Central Market House would have been, but on a smaller scale. Urbaniak recalls, "We had poultry and cheese from Dutch Farms where our deli counter is now. We helped Scolio get started here at the bay of fruits and vegetables. We had Picardo family horseradish on the counter for decades. We had Balkan Bakery for years, then Colonial Bakery. Over the years, we have finally brought everything into our fold and now do everything ourselves, except the bakery."
Today, the bakery position is filled by the all-natural, all-local Herb and Honey Bakery. Owners Jessica Schultz and Danny Babo jumped at the chance to be a part of Urbaniaks' long tradition and are proud to call the store their home base. "I had a bakery in Virginia for eight years," Schultz continues, "I'm originally from Erie and moved during the pandemic. The first time I walked in here to look at this place, it was like sensory overload, but I was blown away. It's a place so unique and put so much effort and integrity into what they do, it's something I wanted to be a part of."
For Schultz and Babo, being part of a local small business is important, as highlighting and celebrating local is what it's all about. They use as much locally grown produce as is available, and only use fruits and vegetables that are in season when crafting the recipes for their sweet and savory treats. Schultz comments, "We make all of our stuff from scratch. I try to be as local as possible. I had a local farmer grow the specific pumpkins he wanted to make pumpkin pies this year."
B.abo has very nostalgic memories of Urbaniaks and is delighted to be part of the future of the business that was so much a part of his past: "I've been coming here since I was a baby, with my grandmother and great-grandmother. So putting a bakery here feels like open a bakery at your aunt's house or something. It feels like family already. So, we try to make things that are on the same level of quality as the Urbaniaks. And we use their meat in our baked goods whenever we can."
When asked about the future of the business, Urbaniak is confident that the work and dedication that his family has put into the neighborhood and the store will continue. "We are in the adult life of our business now. We have never been busier than now. We have many customers and that is why we are here. The future, for us, is here. You keep growing, or you die. Even though we are getting older , we keep charging." And if Gerry is anything like his parents, we'll be greeted with his friendliness and familiarity for decades to come, as he, his brother, and their foster family of employees keep the fumes from the fire burning.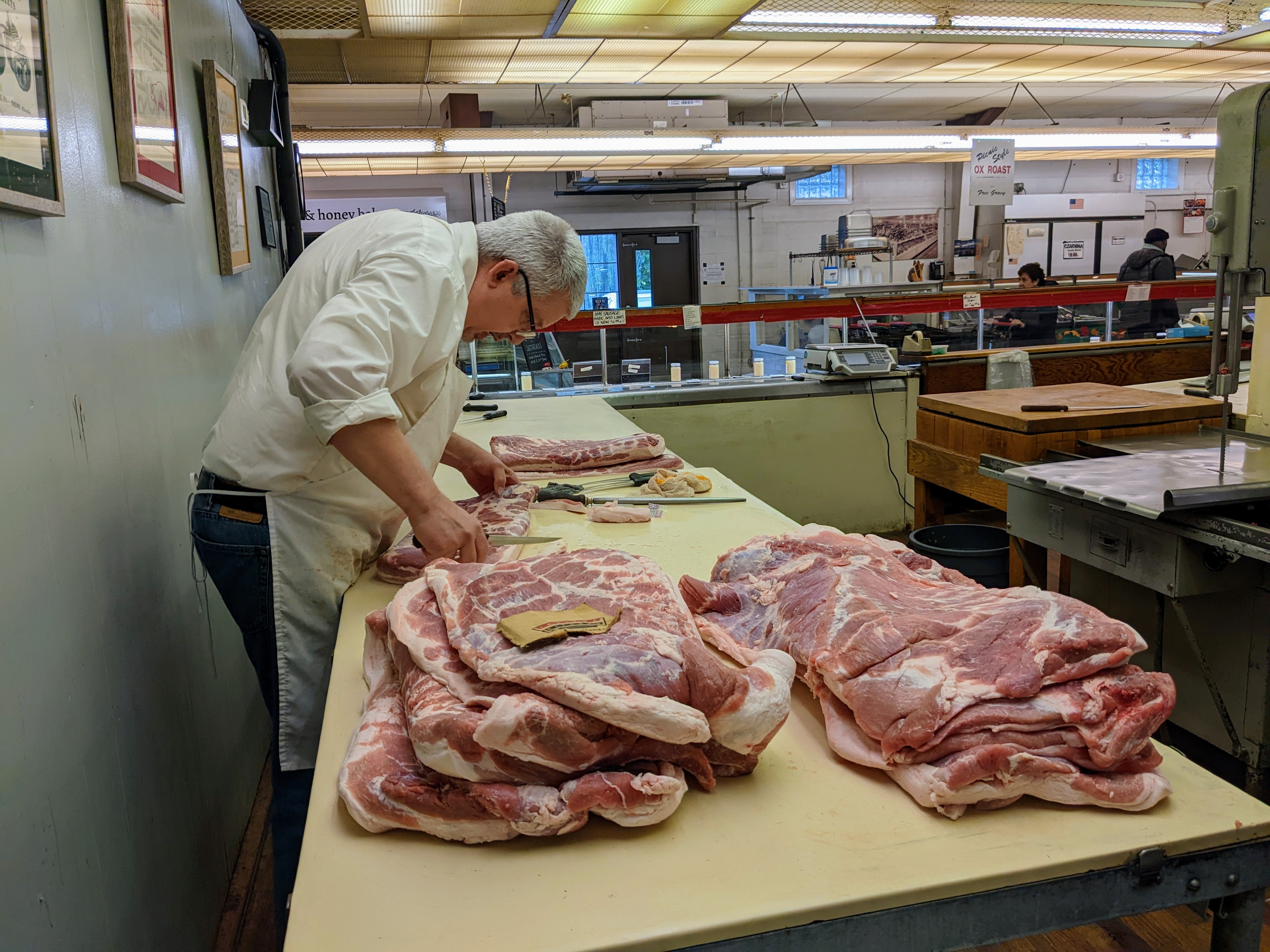 Andy Urbaniak hand-cuts each pork belly to the exact size needed to fit on his slicer after it's been smoked in bacon. Andy says, "The meat tells you where to cut it, you just have to know where to look." Not many people have this kind of insight or experience; Andy's brother Gerry compares it to art.
Urbaniak Brothers Quality Meats is open Wednesday through Friday from 9 a.m. to 5 p.m. for more information
Few things cheer Erin Phillips up more than cured or smoked meat in casing. This was a very nice interview for her You can reach her at [email protected]