thirty one years later Gish, the Smashing Pumpkins continue to explore the architecture of sound in their often explosive and unpredictable songs. For his current Spirits on Fire tour, Billy Corgan leads with his signature Reverend and a few other handpicked guitars, and Jeff Schroeder provides support with his fleet of Yamahas.
---
The first two Smashing Pumpkins albums Smashing Pumpkins, Gish Y siamese dreamwere a big part of the soundtrack to the alternative rock revolution of the early '90s. Still sounding revolutionary all these years later, bandleader Billy Corgan recently brought the Smashing Pumpkins to Nashville's Bridgestone Arena for the Spirits on Fire tour, immediately following their eleventh studio album, Atum: a rock opera in three acts.
The concept album is a sequel to the Smashing Pumpkins' definitive three-LP masterpiece. Mellon Collie and Infinite Sadness, from 1995, which also landed them smashing into the mainstream. Acts two and three of atum are scheduled for January and April 2023. But in the meantime, there are live shows… and all the gear needed to recreate more than three decades of the band's signature sounds. PS: A special thanks to super tech Trace Davis for his help with the fine points.
Presented by D'Addario XPND Pedalboard.
surprise sticker
Billy Corgan's main guitar, tuned to standard, is his signature Reverend Z-One in midnight black, loaded with Railhammer Billy Corgan Z-One pickups in the neck and bridge. This model is the third collaboration between Reverend Corgan and Joe Naylor, and Mr. C's ax wears Ernie Ball Regular Slinkys, caliber .010–.046.
purple haze
Backing it up, Billy has his signature Reverend BC1 in satin purple, loaded, again, with Z-One pickups at the neck and bridge, which combine the bite of a P-90 with the heaviness of a humbucker.
Those truck covers!
Stare at the truck covers long enough and maybe you'll see the universe, putting a new spin on the old Zen koan. When Corgan wants things to be a little more laid back, in standard Eb tuning, he'll reach for this signature Z-One in silver frost. Oh! The ropes? Ernie Ball Power Slinkys, .011–.048.
truly special
For a classic P-90 voice, Corgan lets the strings rise youhis special Gibson Les Paul song from 1994. It keeps it tuned to standard C# and the switch has been tweaked (it's a secret), as has the label. Ernie Ball Not even Slinkys (.012–.056) grace this axe.
ES for standard Eb
Another low-tuning Gibson, Corgan's 1972 ES-335 with block inlays and a trapeze tailpiece, lives in the standard Eb land and is called upon to play the song "1979."
The silver surfboard
For a bit of mini-humming bite, Billy plays this Gibson Firebird with a Bigsby in silver finish. There are several switches on the headstock, which according to Corgan's technician, Davis, control the "secret sauce and voodoo magic".
baby star
Corgan tours with two of his signature Yamaha LJ16BC acoustics, one in E and one in standard Eb. They're all-original medium jumbos, which means a spruce top, rosewood back and sides, a 5-ply mahogany and rosewood neck, and the company's comfortable traditional neck styling.
Double vision
Corgan tours with two identical amp rigs, with four different heads used separately for different tones, all switched with an Ampete 444. This allows him to drive all four heads in a Celestion-loaded Laney Black Country Customs LA412 4×12 speaker cab. G12H-75 . It lives in an ISO box under the stage. The amplifiers? There's a Laney Supermod, an Orange Rockerverb 100 MKIII, a Carstens Grace, and an Ebo Customs Del Rio.
Billy Corgan Pedalboard
Here's what's underneath: an RJM Mastermind GT/16 MIDI controller, an MXR CAE Power System, an Analog Man Beano Boost treble amp with Mullard-style transistors, a Lehle III switching and looping tool, a Minotaur Sonic Terrors Evil Eye MkIII inspired by Tone Bender. fuzz, a Strymon Brigadier delay, a Behringer Octave Divider and a Dunlop Volume (X), used as an expression pedal for the Strymon.
Yamaha Aha!
Jeff Schroeder plays Yamaha guitars. And he has four Revstars on tour. This one has a particularly elegant finish. They came equipped with P-90s, but now one has Black Cat Vintage Repro Minis, another features Lollar Low Wind Imperial Humbuckers, and the one he has in dop D is totally original. Schroeder opts for Ernie Ball Paradigm .009 sets for standard, .010s for standard Eb, .009s with a heavier .046 on the bottom for drop D, and .011s for standard C#.
Cut to the Pacific
This Yamaha Pacifica has a scalloped fingerboard and Seymour Duncan Hunter humbucking pickups on the bridge and neck, and an SSL-5 single coil in the middle. It also features a Floyd Rose vibrator enhanced with titanium parts.
great red
For a semi-hollow, Jeff goes with his Yamaha SA2200 guitars, complete with Lollar Low Wind Imperial Humbuckers.
player's choice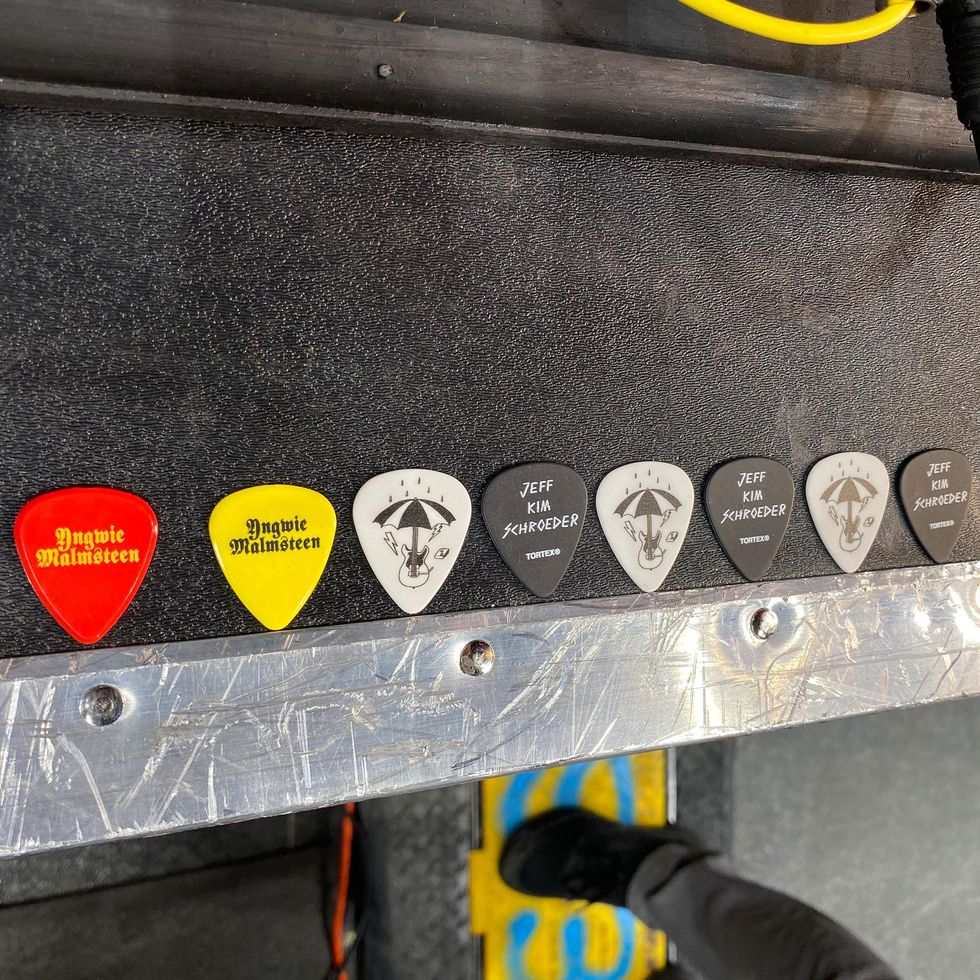 As with all his axes his choice of pick is 1.14mm Dunlop Tortex including the Dunlop YJMP03YL Yngwie Malmsteen Picks (yellow) just for fun but the Dunlop YJMP02RD Yngwie Malmsteen Picks (red) are sturdier with 2 mm.
double generation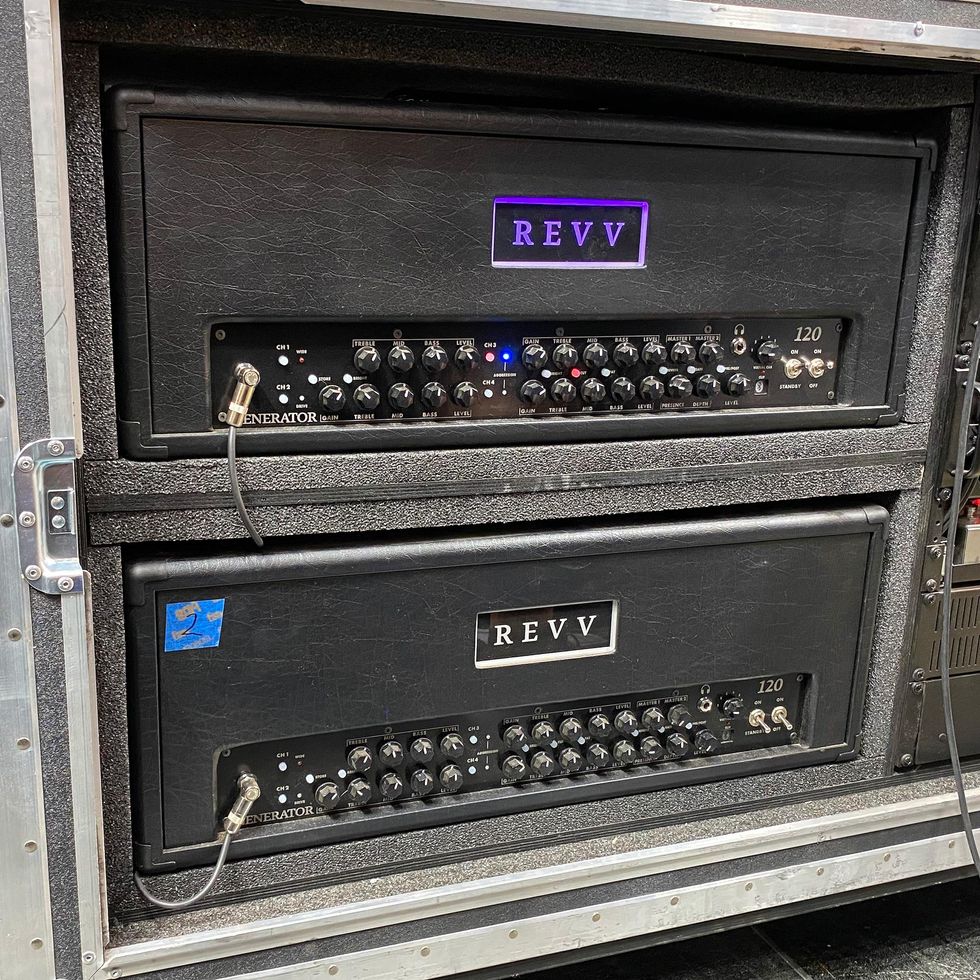 Schroeder tours with two Revv Generator 120 MKII valve heads – big, beefy and versatile.
don't call a cab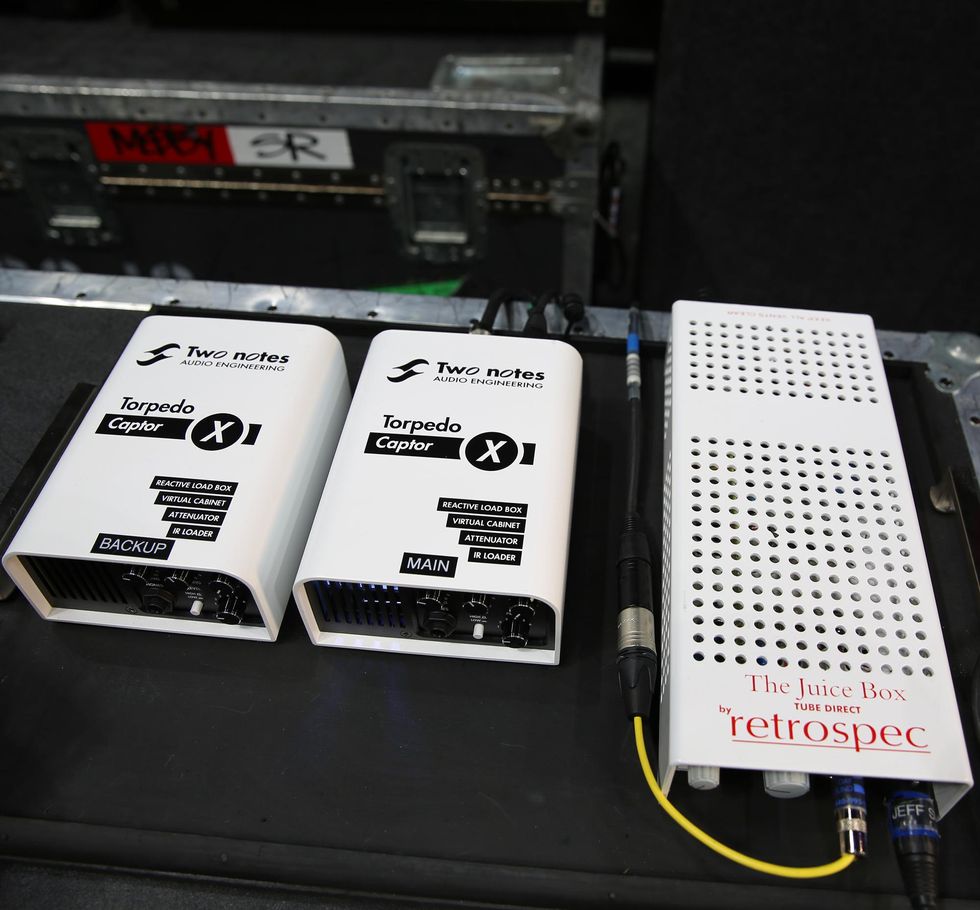 No big boxes for Schroeder… at least on stage. He uses a pair of Two Notes Torpedo Captor X simulators, emulating a 4×12 microphone with a Shure SM57 and Sennheiser MD421 on Celestion V30s. For backup, there's a Marshall 4×12 in an isolation cabinet, with a Shure SM57, understage. And Jeff's "icing on the cake," an addition suggested by tech Trace Davis (of Voodoo Amps), is a Retrospec Juice Box. This discrete box is a transformerless, all-tube DI that has upgraded your live tones to studio quality.
double helix
Its effects matrix has two Line 6 Helix Rack units that live in its rolling rock cabinet.
Central Command
At his feet is a Line 6 Helix Control Foot Controller that is powered by an Analog Man Beano Boost, just like Billy's. These are prepared for solos. In addition, Schroeder has a pair of Dunlop DVP3 Volume (X) pedals (one for volume and one for Helix's pitch-shifting effect) and a Dunlop JB95 Joe Bonamassa Signature Cry Baby wah.
From the articles on your site
Related Articles on the Web
window.REBELMOUSE_LOWEST_TASKS_QUEUE.push(function(){
function setCookie(name, value, expires) { var cookie = name + "=" + value + "; path=/; domain=." + location.hostname.replace(/^www\./i, "");
if (typeof expires !== "undefined") { var now = new Date(); now.setTime(now.getTime() + expires * 24 * 60 * 60 * 1000); cookie += "; expires=" + now.toUTCString(); }
document.cookie = cookie; }
function getCookie(name) { var cookies = document.cookie.split(";"), toReturn;
for (var i = 0; i < cookies.length; i++) { var cookie = cookies[i].trim(); if (cookie.indexOf(name + "=") === 0) { toReturn = cookie.substring((name + "=").length, cookie.length); } } return toReturn; } (function() { var pageviewCount = getCookie("pageviewCount"); if (typeof pageviewCount === "undefined") { pageviewCount = 1; } else { pageviewCount++; } setCookie("pageviewCount", pageviewCount, 30); })(); }); window.REBELMOUSE_LOWEST_TASKS_QUEUE.push(function(){ var onWindow = function(event, callback) { if (typeof window.addEventListener !== "undefined") { window.addEventListener(event, callback, false); } else { window.attachEvent("on" + event, function() { callback.call(window); }); } }; var onWindowLeave = function(callback) { onWindow("mouseout", function(originalEvent) { var event = originalEvent ? originalEvent : window.event, element = event.relatedTarget || event.toElement; if (!element || element.nodeName === "HTML") { if (typeof callback === "function") { callback(); } } }); }; onWindowLeave(function() { dataLayer.push({ "event":"exit_intent"}); }); }); window.REBELMOUSE_LOWEST_TASKS_QUEUE.push(function(){ !function(f,b,e,v,n,t,s) {if(f.fbq)return;n=f.fbq=function(){n.callMethod? n.callMethod.apply(n,arguments):n.queue.push(arguments)}; if(!f._fbq)f._fbq=n;n.push=n;n.loaded=!0;n.version='2.0'; n.queue=[];t=b.createElement(e);t.async=!0; t.src=v;s=b.getElementsByTagName(e)[0]; s.parentNode.insertBefore(t,s)}(window, document,'script', 'https://connect.facebook.net/en_US/fbevents.js'); fbq('init', '2443260782583307'); fbq('track', 'PageView'); }); window.REBELMOUSE_LOWEST_TASKS_QUEUE.push(function(){ IcreateElementChangeListener(".current-post",function(){ var allListicles = document.querySelectorAll(".rebellt-ecommerce"); var productArr = new Array(); var productPriceArr = new Array(); var allAmazonListicles = document.querySelectorAll(".amazon-assets-widget"); for(var i = 0; i