Kasey Wilson offers three recipes that will make the perfect gift this holiday season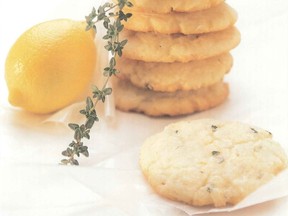 Article content
This is the first in a series of delicious treats that you can prepare in your kitchen to give to your friends this holiday season. Whatever your timing and inclination, you can put together a food gift that includes homemade and store-bought specialty items.
Article content
A jar of Festive Red Berry Compote is a welcome gift, even more so if a wheel of brie is included.
Or give my friend Chef Kathy Casey the Lemon Thyme Shortbread Cookies, chilled and packed in cellophane bags with the recipe tied on a ribbon and gifted with a can of Earl Gray tea. It only takes a couple of minutes to combine a few ingredients to make Casey's simple yet fabulous Double Red Wine Vinaigrette. Fill a gourmet bottle and enclose the recipe along with instructions on how to serve with seasonal vegetables.
Why not share your kitchen with a friend or two and double or triple recipes while dividing costs, efforts and results and perhaps sharing a glass or two of comfort and joy?
Anna Olson's Festive Berry Compote
This fruit compote smells like Christmas as it simmers: the scent of blueberries, raspberries, and pears combined with orange zest and spices is better than any scented candle. Serve it as a sauce for a chocolate cake or as a topping for pancakes or waffles. It also works well with savory dishes: bake it on top of a wheel of brie and serve with crackers.
Article content
1 cup (250 ml) frozen blueberries
1 cup (250 ml) frozen raspberries
1 pear, peeled and cut into small dice
½ cup (125 ml) granulated sugar
2 teaspoons (10 ml) finely grated orange zest
½ teaspoon (2 ml) ground cinnamon
¼ teaspoon (1 ml) ground ginger
¼ teaspoon (1 ml) ground cloves
Place the fruit, sugar, zest, and spices in a saucepan and bring to a boil over medium heat, stirring occasionally. Simmer, uncovered, stirring occasionally, until pears are translucent, 15 to 20 minutes. Let the compote cool in the pan to room temperature. Scoop the cooled compote into an airtight container and chill until ready to use.
Note: To take this compote from naughty to nice, add a splash (or more) of Grand Marnier after removing from heat.
Refrigerate and use within three weeks.
Article content
Makes about 2 cups
---
Lemon Thyme Butter Cookies
A wonderful not too sweet cookie with great flavor. Try making with rosemary for a different variation.
¼ lb butter, softened
1 ½ tablespoons (25 ml) finely chopped lemon zest
1/3 cup (75 ml) icing sugar
1 ¼ cups (300 ml) all-purpose flour
1 tablespoon (15ml) chopped fresh thyme leaves (preferably lemon thyme)
1 tablespoon (15ml) honey
In a bowl with an electric mixer, beat the butter, lemon zest, and powdered sugar until light and fluffy. Add the flour and thyme and mix until just combined. Add honey and mix until dough comes together.
With lightly floured hands, roll the dough into a 2-inch round cylinder and wrap tightly in plastic wrap. Refrigerate until very cold.
Article content
When ready to bake, preheat the oven to 375 degrees F. Cut the dough evenly into 12 slices with a sharp knife and place the rounds on a baking sheet. Bake the shortbread cookies in the middle of the oven for about 10 minutes, or until the bottoms of the cookies are a pale golden brown.
Remove from the oven and transfer the cookies to a cooling rack.
Makes 12 cookies
---
Merlot Vinaigrette "Double Red Wine" with Seasonal Vegetables
This dressing is rich, flavorful, and great with robust vegetables like arugula, Belgian endive, or radicchio.
Vinaigrette:
1/2 cup (125 ml) merlot red wine
1/2 cup (125 ml) red wine vinegar
1 ½ teaspoons (7 mL) Dijon mustard
1/2 teaspoon (2ml) garlic, finely minced
1 tablespoon (15 ml) finely chopped shallots
1/2 teaspoon (2ml) salt
1/4 teaspoon (1 ml) black pepper
Article content
1 cup (250 ml) extra virgin olive oil
½ teaspoon (2 ml) chopped fresh rosemary
Seasonal mixed vegetables, to taste
Sliced ​​Red Onions (Optional)
Sliced ​​Oranges (Optional)
In a small non-corrosive saucepan, combine the wine and wine vinegar.
Bring to a boil over high heat. Continue boiling until the liquid is reduced by half to measure 1/2 cup. Remove from heat and cool to room temperature.
Place the chilled wine reduction in a medium bowl. Add mustard, garlic, shallots, salt and pepper and mix. Slowly drizzle in the olive oil while continuously whisking. The mixture should be well emulsified.
Refrigerate until needed. Shake well before serving.
Makes 1 1/2 cups vinaigrette
Add about 1 tablespoon of vinaigrette for every heaping cup of vegetables.
The dressing has a lot of flavor, so you don't need a lot.
Mix well until each leaf is covered. Add more dressing or vegetables to taste.
---
Kitchen Hack: Sugar Shake
Cover a small bowl with a single layer of 5 x 5-inch cheesecloth. Add ¼ cup of icing sugar. Tie the cloth closed with flavorless dental floss, kitchen twine, or ribbon. Use it to sprinkle cookies, cakes, waffles or hot chocolate.