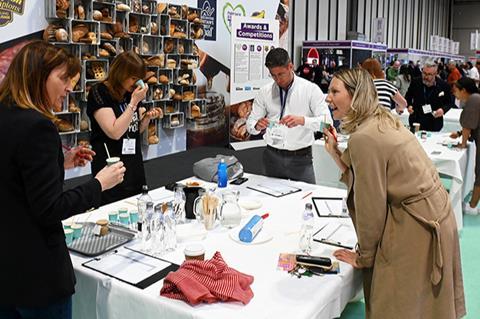 If you produce a standout product for the specialty food and beverage market, now is your time to shine!
Entries are now open for the 2023 Farm Shop & Deli Product Awards, which are designed to highlight and reward the best that the specialty food market has to offer.
Open only to products sold at farm shops, delis, and other specialty food retailers, the awards are judged by independent retailers, wholesale buyers, and other industry experts. Leading retailers and wholesalers are supporting the event, including Booths, Cotswold Fayre, Diverse Fine Foods, Kitchen Food Co and Thyme and Tides.
"Awards are highly valued in the industry," said Nicki Stewart, director of Diverse Fine Food. "As distributors, we are always stocking up, and this is the perfect platform to see and try new and innovative artisan products."
Booths' head of marketing and commerce, John Gill, added: "We are constantly on the lookout for great-tasting emerging products and actively review these award winners with a view to potentially stocking them in our stores."
The judging process will examine criteria including value and brand, along with taste, to ensure that the winning products not only taste great, but perform well on the shelf as well. Participants will receive a feedback report after the evaluation.
The deadline for entries is Friday, February 17, 2023, and this year's prizes will be judged in eleven categories: Beverages, Chilled and Frozen Desserts, Chilled Deli, Condiments and Sauces, Fermented and Smoked Foods, Meats, Non-GMO food, plant-based, preserves, Crackers and Snacks and Sweets from Bakery and Confectionery.
Environmental products will be judged in March and winners will be announced throughout April in preparation for the Farm Shop & Deli Show, taking place at NEC Birmingham from 24-26 April 2023.
Chilled or frozen items will be judged at the Farm Shop & Deli Show on Monday, April 24, 2023, with winners announced live on stage that afternoon.
"We are delighted to announce the return of the Farm Shop & Deli Product Awards for a second year," said Giorgio Rigali, head of exhibit communications at Farm Shop & Deli Show organizer William Reed. "Farm stores are the heart of local communities, and these awards celebrate the incredible variety of high-quality, local produce they have to offer."
To enter the prizes or register for the show, visit the Farm Shop & Deli Show website.
The Farm Shop & Deli Show is part of the UK Food & Drink Shows, run by William Reed.