It looked like a scene from Lady and the Tramp.
The dogs reclined along the leather-lined booths or sat at the bistro tables. They stood on their hind legs to appraise the pastel-hued cakes behind the counter and dove into the immaculately plated plates.
Dogue, pronounced vogue, is a new San Francisco cafe just for dogs. And on Sundays it offers a tasting menu for $75.
Since its debut in March, the fixed prize for puppies instantly drew some anger, ridicule, and musings about late-stage capitalism and societal decline. Inevitably, it also drew hordes of millennial dog parents from the Bay Area and beyond.
Much of this went over the heads of the dogs.
On a recent weekend, a group of stray dogs at the front tables were happily devouring shortbread cookies, covered in a wild animal-infused frosting. In the back, a fluffy little man was too nervous to eat his cake, his eyes wide at the chaos that surrounded him. Between bites, the dogs sniffed and licked each other, tangling their leashes around the tables.
Co-owner Rahmi Massarweh, a classically trained chef, started the company after exhausting himself in fine-dining kitchens. Humans, he said, could never appreciate his art the way dogs do.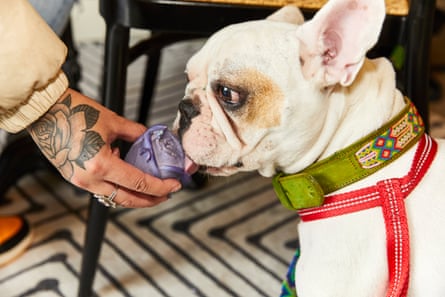 ---
C.ole happily hopped into the back booth to sample the legendary $75 tasting menu. She has always shown appreciation for the finer things in life. I adopted him four years ago when he was a puppy. The shelter told me that he and his siblings were rescued strays in Texas. But he has the demeanor of a hedonistic ancient god who got tired of the world and decided to reincarnate as a pampered pet.
He will refuse to eat his kibble, unless it's garnished, at least! – with a drizzle of olive oil and some Parmesan cheese or a sprinkle of katsuobushi. He prefers a light scramble or French omelette to a fried egg.
He was born for this day.
The party prix fixe began with an antelope heart pâté, wrapped in a Tiffany blue box that he gently pushed away with his tongue.
Next came a beef liver flan with pumpkin pearls, under a cage of edible honeycomb. Cole chased after the plump, jelly-like, pumpkin-flavored pearls as they bounced in his bowl and onto the marble table.
Everything was a bit strange and exciting, even the water, which came with additional snacks (cucumber slices).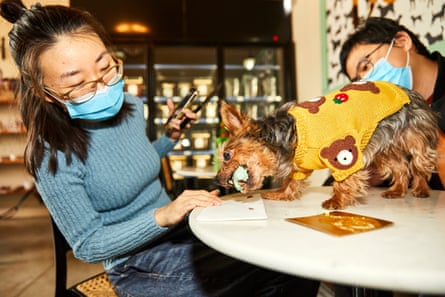 Like many of us, this is the first time we have been lucky enough to experience the real gastronomy, Cole was taken aback and delighted by the presentation of each course. And like many of us, he was sometimes intimidated by fancy silverware. Perhaps all the more so because he lacks opposable thumbs.
She struggled to remove a cake of wild sardines and cuttlefish from its mini china plate, tilting her head left and right as she assessed the proper approach.
His favorite dish was a 14-hour braised short rib: his eyes grew wide with each bite.
"Our tasting menu is a journey, a journey of flavor," said Massarweh. Each week, it focuses on a different theme or idea. In November, he created a Thanksgiving-inspired menu featuring sweet potatoes and blueberries. "Other times it is more a feeling or an emotion that I want to evoke with a plate. Sometimes maybe it's a smell or a fragrance that I really want to convey, you know, the inspiration is so random," she said.
Massarweh's dogs Grizzly and Luna are now his main taste testers, and he also tastes all the dishes himself. There are no seasonings or aromatics, which do not suit canine constitutions. "But the food is not made for the human palate," he said.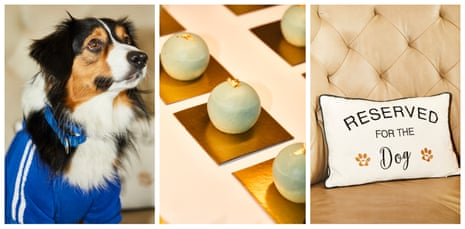 ---
"IIf you had asked me 20 years ago, when I was in culinary school, if I would open a dog cafe, I would have looked at you like you were crazy," Massarweh said. And in recent months, he's had to explain, and defend, his decision to do so multiple times.
The coffee's presence in San Francisco, a city with stark wealth inequalities, and in the Mission, a historic neighborhood that has undergone rapid and painful gentrification in recent years, became a symbol of some of the city's failures.
Dogue is far from the first or fanciest restaurant in San Francisco's Mission District. A $125 pasta meal and a $275 seasonal tasting menu (for humans) are within walking distance. Still, the idea that dogs are being pampered while people suffer has become a flashpoint for online debate.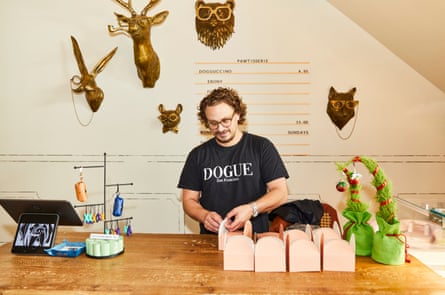 "The idea of ​​all these social and financial inequalities is not lost on me," Massarweh said. "And that's something that, I think, is too big a burden for a dog shop to handle."
---
Massarweh said he was called in to dog sit after he and his wife adopted their first puppy together, their Grizzly Mastiff. He hated the idea of ​​feeding his pup dry, joyless kibble.
"Our animals are our family. And family members deserve more," she said. "Maybe that's just my bias as a chef."
Dogue is named after the French word for mastiff. And while Massarweh's Sunday tasting menus have gotten the most attention so far, he focuses on selling fresh dog food and training treats the rest of the week.
Fancy cakes and chef-level platings are as much for people as they are for dogs.
Melissa Wilkerson brought her retired cocker spaniel show dog Roger for a special treat and laughed to herself as she unwrapped a purple rose-shaped cake from its ribbon-lined box. "My grandmother always says, 'You have to have kids,' and I'm like, 'I already have a baby!'" she said. "If my grandmother saw this, she would say that I am crazy.
"But look at that face! That's all that matters."
Almost everyone had their phones on, excitedly recording their pups as they devoured fancy little cakes and haute cuisine. Passers-by with and without dogs peeked out just to see the inherently silly scene.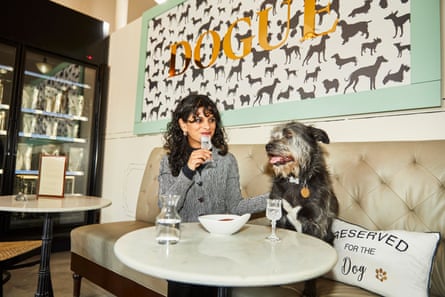 That's how Fred Makota, an 81-year-old retired plumber, and his 12-year-old miniature poodle Lucy ended up here.
They met a decade ago, a few blocks from here. Fred almost runs her over with his car one night. She had no collar, no chip, and no one else claimed her. "We've been together ever since," she said.
The two settled on a bench and watched a puffy little pup delicately lick a white fluffy treat the size and shape of his face. At the counter, a doe-eyed Boston terrier in a hoodie peered doubtfully at the box of pastries. Some dogs were more interested in wrestling than eating, while others sat balanced and proper at the table.
Many of the customers were celebrating special occasions, adoption anniversaries or birthdays.
"I really like good food for myself and I like to do tasting menus," said Monique Rao, who brought Pickles to celebrate the dog's 15th birthday. "It is a special pleasure that she experiences the same. She deserves it."
Pickles was a discerning and distinguished lady, carefully examining each dish, evaluating each morsel, and helping herself to only the best morsels. Later, she approached other tables to see if they wanted to offer her more of the best.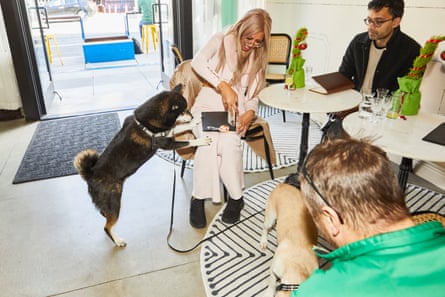 Rao then gave the leftover Pickles to Cole.
Meanwhile, Jojo, a tiny Yorkie, vibrated with excitement when her owners chose a teal orb flecked with a rustle of gold foil.
Jojo, your typical buzzed-about, novelty-seeking Sagittarius, was turning 14, and her family had driven there from over an hour north for a day of festivities. Later, they would take a walk in San Francisco's Golden Gate Park. For now, Jojo was immersed in the teal mass, the lush gold foil reflecting in her dark eyes as she devoured her birthday present.