By roger raven
It's one of those autumnal Sundays when the heavens open up; there's so much standing water on the roads it's a wonder a Beach Boys tribute act wasn't playing next to the surf trucks.
The reason for our 20+ mile trek to Hull is to try the Sunday lunch menu at Marco Pierre White Steakhouse Bar & Grill, and I'll be honest: given the weather, I had thought about cancelling.
But we keep going, and after parking in the Doubletree Hilton parking lot and getting drenched as we cruise around the block, before long we have a window seat, a menu, and a chance to dry off at MPW's.
Two years earlier, almost to the day, we had reviewed the same Marco Pierre White restaurant. It was that weird time between Covid spells (not like we're out of the woods now, obviously), and the novelty of going anywhere for dinner was still fresh. It's good to be back, although naturally there is a sense of deja vu.
I start with Marco's Classic Caesar Salad, which is a great way to make the meal easy, as is the jar of potted olives. I couldn't taste the Caesar's avocado, and no sign of a chicken egg as promised on the menu, but the salty anchovies were a great counterpoint to the Parmesan cheese and lettuce.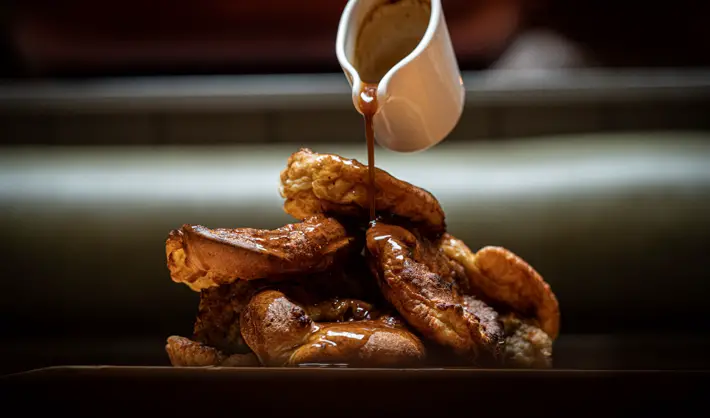 "Wonderfully prepared"
The restaurant is just as delightful as we remembered, with its elegant decor and comfortable seating. The staff are also friendly, which is essential.
Raquel's goat cheese and beetroot salad with candied walnuts and merlot vinegar also goes quite well.
Zaid, our server, does a terrific job all afternoon, and not long after we order, Rachel's Wheeler's Fish Cake with soft-boiled egg, tartar sauce, and buttered spinach leaves proves its worth.
There is too much sauce; more seasoning would have helped, but it is very well prepared.
My main is superb: Marco's Mixed Roast with blanket pork, Yorkshire pudding (naturally), roast potatoes, and sides of delicious vegetables, including snap peas, stuffed sage and onion, baby carrots, and braised red cabbage with a hint of cinnamon. We also ordered a side of crispy onion rings, which are crispy and delicious. And best of all is that sauce, which is a welcome relief after weeks of making my own with granules.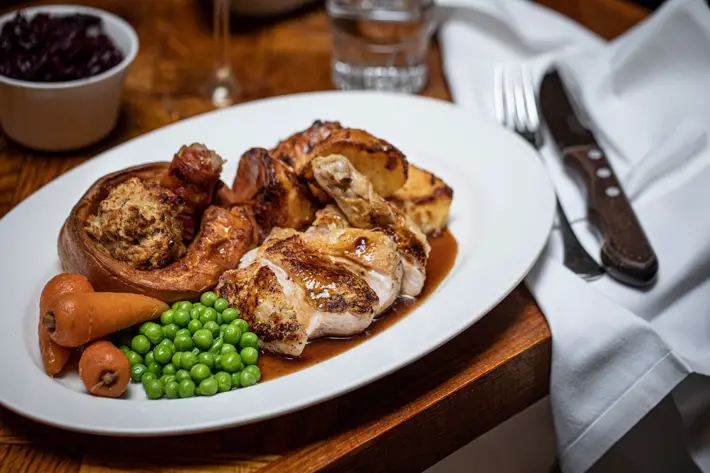 "Restorative Power"
Rachel's Apple and Almond Crumble with ice cream is also a winner, despite Yorkshire's most outspoken advocate of custard being denied the crème anglais. Like it was last time.
When I look back at my previous post-meal review, it turns out that she ordered the exact same thing for all three dishes. The only general opinion is that she would have loved a vegetarian version of my traditional roast, but sadly not an option here.
So more vegetarian options would be a storm, as well as custard with dessert, but their Sunday lunch (three courses for £27.95) is worth every penny.
A word to the wise: if you park in the Doubletree Hotel car park (it's around £5 for two hours, though there are cheaper alternatives), don't forget to ask for the code before heading back to the gated entrance. At least the rain had cleared as I walked back to reception to do just that, and after the mother of all Sunday lunches, I was glad for the short walk.
The restorative power of a great Sunday lunch at a great restaurant is worth its weight in gold, and you don't have to be King Midas to eat at Marco Pierre White's. Go hungry and prepare to be wowed.
OPENING HOURS
Monday – Sunday, Lunch, 12pm – 4pm
Monday – Sunday, Dinner, 5pm – 10pm
mpwrestaurantes.es