LINCOLN PARK — Jelica Jordanovska's skirt is still draped over her favorite chair in the back of the family restaurant.
For four decades, Jordanovska sat in that chair, baking and cooking, leaving a deep alcove at the table inside Branko's, 1118 W. Fullerton Ave. She learned to knead and slow-cook Macedonian stews with one arm after treatment for a illness. the other arm was weakened, relatives said.
When Jordanovska died last year at age 84, her children vowed to preserve the business her family built across from the DePaul University campus after fleeing impending turmoil in the former Yugoslavia.
Gordana Jordanovska, one of the family's daughters, returned to Chicago from San Francisco and reopened her parents' restaurant this month for the first time since the pandemic.
"He made us promise to keep the doors open," Gordana Jordanovska said. "And by that she meant keeping the community open. This store is the living room of Lincoln Park."
Gordana Jordanovska hired her nephew, Nenad Jovanovic, who traded a job at a Michelin-starred restaurant for a red Vienna Beef apron and a spot behind his family's counter.
"All she wanted to do was feed people," Gordana Jordanovska said of her mother. "She would look into your eyes and smile while you ate."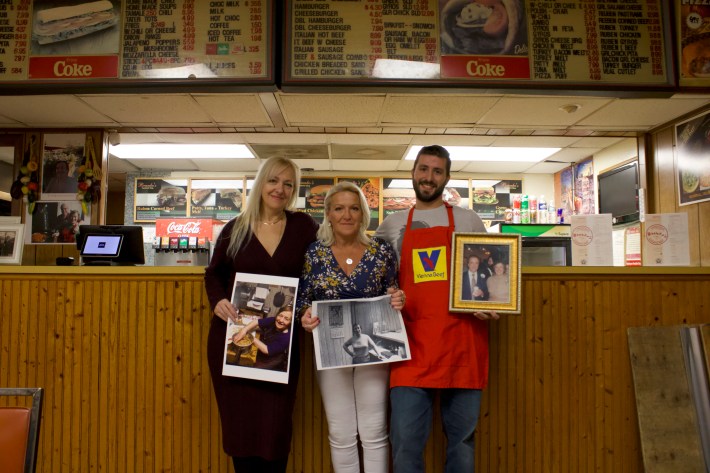 "There was always enough food for everyone"
Jelicia Jordanovska and her husband Branko Jordanovski grew up in small towns in Mavrovo National Park, now in North Macedonia and the former Yugoslavia, Gordana Jordanovska said.
They both learned to live off the land and provide for their community: raising cattle, weaving clothes, baking bread and gathering fruits and herbs, their daughter said. They met at a wedding and were soon married.
Branko Jordanovski was a baker's apprentice in Belgrade, Serbia, and opened a bakery with his brother on the corner of a large building in a small town, Gordana Jordanovska said.
"He had just enough money for salt and bread. And someone gave it a chance," said Gordana Jordanovska. "He and his brother shared a coat."
Branko Jordanovski soon brought his wife and children with him, and the extra hands helped get the business off the ground, Gordana Jordanovska said. One bakery led to another, specializing in burek, a pastry made with phyllo dough and a variety of fillings.
But Branko Jordanovski began receiving blue-and-white-striped letters from Jelicia Jordanovska's brother in the United States, said Ilinka "Beba" Jovanovic, one of his other daughters.
Economic crisis and political unrest ravaged Yugoslavia in the 1980s, leading to wars in the early 1990s. The family fled to Chicago.
"My parents left behind two lucrative bakeries, a farm, and their families to come to a country where they did not speak the language. They were not afraid," said Gordana Jordanovska. "We came to O'Hare with about four boxes."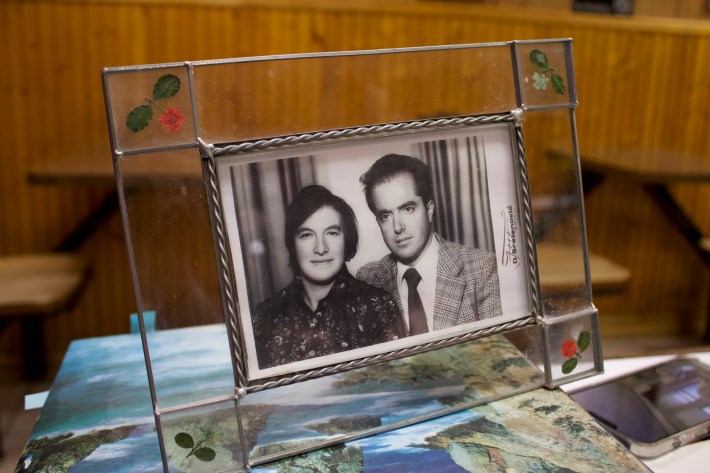 The couple worked nights at a South Side commercial bakery owned by Jelicia Jordanovska's brother. They saved enough in six months to open their own restaurant in Lincoln Park, and took over an Italian sub shop.
The couple remodeled the place by hand and added its signature wood paneling, opening the doors of Branko's in January 1976, Gordana Jordanovska said.
"I worked with what I had. And that was snacks and sandwiches," said Gordana Jordanovska. "They thought if they could bake bread, they could make a sandwich."
The couple picked banana peppers, tomatoes, dill, parsley, basil and nettle from their backyard, chopped their own vegetables, trimmed meats by hand and put homemade marinara sauce on Chicago-style Italian steaks, Gordana Jordanovska said.
"They believed in slow food with fast service," said Gordana Jordanovska. "I think the people who came here and ate can appreciate it, but my parents never felt the need to talk about it."
The couple's four daughters grew up playing with empty Vienna Beef boxes and doing their math homework behind the counter, Gordana Jordanovska said. They helped their parents take orders in English and worked 14-hour days alongside them, including during summers at university, Ilinka Jovanovic said.
As children, they would stand on cartoon milk and take five or six orders at a time as lines stretched down Fullerton Avenue, Ilinka Jovanovic said.
"But it never felt like a job. It was our way of life," said Ilinka Jovanovic. "It was a joy to do it together as a family. It was a team effort. And then the neighborhood became our family too."
Holidays like Slava were spent dancing with the family in the restaurant's dining room, Gordana Jordanovska said. They would fire up the grill late at night when they were tired and hungry, she said.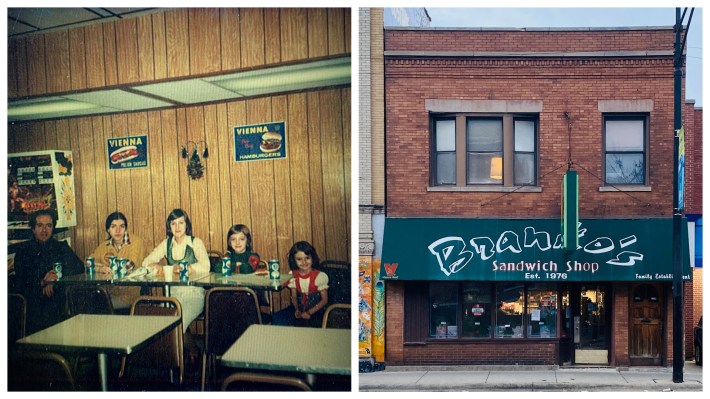 Branko produced the basics as DePaul University grew around him. Jovanovic remembers when Branko's front yard was a gravel parking lot; in the corner there were hills where children threw frisbees and sunbathed. The food they liked has stayed the same.
Jelica Jordanovska was serving French fries again, and students were sending her Mother's Day cards. They brought her parents to meet the couple when they visited the campus. Some brought their own children and then their grandchildren, Gordana Jordanovska said.
The couple fed the late-come-off kitchen staff at Charlie Trotter's, hosted dancers and soccer players from Yugoslavia, and prepared traditional stews and soups like pasulj and goulash for the family, telling Chicagoans to "try this" if they saw roasted peppers. on the grill, said Gordana Jordanovska.
It wouldn't matter if you were a few dollars short on a hot meal, Gordana Jordanovska said.
"There was always enough food for everyone. This is how we were raised," she said.
"Mr. Branko" and "Mama" became a second family for generations of homesick students, Gordana Jordanovska said.
"Mom was the heart and soul of this neighborhood," Ilinka Jovanovic said. "She was the one who set the table for all this."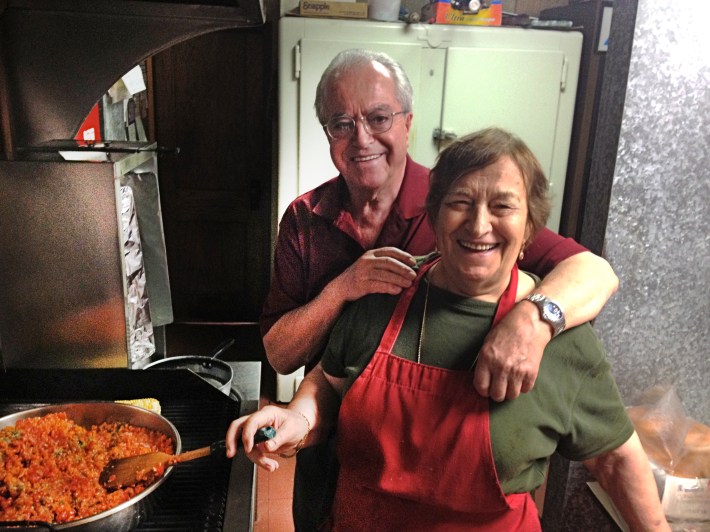 But with her deteriorating health, keeping the restaurant open was an impossible challenge when the pandemic hit, Gordana Jordanovska said. It closed in March 2020, and the family lost her matriarch, Jelica Jordanovska, in the meantime.
"My mom would come here and she would hate to see it dark," said Gordana Jordanovska. "She didn't understand why we had to close."
Gordana Jordanovska spent the past year obtaining restaurant permits, reconnecting with food vendors and renovating, all while balancing her architecture business in San Francisco.
Branko's reopened on November 5.
Customer Dave Johnson's eyes filled with tears as he returned Saturday for the first time since the lockdown. He pointed to the chair closest to the cash register, where Jelica Jordanovska always sat, "just talking to customers," he said. Gordana Jordanovska has put up a mural of her mother behind the cash register.
"It never felt like you were waiting for your order here," Johnson said. "It was more about the people than the food. She had a great spirit of life. And this place filled you up."
DePaul freshman Elena Fisher and Loyola freshman Nanette Hunter shared lunch at Branko's for the first time, seated in front of the store's signature wood paneling, which is covered with old family photos.
"Students are going to come here again," Fisher said.
"My dad is a chef," Hunter said, fighting back tears. "This makes me want to write your recipes."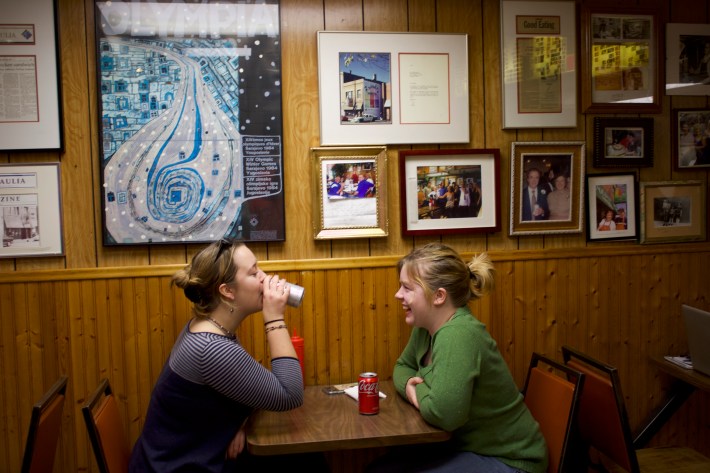 The family patriarch, Branko Jordanovski, has had strokes in recent years, but still lives upstairs from the restaurant. The children took him to the restaurant the night it reopened, and he "immediately checked that everything was clean," Gordana Jordanovska said.
"It's the first time I've seen him smile in two years," he said.
In the time Gordana Jordanovska has free between her business in San Francisco and the one in Chicago, she sits in her mother's chair, wrapped in her old skirt, doing her best to cook her favorite casseroles.
He hopes to introduce some of them to the menu for the first time.
"There are no recipes. She measured everything by hand. I have been practicing. But it will never be as good as hers," said Gordana Jordanovska. "I feel very much her presence."
Listen to "Everything Is Fine: A Block Club Chicago Podcast":