Nearly 2,000 native species are officially listed as 'threatened' in Australia, but how many have you actually heard of?
Every year, the federal government hosts the Threatened Species Bake Off, a social media competition where participants represent a threatened species in the form of a cake. Its aim is to raise awareness about the great diversity of Australia's wildlife facing extinction, but our new research found a serious problem with the bias towards cute and cuddly animals.
We tracked more than 700 entries between 2017 and 2021, finding koalas, echidnas, and wombats consistently represented. These are typical conservation poster children.
Koalas, for example, are often allocated large sums of money for their conservation. Compare this to many lesser-known, more shocking, and at-risk species, including the gray nurse shark and foundational species like kelp.
Australia leads the world in extinctions and, in fact, many plants and animals at risk are not even on the official list of threatened species, but they should be. While baking is well-intentioned, our results highlight a large gap in conservation messaging.
Unless we build up the profile of our least loved plants, invertebrates, frogs and fish, we will certainly see more species disappear.
What species do people like to bake?
The endangered species bake begins on September 7, when Facebook, Instagram and Twitter are inundated with photos of baked goods featuring elaborate animal or plant designs. Since its inception in 2017, the competition has grown increasingly popular and has even attracted celebrity judges including Dawn French, Costa Georgiadis, and Kat Sabbath.
It reflects the urgent need to explore creative and novel ways to engage with diverse audiences on Australia's extinction crisis. But whether it can really make a difference to wildlife depends on what people choose to represent.
The charts below show the ten most popular species baked in the Threatened Species Bake Off on Instagram and Twitter since 2017. Birds and mammals have proven to be the most popular: koalas, echidnas, orange-bellied parrots, and other iconic species stand out. The corroboree frog is the exception to this trend, topping popularity on Twitter and in the top five on Instagram.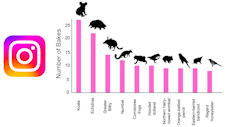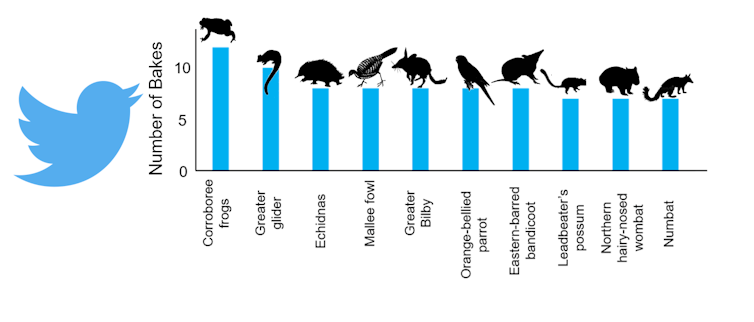 Most of the nearly 2,000 species listed as threatened by the federal government are plants: 1,411 plants compared to 562 animals. But very few contestants represent plants at the Threatened Species Bake Off. Only 3% of listed threatened plants have been represented, compared to 40% of listed mammals and 30% of listed birds.
This highlights a global problem with "plant blindness," a phenomenon in which plants are frequently forgotten when considering nature in an area, leading to limited interest and funding for their conservation.
In fact, many of the species in the Albanian government's Threatened Species Action Plan 2022-2032 are birds and mammals, species considered much more charismatic than a plant or an invertebrate. The action plan includes 14% of threatened mammals and 13% of threatened birds, and only 2% of threatened plants.
---
Read more: 'Heartbreaking and infuriating': why Australia is the world's leader in mammal extinction and what to do about it


---
What baking revealed about conservation gaps
This brings us to Australia's invertebrates, the foundation of ecosystems. We found that 50% of the invertebrates on the official list of threatened species appeared in baked events (that's 34 of the 68 species included).
This prevalence, however, is misleading. It masks one of the most significant deficiencies in the management of threatened species: the lack of invertebrates on the threatened species lists. In fact, invertebrates are classified simply as "other animals" under Australia's endangered species legislation.
Their relative absence from lists of protected groups highlights two important gaps in our knowledge:
many invertebrates have yet to be scientifically described or named, the key entry point for inclusion on these lists

we know very little about most of the invertebrates that have been scientifically described and named; we only know where they were found.
To properly conserve Australia's biodiversity, we must urgently prioritize research on such crucial animals.
---
Read more: They may not have backbones, but invertebrates are the backbone of our ecosystems. let's help them


---
Social media can help and hinder conservation
The popularity of baking shows that social media can be a powerful conservation messaging tool. But promoting conservation through social media walks a fine line between protecting and endangering threatened species.
For example, a social media post about a scenic location inhabited by endangered species can lead to increased tourism to the location, increasing pressure on the species and its habitat. In fact, a 2019 study established potential links between the increase in videos posted on YouTube of otters as pets with an increase in the illegal trade in otters.
On the other hand, the use of social media has been highly successful in controlling populations of the invasive Indo-Pacific lionfish in the western Atlantic and Caribbean.
To reduce populations, the Florida Fish and Wildlife Conservation Commission has held fishing tournaments since 2014, with advertising through social media. The event has grown into a multi-day festival with art booths, lionfish tastings and a fillet demo.
What these examples and the baking show is the need for a personalized approach to each conservation message.
But so far, the conservation message from baking is unclear as people have baked species that aren't even listed as threatened, such as platypus, brolga, and Mount Lewis crayfish, as well as species that aren't even Australian. , like tigers and pandas.
Try something different this bake
We need to find ways to ensure that all species, not just koalas, are on the receiving end of conservation action. Here are some ways we can encourage this.
The first is to increase your visibility by providing images of threatened species. For example, researchers and nature enthusiasts could make their images free to use on websites like Wikimedia Commons. Or, they could upload images to iNaturalist or Atlas of Living Australia, two websites that catalog species sightings submitted by researchers and the public.
Giving newly discovered species interesting or funny names can also create emotional connections, encouraging people to care more about them, like the amazon. agra beetle species, which include names like Aggravation Y agra cadabraor the species of Australian wasp AHA.
Previous bake-offs have incorporated themes including "species I've seen" and "ecosystem engineers." The organizers must present a new theme: "species I have never heard of" or "the species under my feet".
Then bake up, how about baking a Little Flower Brat, Kangaroo Island Killer Spider, Red Handfish or Cauliflower Soft Coral?
---
Read more: From superheroes to the clitoris: 5 scientists tell the stories behind the names of these species


---