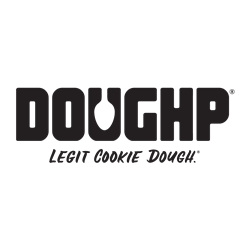 LAS VEGAS (PRWEB)
January 12, 2023
Doughp, the edible, bakeable, and ridiculously tasty cookie dough company, has brought back its best-selling Red Velvet Vixen flavor, a delicious mix of red velvet cake and whipped cream cheese frosting on blonde cookie dough, just in time. for Valentine's Day.
Available now, the Red Velvet Vixen and Valentine's Day 3-Pack, which includes Red Velvet Vixen Bites and a cup of Ride or Die Chocolate Chip Cookie Dough and Peanut Butter Kiss Cookie Dough, can be buy at www.doughp.com.
"Since 2017, when I decided on a whim to mix up a red velvet cake with a batch of Doughp cookie dough, Red Velvet Vixen has been one of my favorites," said Kelsey Moreira, Doughp founder and CEO. "We look forward to bringing it back every year for Valentine's Day, but this year is especially sweet as it's the first time they've existed as baked and snackable snacks. Whether it's a gift or a sweet treat for yourself, this is a flavor you don't want to miss out on."
The dough is made with heat-treated flour and is egg-free, making it safe to eat raw or baked into hot cookies. Perfect for a Valentine's night activity, Doughp can be transformed into a number of delicious desserts:

Red Velvet Vixen Cookies with Cream Cheese Frosting

Red Velvet Vixen Cupcakes with Cookie Dough Frosting

Mini cookie dough cake pops Red Velvet Vixen
Red Velvet Vixen is a limited edition flavor, so when it sells out, it's gone for the rest of the year. To ensure your order arrives before Valentine's Day, please be sure to purchase before February 8th at 12:00 pm PST. In case you can't get your hands on Red Velvet Vixen in time, try it at home with Doughp's Blondie Cookie Dough and a slice of Red Velvet Cake.
As a Valentine's gift to members of the Secret Cookie Dough Club, Doughp's "Date Night" flavor, which is a twist on a chocolate-dipped strawberry in the form of cookie dough, will launch for the first time on February 1. . This flavor starts with rich chocolate cookie dough and shakes filled with real strawberry, dried strawberries, and white chocolate chips. For the entire month of February, get this members-only flavor by signing up for the Secret Cookie Dough Club.
Do all your Doughp shopping at http://www.doughp.com.
###
ABOUT THE DOUGH

Doughp, the edible and bakeable cookie dough, is a company driven by a mission to make the world a little sweeter, one tablespoon of dough at a time. Doughp's founder and fearless leader, Kelsey Moreira, discovered baking in the early days of her sobriety, and in 2017 she abandoned her 10-year career in the tech industry to turn her passion for baking into a business. . From there, Doughp propelled onward to become a multi-billion dollar company, airing on ABC's Shark Tank and expanding into a nationwide business, serving hundreds of thousands of happy spoonlickers across the country. In its first four years, Doughp experienced monumental growth with revenue increasing an average of 219% year-over-year. In 2020, the company more than doubled its annual revenue after permanently closing its storefronts and completely switching to the internet due to the pandemic.
Kelsey was selected as one of Forbes' 30 Under 30 and in 2021, Doughp was named a #247 INC 5000 Company and recognized as one of the fastest growing companies in the US. It's Delicious. Pretty sweet, huh? For more information, visit http://www.doughp.com. Catch up with Doughp on social media by following @Doughp on Instagram and Facebook.
Share the article on social networks or send an email: