Dolly Parton is good at everything. She has a music empire, a theme park empire, a TV and movie empire, and quite possibly the greatest goodwill of any human being alive on the planet.
Besides all that, she is a very good cook. Dolly has often talked about how much she loves food. "My weaknesses are food and men," she has said, "in that order."
Your delicious cookbook. Dolly's Dixie Fixin's It came out in 2006, but the holy grail of Dolly Parton cooking memorabilia is from 1989. Dollywood presents Tennessee Mountain Home Cooking. It's out of print, but thanks to a grandma who 1) took me to Dollywood and 2) never threw anything away, I have a copy she bought in 1990 on a theme park trip.
More than Delicious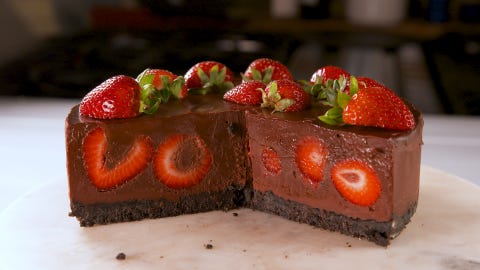 The book is filled with recipes collected from Dollywood employees. "Good food, friends and family are three things that the people here in these mountains have in abundance," Dolly writes in the preface. "We've selected our Dollywood family members' favorite recipes that we wanted to share with you, our friends. We hope that by serving these recipes to your family, they will remind you of us and your visit to our area."
One such member of the Dollywood family is the theme park's official "Chief Dreamer," Dolly Parton herself. She contributed several recipes to the book, including her signature coleslaw, which includes pickles and brine, and her cowboy bean recipe.
But my favorite recipe, and the one you'll want to make around the holidays, is Dolly Parton's Apple Stack Pie, her take on a classic Appalachian stack pie.
"There is no recipe more ingrained in Appalachian culture: the stacked pie is an inventive expression of traditional mountain ways of eating," he writes. Sheri Castle, Appalachian Food Expert. "The first female cook to make one almost certainly baked her cake layers one at a time, placing the batter in her pan, baking it over a campfire or on the fireplace, inverting it on a plate, stacking and filling it as she went."
The dessert uses a simple, slightly sweet dough made with molasses and spices. Divide the dough into six equal portions and bake them into thin disks, then stack each one on top of another with an applesauce in the middle. The cakes are a bit closer to quick bread or scones than they are to moist cake, and they're not overly sweet. It makes a great breakfast for a special occasion, like Thanksgiving or Christmas morning.
Dolly notes in her recipe that the pie is best after sitting for a few days, ostensibly so that the moisture from the apples softens the pie and the fruit flavor permeates throughout. However, I think Dolly made a mistake. When I made the pie recently, I tripled the amount of one pound apples to three pounds, but I think the pie would have been even better with double what I made. (If she's doing the math, multiply all the filling by six and you should have a generous amount to top with the cakes.)
Apples are a big part of Appalachian cuisine, and candy made from them is a big part of Dollywood. In fact, the Tennessee theme park—widely known for its surprisingly excellent food—serves a huge apple pie that you can't get anywhere else.
He weighs 25 pounds.
Made with 35 apples and priced at $189.99, the pie is bigger than you can imagine. If you buy the whole thing, you get the cast iron skillet the cake was baked in, which explains much of the cost. But you can also grab an $18.99 slice, which is still three pounds and worth every penny.
When I bought a piece on my last trip to Dollywood, it took me days to eat and still couldn't finish it before it was time to leave my hotel. But if you're having a big holiday celebration, you can order one by calling Dollywood and they'll send it to your door. If you'd rather try the Smoky Mountains at home, here's Dolly Parton's Apple Stack Pie recipe from the 1989 cookbook, reprinted with permission from Dollywood.
PS The Dollywood cookbook is out of print, but if you search hard enough, you can find used copies. And thanks to the wonders of the Internet, you can read it complete here.
This content is imported from OpenWeb. You may be able to find the same content in another format, or you can find more information on their website.