A video of a birthday cake presentation being ruined by an overexcited dog has gone viral on TikTok.
The clip, posted by user @chelsey3022 and viewed 13.3 million times, shows a woman in a kitchen picking up a large cake lit by candles and sparklers and carefully carrying it into the living room, where revelers wait to celebrate. .
As she walks to a table, a voice can be heard singing "Happy Birthday," but the woman is being followed by an excited dog trying to reach the cake. What sounds like a smoke alarm can be heard in the background.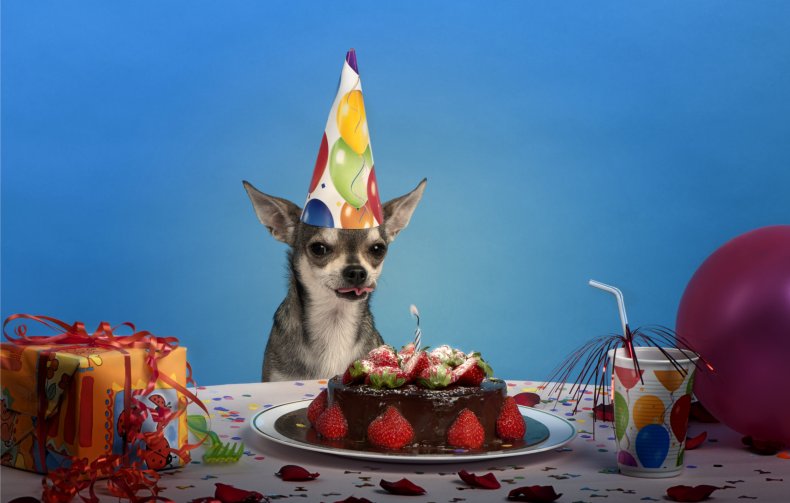 Just as the woman is about to put the cake down, the dog jumps up, knocking the creamy confection out of the woman's hand and tossing it face down on the table. The entire room falls silent as the guests stare at the ruined cake, while a sparkler continues to bubble over the marble table.
The post was shared with a caption reading "#cakefail" along with crying laughing emojis.
TikTokers were in stitches on the scene, but the American Veterinary Medical Association warns that "candles are attractive to pets," so dogs and other animals should never be left alone in an area where candles are burning "as it could cause a fire ."
A dog eating a candle is also risky. In an article for the VCA animal hospital chain website, veterinarian Dr. Catherine Barnette wrote: "While candles are often scented with oils, the biggest concern with [their] ingestion is a gastrointestinal foreign body and possible obstruction. In addition to stomach upset, surgical removal of the candle may be necessary if large pieces are swallowed."
It's not just the lit candles that would have excited the dog, but the party guests as well. A March 2016 study in the journal animals found that excitable behavior could be "driven by many daily scenarios" but was more commonly reported "more frequently and more severely" when the owner or other people went to the dog's house or played with the dog.
"Surprisingly, owner food preparation did not elicit excitable behaviors," according to the researchers, with less than a third of owners reporting that their dogs jumped "sometimes or more frequently."
This could be because owners trained their dogs to sit and wait for food or prepared food in a different room without the pet seeing it, according to the study.
Several TikTok users who commented on the video suggested that the dog needed some training on party etiquette.
Steven wrote, "This is why you train your dog," along with a series of laughing emojis.
That-Comment-Guy posted: "I saw that happen a mile away and not one person in the whole room thought to catch the dog."
Others were tickled by the room's reaction to the mishap. In a comment that garnered 22,500 likes, user ganyusmilk wrote: "It's just silence so this guy says 'HAPPY BIR-'."
LIAM commented: "Even with the alarm on, the silence was deafening." Jazmin <3 noticed "the way it went quiet".
Chloe Glancy summed it up with the comment, "So much chaos."
news week @chelsey3022's video has not been independently verified. The original poster has been contacted for comment.
Do you have funny and adorable videos or photos of your pet that you want to share? Send them to [email protected] with a few details about your best friend and they could be featured on our Pets of the Week list.