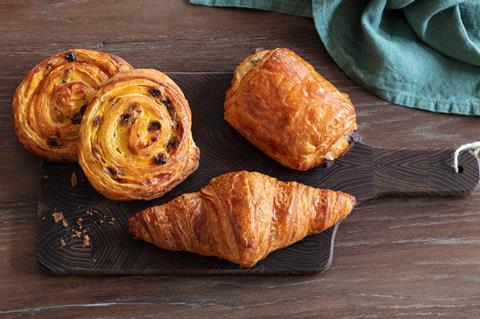 Délifrance has developed a new corporate social responsibility (CSR) strategy.
The strategy, called Baking Good Better, sets out how Délifrance is addressing corporate and social responsibility throughout its supply chain by tackling areas such as climate change, the need for biodiversity, global food security, the energy transition and the transformation of agricultural and production models.
Délifrance is a subsidiary of the French grain cooperative Vivescia, and Baking Good Better is aligned with Vivescia's sustainable development policy.
"As a subsidiary of the largest grain cooperative in France, we can ensure that social responsibility is embedded in our business and products at every step of the supply chain, from field to fork," said Niall Cogan, general manager of Delifrance UK&I.
"CSR is very important to us as a business, and we continue to work with customers and suppliers in the UK and Ireland to reinforce this commitment."
Baking Good Better is based on three pillars:
Planet
Reduce Greenhouse Gas emissions by 20% by 2025 (Scopes 1 and 2 vs 2015)

Ensure that 100% of sites comply with the Group Environmental Charter by 2024

Use 100% FSC-certified cardboard (sourced from sustainably managed forests) and 100% recyclable or reusable packaging by 2025
Women Men
Reduce the accident frequency rate in half (between 2021 and 2025)

Provide at least one training action per year to 80% of employees in 2025

Aim for at least 40% of senior executives to be women by 2025

Offer an annual Grain Day cultural event to 100% of employees by 2025
Product and know-how
Ensure all sites have 100% sustainable flour by 2027: wheat sourced from regenerative agriculture, starting with farmers in France and Vivescia who improve soil health, promote biodiversity, store carbon, and reduce GHG emissions.

Definition of a responsible purchasing policy for all raw materials

All sites will have FSSC 22000 Food Safety System Certification by 2026
"Corporate Social Responsibility is part of our strategic pillars and we want to go further and build a strong culture of CSR among our employees," said Robert O'Boyle, CEO of Délifrance.
"CSR is not new to Délifrance, the teams have been working on many CSR-related issues for years, but Baking Good Better clarifies our purpose and sets a framework to achieve our ambition and be bolder in our future goals."