KUALA LUMPUR, January 17 — Chinese New Year is less than a week away, but everyone is already in the festive mood, or rather, partying. Time to eat well, for prosperity and pleasure (choose well and our taste buds will thank us).
Good things can come in small packages. Instead of bingeing, unbox the bounty in the form of bento, that traditional Japanese packaged meal. Hinode Bento at Bukit Jalil has this craving covered with two new seasonal bentos developed especially for this Chinese New Year.
The first is a minimalist Ebi Chirashi Bento where fresh prawns (ebi in Japanese) take center stage. It is an auspicious selection for the time of year since "prawn" in Cantonese is har, which echoes the sound of resounding laughter. ("Ha! Ha! Ha!", anyone?)
Those looking for something more sumptuous may prefer Hinode's Inari Sushi Bento, which is packed to the gills with unagui (freshwater eel), salmon, tobiko (flying fish roe), sweet morsels of kani (fresh crab meat) and of course prawns for the joyous bellow of "Har! Har! Ha!
Though they're rightfully known for their creative bentos, Hinode also has other Japanese-inspired dishes, like this year's Yuzu Sashimi Yee Sang. The requisite fresh, colorful vegetables and roasted nuts (cashews and peanuts) are present, of course, but it's the sashimi that stands out.
Choosing raw fish can make or break a seafood-rich meal. you sang. Instead of thinly sliced ​​salmon, Hinode has opted for a thicker cut to complement the freshly caught salmon. hokkigai (Sakhalin clam) and crimson pearls of tobiko.
Drizzled with some of their homemade yuzu sauce, this sashimi you sang will do anything loh sang ritual a most raucous and delicious occasion.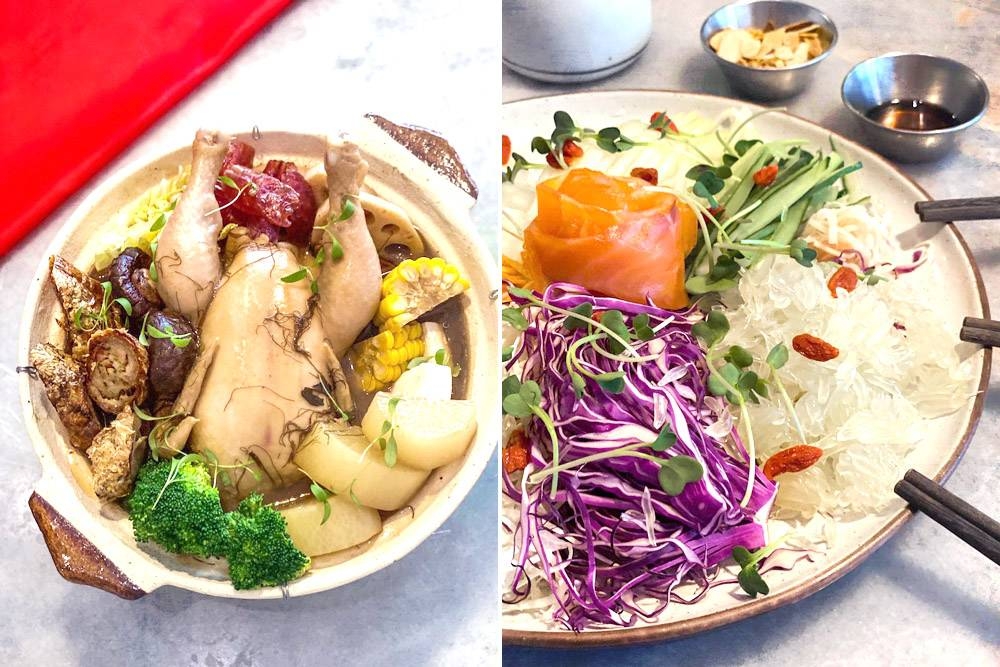 LI Damansara's Poon Choi (left) and Prosperity Yee Sang (right). — Image courtesy of LI Damansara
for a different take you sangTry the Prosperity Yee Sang at LI Damansara, located along a busy row of shops in Damansara Jaya. It's a colorful version, with smoked salmon from Augustine Smokery, sunflower microgreens from Tiny Greens, white and red cabbage, sengkuang (jicama), kuri (Japanese cucumber), carrots, melon and grapefruit.
To offset any oiliness from the fried tofu skin, a little pickled ginger, goji berries, and a slice of fresh lemon help brighten the process.
Instead of spice powder, they use their own blend of dukkha, a mixture of almonds, peanuts, sesame seeds and cumin powder. For the sauce, there is fragrant sesame oil, as well as a sweet and sour tangerine plum dressing.
But it's LI Damansara's Poon Choi that really sets them apart from other restaurants offering similarly you sang. Here, head chef Lim Heng Kit has eschewed the usual abalone, large prawns and fish maw for something lighter: braised chicken.
The star of the show is held together by thick pieces of daikon, lotus root, white flower mushrooms, firm tofu, tofu rolls, corn, black moss, and broccoli. Don't worry, the deep umami flavors are guaranteed by the presence of festive lap cheong (Chinese sausage) and rich chicken broth.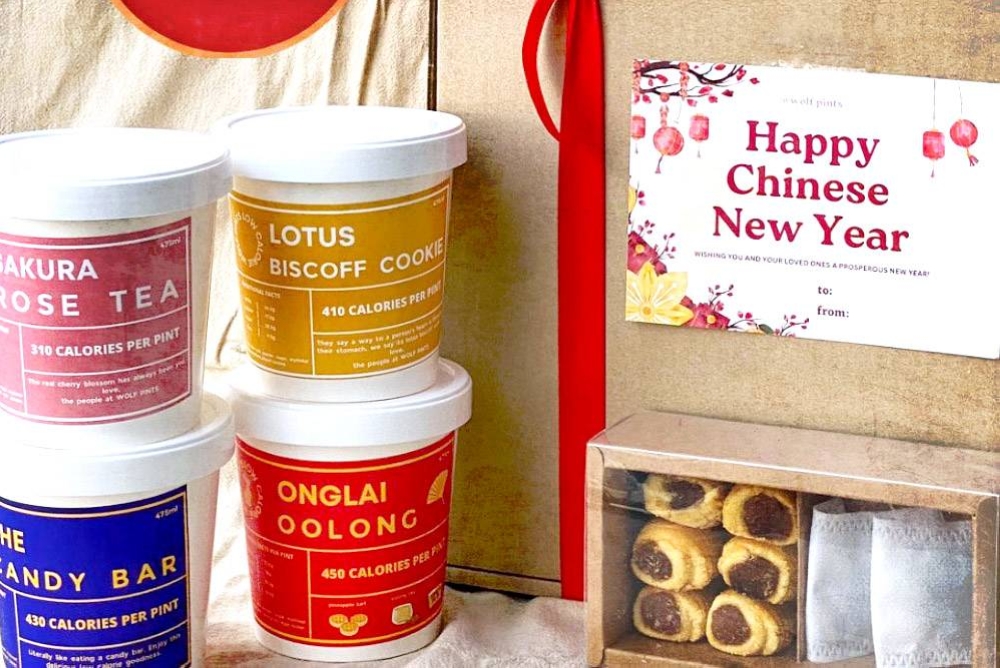 Wolf Pints ​​has a CNY package that includes their festive Onglai Oolong ice cream. — Image courtesy of Wolf Pints
Worried about gaining weight after all that Chinese New Year indulgence? Rest easy as Malaysian startup Wolf Pints ​​has you covered with their range of low calorie ice creams that are packed with flavour.
Insta-famous for its Pulut Tai Tai, a seasonal flavor where a creamy base of pandan is intertwined with swirls of Kaya and bites of pulut (glutinous rice), the health and fitness conscious trio behind Wolf Pints ​​— Jonathon, Jen and Ezra — racked their brains to come up with something unique dong dong chiang.
The result is another guilt-free delight, its new Onglai Oolong flavor where the ice cream base is infused with jin xuana creamy and floral oolong tea from Taiwan, as well as pineapple jam and pieces of homemade shortbread cookies.
Pineapple jam here is key like pineapple in Hokkien is onglai, which sounds like "Good luck, come on!" Wolf Pints ​​had released a popular pineapple tart ice cream before, so they knew this was a flavor profile that would be well received.
Far from being cloyingly sweet, Onglai Oolong (also available as part of a CNY bundle that includes oolong tea bags, pineapple tarts and three other ice creams of your choice) has a buttery quality thanks to the jin xuanalso known as "milk oolong" in Taiwan, and the intense buttery aroma of the cookie crumble.
Maybe you're feeling a little nostalgic and want something older. Who does not remember the simpler Chinese New Year of our youthful days, when a generous square of bak kwa (Chinese beef jerky) sandwiched between two slices of white bread tasted like the most sumptuous meal one could imagine…particularly if one was of school age?
Chicken Bakkwa Floss Sando at Sunday Coffee & Cakes. — Image courtesy of Sunday Coffee & Cakes
Take a walk down memory lane past Sunday Coffee & Cakes at Taman OUG, where the talented kitchen team has taken the above classic combo and elevated it with a twist of their own to create their Chicken Bak kwa Floss Sando.
The "mains" in this sensational "cast" are, naturally, salty and sweet chicken. bak kwa and flavorful light-as-air chicken floss. Taking a leaf from their signature Tamagoyaki Sando, which features a Japanese-style rolled omelette battered and deep-fried, the cooks have included smooth, runny scrambled eggs for a beautiful contrast of textures.
The dressing comes in the form of Sunday's internal spicy mayonnaise (a Sichuan-style mix of mayonnaise and chili oil); some veggies thanks to the crisp buttery lettuce.
and what is a sando no white bread? Despite its name, Sunday is more than coffee and cake. Its bakers make some of the best loaves in the neighbourhood: in addition to the white bread used here, they also have crispy sourdough available.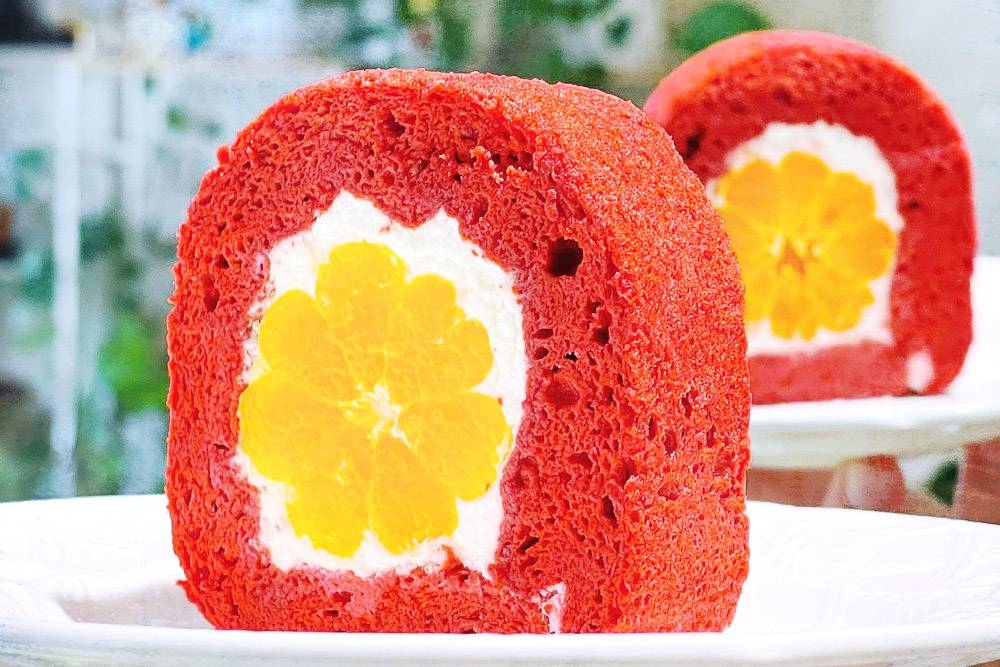 Honey Mikan Roll from KITA Coffee. — Image courtesy of KITA Coffee
To round things off, no Chinese New Year celebration in recent years would feel complete without KITA Coffee's now-iconic Honey Mikan Roll at Bukit Bintang. Sweet citrus is at its peak during the winter months of December and January, making it the perfect pairing for a fluffy chiffon cake and crème fraiche.
Owner Rain Lee, also a 2022 Malaysian Barista Champion, makes these soft buns by hand with minor tweaks each year so customers have something special to look forward to. Last year's version had a Japanese twist. yuzuoffering a nuance of subtle acidity.
For the Year of the Water Rabbit, Lee has made a new Honey Mikan Roll with red cocoa chiffon and orange marmalade; the latter adding a layer of bitterness to the juicy mikan (also known as satsuma mandarins).
Since the name of tangerines in Cantonese: kami — sounds like the word "gold," no wonder this is everyone's favorite fruit during Chinese New Year. May we all be blessed with good fortune and wealth, but more importantly, good health and the company of our loved ones as we gather to ring in another fantastic year.
Learn more about:
Bento Hinode — hinodebento.com
LI Damansara — lidamansarajaya.com
wolf pints — instagram.com/wolf.pints/
Sunday coffee and cakes — instagram.com/sundaycoffeeandcakes/
KITA COFFEE — facebook.com/kitacoffeemy/
* Follow us on Instagram @eatdrinkmm to learn more gastronomic gems