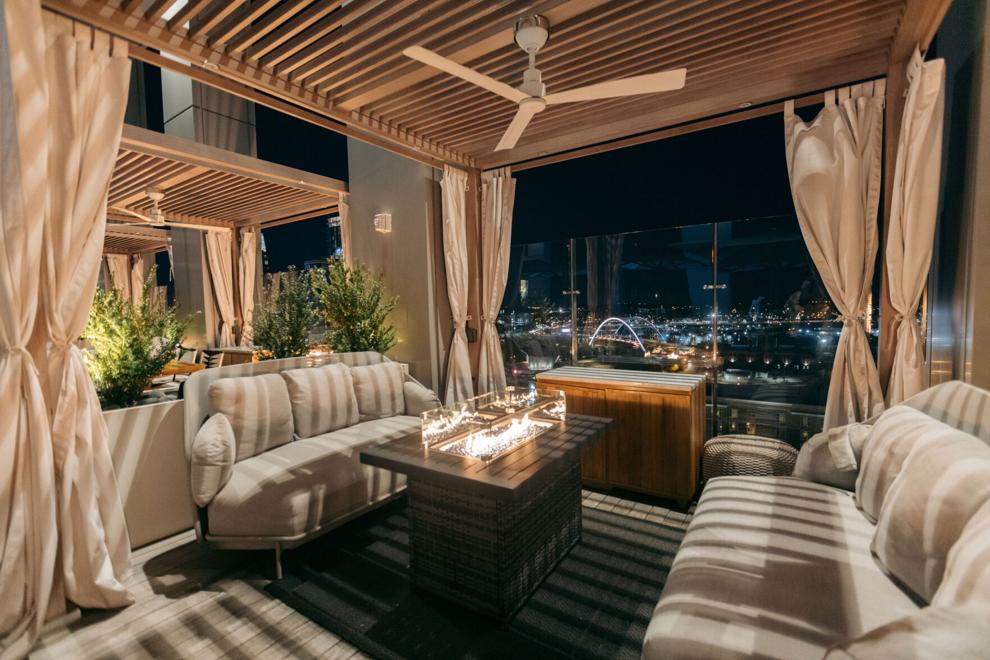 Now, I'm far from being the "fun cop". I like people to have fun, safely among friends. When I heard about Nashville's first Christmas pop-up bar experience, I thought, "Great, Nashville is catching up with New York City when it comes to kitschy Christmas fun, like with Miracle."
Since then, the company behind the over-the-top holiday decorating explosion that is Miracle has spread to more than 120 locations across the country and around the world. (I counted.) Its popularity has prompted other bars and venues to take a more DIY approach to converting their spaces for the holidays — think more Dollar Store than Hyde Park Winter Wonderland.
Now inboxes are full of invitations to holiday-themed events, ranging from dioramas and servers dressed as characters from Elf Y the nightmare before christmas to a complete Currier and Ives nostalgic experience.
Frankly, it's a bit more than I expected during the holiday season, so I was amused to receive an invite to check out a new winter activation on denim, the rooftop bar at The Joseph in SoBro. I have been a fan of the luxury hotel since it opened, particularly of Yolan, the Italian ristorante run by Tony Mantuano on the ground floor of the hotel.
At many of the other hotel rooftop pop-ups in Nashville, customers book short time slots (which may or may not include minimum food and bev) to qualify for seating in a large plastic igloo/hut/egg. While I understand that table turns are important for a bar or restaurant, having time for each of my guests to finish their drink before they're kicked out to the sidewalk for the next time slot is a stress I'm not looking for during the holidays. . Denim offers access to a private cabana 21 stories above the center, and you can make a reservation for two to six people at a flat rate per person, and that's it. The cabin is yours from the night until you finish enjoying. With hardly a hint of sparkle in sight, these cabins feature comfortable seating around a table with a flickering gas heater in the middle.
The two separate experiences are reasonable if you're looking for a little splurge, and suitable for a couples' date if there are a few people you've been meaning to catch up with over the holidays. The most casual option is the Fireside Evening, suitable for two to six guests, priced at $75 per person plus tax and tip. After you're seated with your commanding view of downtown, a server will bring a truly substantial charcuterie board to your sharing tables.
This is not one of those boards designed for Instagram; it's meant for some serious snacking. The variety includes local honeycombs, several different types of olives and cheeses, including homemade burrata, and a variety of cured meats. Drink pairings and flights are available to accompany the charcuterie, and Denim has a pretty impressive offering of spirits, wines, and cocktails.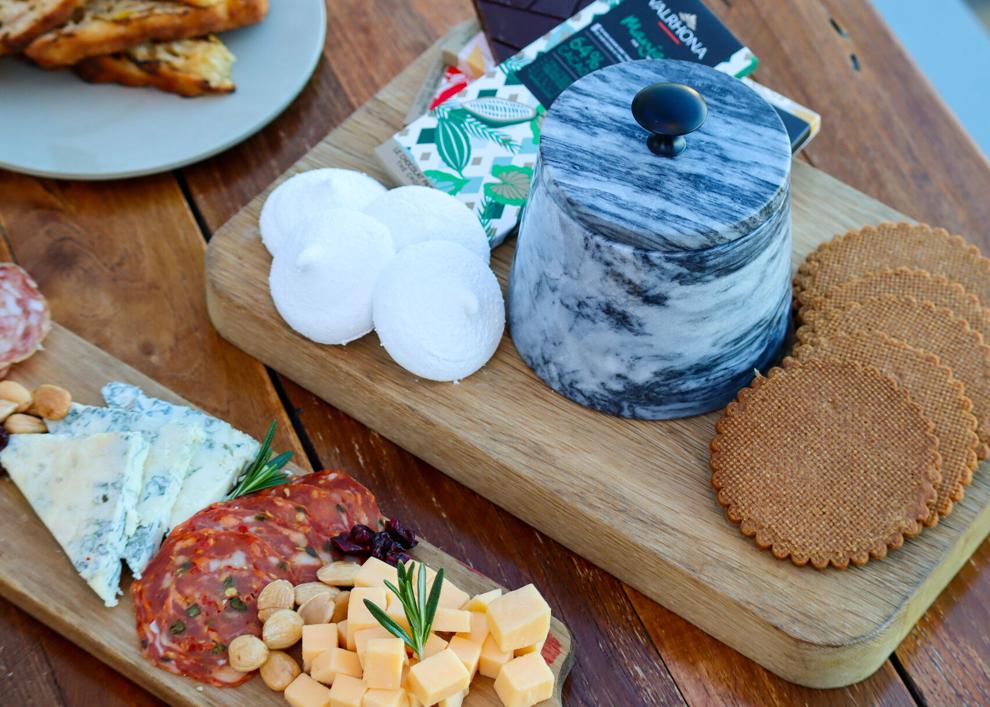 After the meat dish, it's time to move on to that traditional campfire treat, s'mores. Executive Chef Noelle Marchetti has created homemade marshmallows, which are the perfect accompaniment to rich Valrhona artisan chocolates and graham crackers. Her host from her cabin will create a small "campfire" for you at the table to toast your marshmallows to the desired level of coals. Ask them about a whiskey or amaro combination that would work well with your s'more.
If this sounds like fun, secure your spot for a fireside evening by making an online reservation.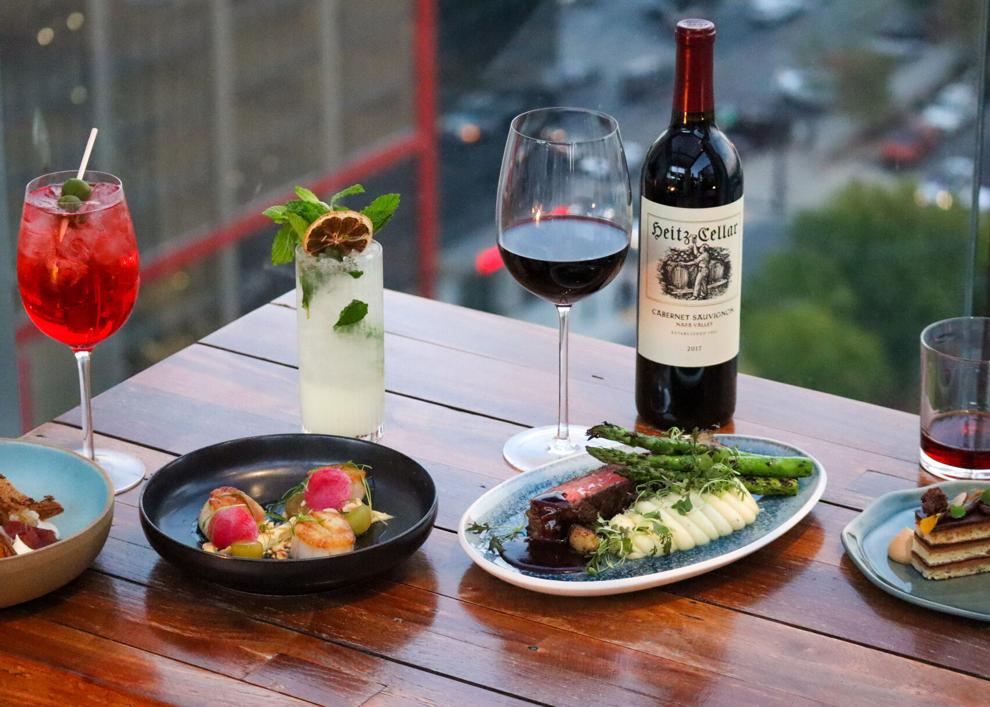 The second experience is for one or two couples and is called Denim at Dusk, a four-course al fresco dinner in a heated cabana with a dedicated server. For $95 per diner, you'll enjoy a Fall Melon Salad with some whipped burrata, followed by savory Scallop dishes with parsnip, apple and hazelnuts, and Bear Creek Farm New York Strip with truffle pomme purée. The dessert of a slab of Opera Cake with espresso snow is the real show of the night.
Dine at your own pace as you soak up the ambience around your personal table's fireplace and linger on optional flights of select beverages. And the chances of getting mugged by a fake Buddy the Elf are slim to none!
Make your reservations for Denim at Dusk at the restaurant's website. Due to popular demand, Denim is now offering both experiences every night for at least the week before Christmas.