Churube Stella, 39, is hopeful that her suffering will soon disappear after she has acquired skills that will allow her to generate income for herself and her family.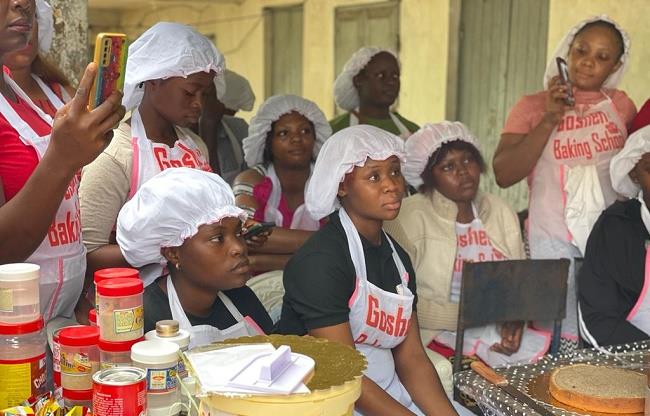 She was a prosperous businesswoman and farmer in Ako, an agricultural town in Cameroon, before separatist armed conflict broke out in the country's English-speaking northwest and southwest regions in 2016.
Stella, who was born and raised in the northwest, said all her assets and farmland were destroyed and her life and the lives of her family members threatened. She was attacked several times and even lost a tooth due to beatings by non-state armed groups.
"They destroyed our businesses, farms and houses," he said, "so we fled to Buea (the regional capital of southwestern Cameroon)."
While in Buea, life became unbearable for Stella, her three grandmothers, and nine children who admired her for her diet. Living as an internally displaced person (IDP) in a strange land, she could only survive with her family thanks to the charity of people of goodwill.
As years passed with no sign of the war ending anytime soon, Stella joined a prayer group and, luckily for her, got in touch with a pastor who introduced her to Ghoshem, a baking school run by the activist from genre and baker Ekabe Quinta. who she is passionate about training women victims of war.
Stella has completed the training and is eager to start a bakery business that she believes will eventually revive her thriving business days.
"I am very grateful because, just with this training, my life has already changed," she said. "With the knowledge that I have gained from this program, I know that even if there is no money to start today, by the grace of God, tomorrow I will be able to bake, fry cakes somewhere and gather a little money to start my own business to take care of of my family."
Stella is just one of more than 30 female victims (adolescents and adults) receiving training at the Ghoshem Baking School to gain skills that will make them self-sufficient.
Tatah Destrice is 15 years old. She has been internally displaced in Buea for five years because she was displaced with her family from Munyenge, a village 51 kilometers from the city of Buea. Ella's father could have finished university by now, but due to the conflict, her family's property was destroyed, making it difficult for her parents to continue sending her to school. She still dreams of going back to school one day and studying to become a nurse. But now, she is focused on learning a trade that will help her and her siblings.
"I can't be illiterate and not have any manual labor to do," she said.
"I can't just give up. I'm still a bright young girl. I am very happy because I know that my life will eventually improve thanks to this training. I know that what awaits me is very big. I learned how to bake a cake, which I will use to earn money to help my siblings and pay school fees," she added.
Her life in Buea before she was introduced to training was miserable. She said that they lived in a one-storey house, without a door or window, with leaky roofs every time it rains, and that some people could only sleep on the floor because they didn't have a mattress and didn't have anything to eat. Tata is optimistic that the difficult life will soon be a thing of the past because she has gained knowledge that will change her life.
Internally displaced women who have just completed training at Ghoshem Baking School in Buea can now look forward to a better life in the future thanks to Crown of Faith Deliverance Ministry pastor Roland Essele.
She started the program because she met many internally displaced women who came to her church and presented their problems due to the war.
"Most of them will complain about not having what to eat and where to stay. Some prostitute themselves. When you ask them why, they will say that they come from war zones. When I come across these complaints, I look at them…. We've been struggling, sharing bags of rice, even little tips to help them save in a way or two. However, the complaints keep coming in," she said.
"So I decided that I will find a partner that we can empower to have something to do for themselves," added Pastor Roland Essele.
According to him, the main reason for the formation of DPIs is to combat poverty in the lives of women, both old and young.
"If they have what they can do, I think the world will have something to gain from them and the community will benefit from it," he said.
El Pastor is also a commercial taxi driver. It is the earnings from his driving that he uses to organize training for these IPD women and girls.
Their wish is more resources and funding. However, he does not give in, as he said that he would do it as a training school so that many more who are suffering as a result of the conflict can benefit from it and fight against poverty.
Currently, they are still patching up a small room that they turned into a bakery at the Buea Youth Center. There, IPDs get involved in learning how to bake different types of cakes, whether for weddings or birthdays. In addition to cakes, they are learning how to fry different varieties of foods.
Ekabe Quinta, is giving them the desired abilities. According to her, she can only rest when the women are financially stable, especially at this time when they are suffering from the effects of the current war.
She began the training by psychologically balancing the women due to the trauma of war before proceeding to teach them.
"I had to bring their minds back by telling them they can do it. Second, I tell them what they can benefit from if they learn," he said, adding that she teaches them everything at the bakery. "I try to educate them so that they can stand up and become bakery owners anywhere in the world. I teach them entrepreneurship and bring them together to see how they can empower themselves."
Ekabe trained them on how to bake, measure and make ice cream cakes. "In addition to cake, we have sugar bowls, gâteau, boulangerie, cookies, fish pie, meat pie, hamburgers, among others."
The initiators of the project called on the international community and people of good will to come to their aid in their campaign to empower thousands of internally displaced women.
Cameroon is the only bilingual country in Africa. The English-speaking regions that have been ravaged by war make up about 20 percent of the population. The current war began with just a protest by English-born lawyers and professors over allegations of marginalization by the government of President Paul Biya.
Due to the inability of the government to adequately address the demands of the aggrieved lawyers and teachers, what was only a crisis, by 2017 it became an armed conflict. According to the Global Center for the Responsibility to Protect, more than 6,000 people have been killed since 2016, while more than 500,000 have been internally displaced.
By Njodzeka Danhatu and Arison Tamfu
Related