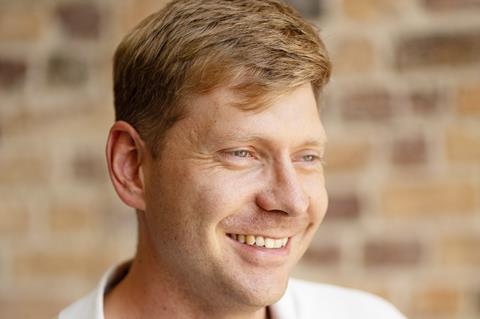 In this series, british baker talk to the people behind the products to find out where they get their inspiration from, what a typical work day looks like, and which part of NPD was the hardest to perfect.
Next up is Jordan Kerridge, Higgidy's Culinary Chef. Having trained in high-end kitchens in London, he became interested in product development after a visit to Unilever in 2015. He joined the Higgidy team in 2021.
What does a typical workday entail?
It's so varied! Every day is different, which always keeps things interesting. The week centers around our weekly NPD tasting session, where we review new product concepts and flavor combinations the team has been working on.
Most days start with a senior food team meeting in the morning, to discuss the day's business and review our product innovation pipeline to make sure we're making progress with all the new recipes that are on our plan; we are currently working in advance. to 2024.
After the meeting, I head to the kitchen to work on our current projects. We have a dedicated NPD kitchen area that we use solely for product development, and I work alongside our junior development technologist and NPD assistant.
I usually go to a few meetings with various teams in the company, including marketing and business, to work on things like titles for new products and opportunities for new releases. I try to finish in the kitchen first thing in the afternoon and then spend some time doing research, looking at new menus, food trends, and checking out what our competitors are doing.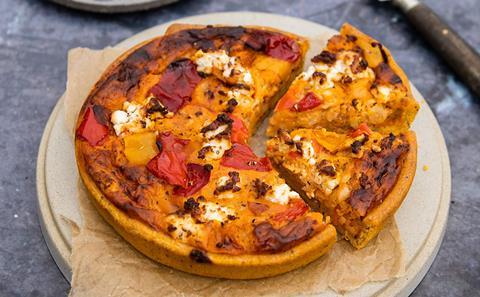 What is your process for creating new products?
I focus mainly on innovation for what their long-term projects. We will start from a basic idea or concept, such as snack and share formats. As a food team, we work closely with marketing, looking at our target consumers to make sure we're producing the food people want or are currently missing out on. I also have to stay on top of what's trending not just in stores but also in restaurants which helps me think of innovative flavor combinations that haven't been done before or give popular flavor profiles a twist. characteristic of Higgidy.
My job is not to think about how something will be done, but simply to generate ideas that I love, as they give me creative freedom and the opportunity to experiment. We have a whole set of other talented people in the business whose job it is to turn those ideas into a commercial product. I feel lucky that Higgidy allows me time to play with new ideas and experiment, there's no stopping it.
Recently, I was looking at what else we could do with baking, since it's central to our food, so I looked for ways to include vegetables (like quiches filled with vegetables) or use new flavors and textures. I just want to push the limits and question everything.
What is your favorite ingredient to work with and why?
Vegetables and lots of it!
We are very proud to have a vegetarian approach at Higgidy and over 75% of our range is currently vegetarian or vegan. The variety we have in the range is huge and there is always a desire to include even more vegetables in our food, which is not a bad thing.
I'm determined to make Jerusalem artichokes into a product as I think it's amazing because they are so versatile – watch this space.
Which NPD piece are you most proud of and why?
My first development piece has been my proudest moment so far. I developed a vegan petit pois and zucchini quiche with a hint of mint and chili. As you can imagine, it's quite tricky to make a great-tasting quiche without using eggs or dairy, but I used a different method to create an indulgent vegan quiche and was very proud to see my creation hit supermarket shelves for the first time before. this year.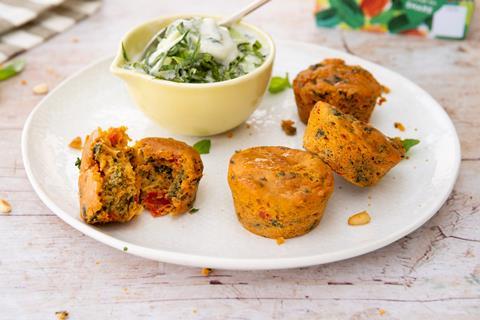 What was the hardest piece of NPD to perfect and why?
The vegan spinach and red pepper mini muffins we launched in September were a little hard to perfect. As a team we had many attempts to get it right as it was incredibly difficult to achieve the taste and texture of our current muffin (which is vegetarian) but in a vegan format, again without being able to use eggs which give a slight airiness. texture to our muffins. I'm happy to say that we finally cracked it (no pun intended!).
Tell us about a product you really believed in but didn't quite work.
Last year we worked on the "mega" muffin, based on the concept of our successful mini muffins. We were very happy with the idea, but we didn't know where to present it. Was it a snack or a meal? How would people eat it? Could it replace a sandwich? This goes to show that having knowledge is invaluable and is something we might come back to in the future.
What is your favorite bakery item and why?
I am a fan of a great Melton Mowbray pork pie, it reminds me of when I was a kid sitting with my grandfather on a park bench.
What are your top bakery trends for 2023 and beyond?
A further push towards a more vegan and healthy diet. Reduction and sustainability of palm oil. There's a lot going on right now and I'm excited to see where the category and Higgidy go next.