Traditional fried pork Ah Yen on Orchard Road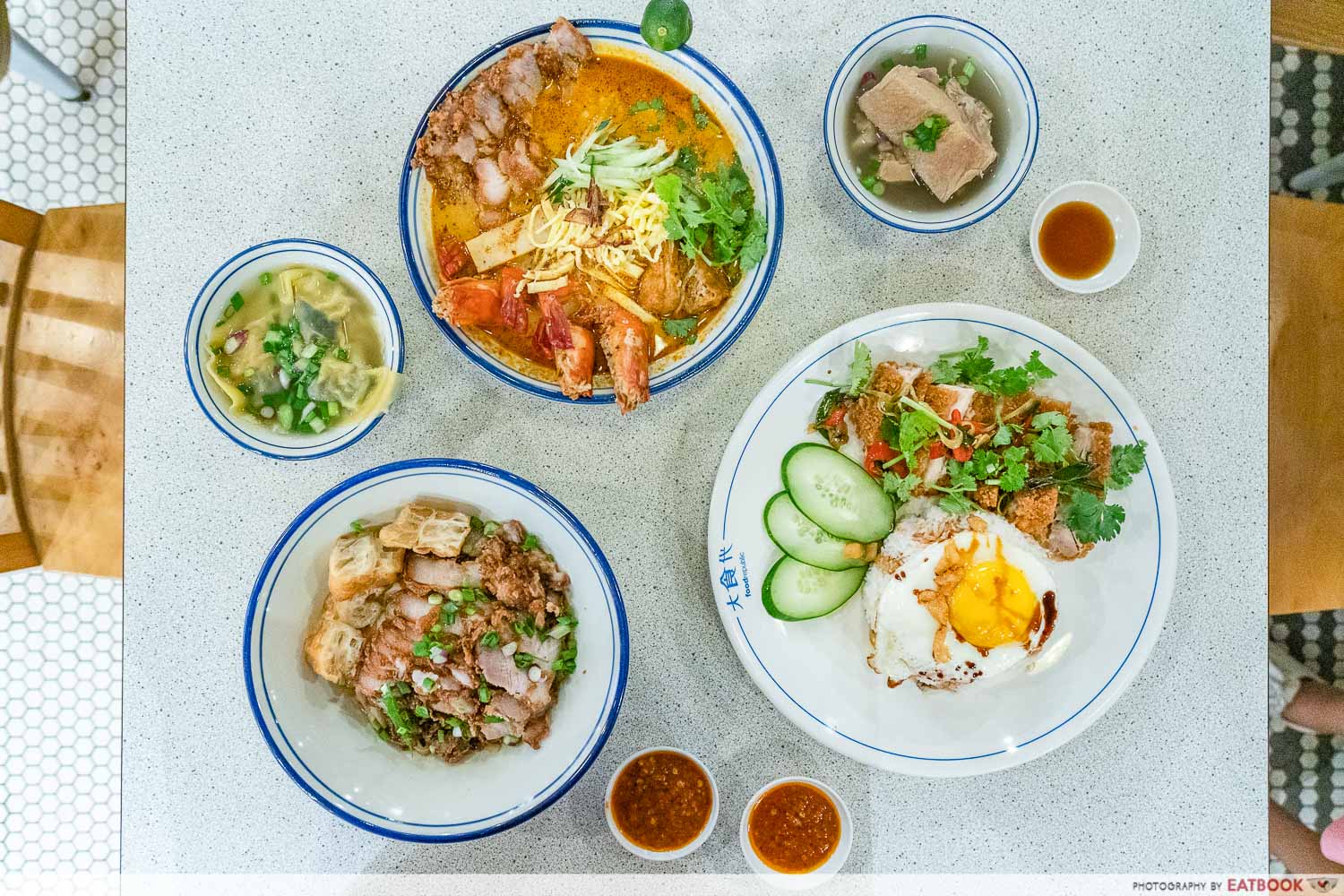 I have no qualms in admitting that comfort is one of my priorities when it comes to looking for great food. So when I heard about the famous Malaysian hawker stall Traditional fried pork Ah Yen launching their first store outside of +60, I jumped at the chance to check them out.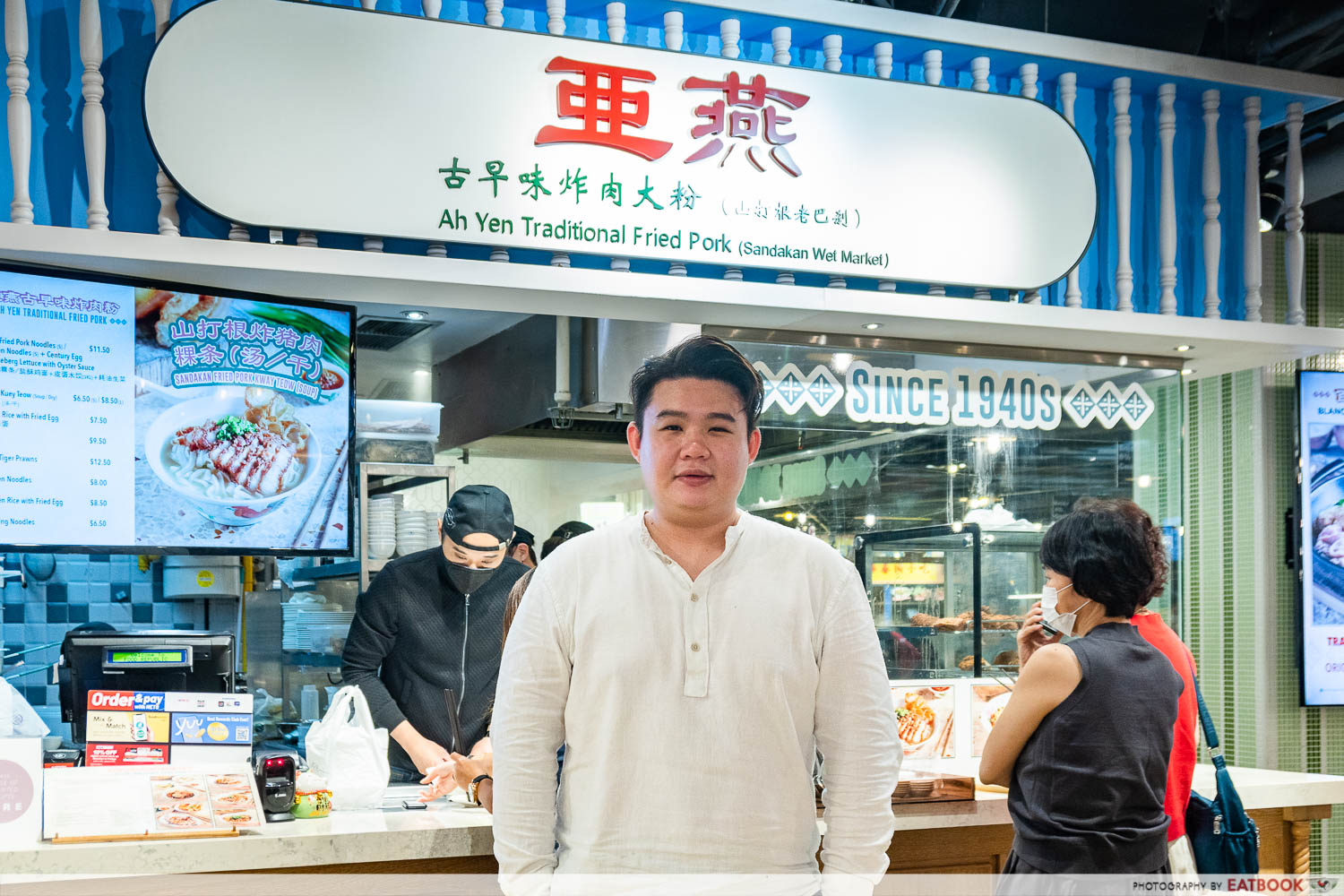 The man responsible for taking Ah Yen beyond its original small hawker stall in Sandakan, a town in Sabah in East Malaysia, is David Lee, 29, who was previously chef de partie at Pollen, in Gardens by the Bay. His grandfather is the original Ah Yen, who started selling Hakka fried pork and homemade kway teow dish in 1940.
Today, Ah Yen has posts in Kota Kinabalu and KL, and now they have their sights set on Hong Kong.
Meal at Ah Yen Traditional Fried Pork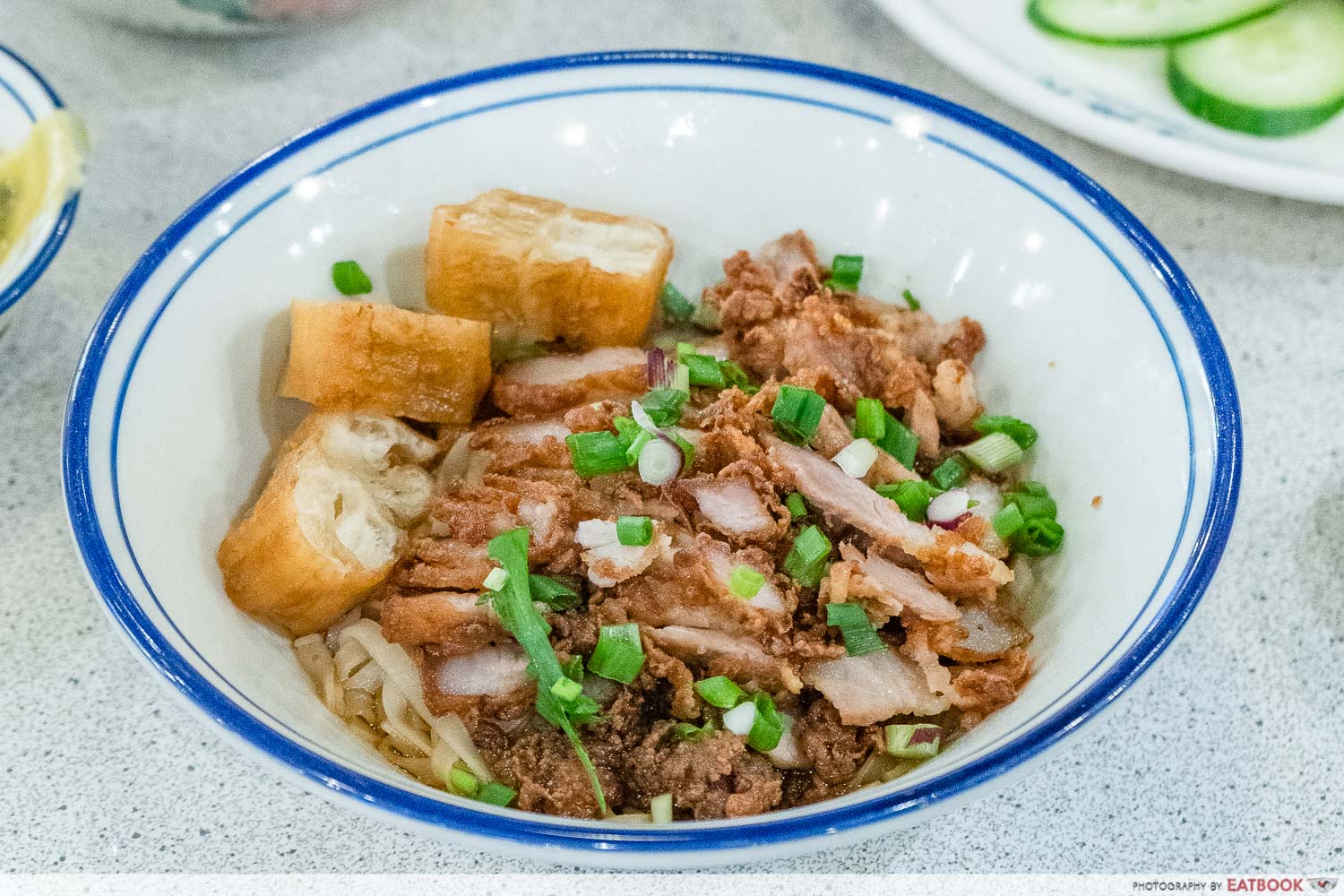 We started the meal with Ah Yen's signature dish of Fried Pork Sandakan Kuey Teow Dry ($6.50). It also comes in a larger service. ($8.50), and in a soup version if you prefer. It is the only dish that OG stall in Sandakan sells; everything else on the menu at this Food Republic outlet has been created by David, along with his business partner Chef Ace Tan.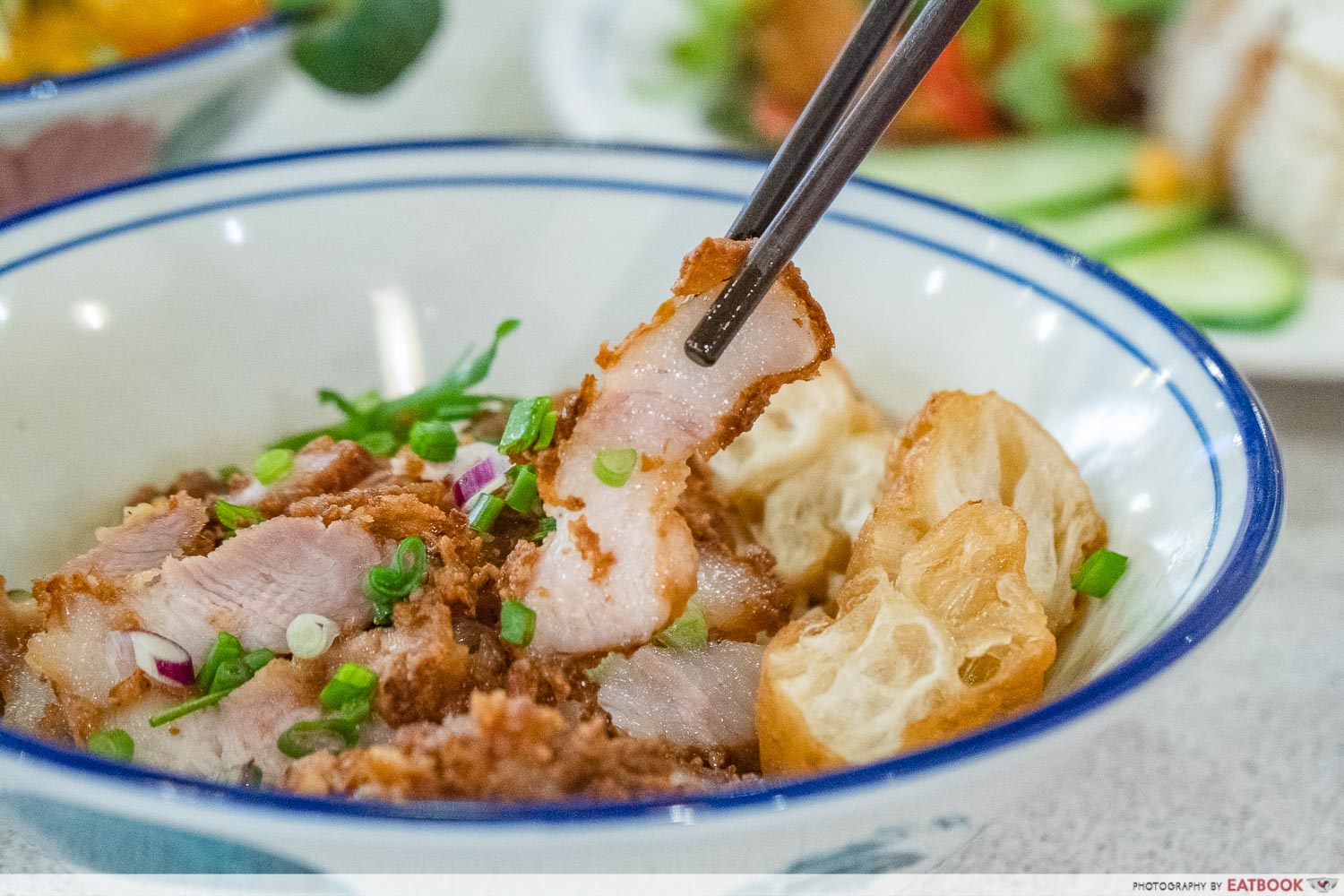 David comes to Singapore at least every two weeks to make the marinade for the pork himself, that's how top-secret the family recipe is. what we do What is known is that, as is typical for Hakka fried pork belly, it is marinated with fermented red beancurd, also known as 南乳 (nán rǔ), giving it an addictive umami flavor.
The very thin crumb, which I give a thumbs up, differs from the original Ah Yen recipe. David has spiced it up with a mix of sticky rice flour and regular flour, which he says makes the finish crunchier. If the flavor hadn't won me over, this definitely did.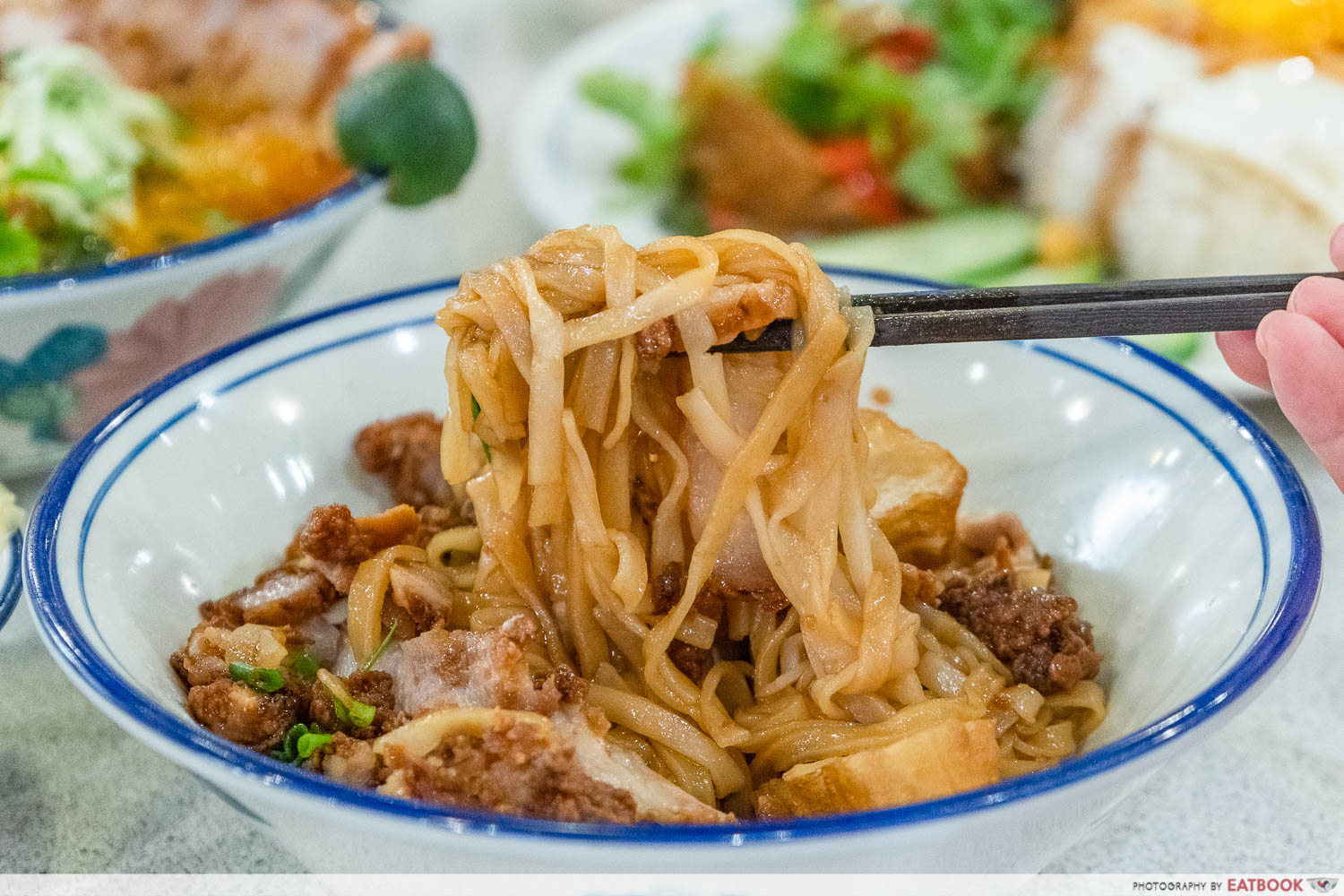 The kway teow they use at this Singapore outpost is sourced locally, due to the perishable nature of this rice noodle. David tells me that he doesn't compare to what he gets at home, but they manage. I enjoyed the flavorful, lard-fragranced sauce it was mixed with; the smooth and slippery noodles contrasted nicely in texture with the crispy, thinly sliced ​​pork belly.
To maintain the authenticity of this dish, David even brings a Malaysian-specific light fermented soy sauce, which he uses on the food. It's the exact same soy sauce his grandfather used, and it's also available at the stand if you need more flavor in your meal.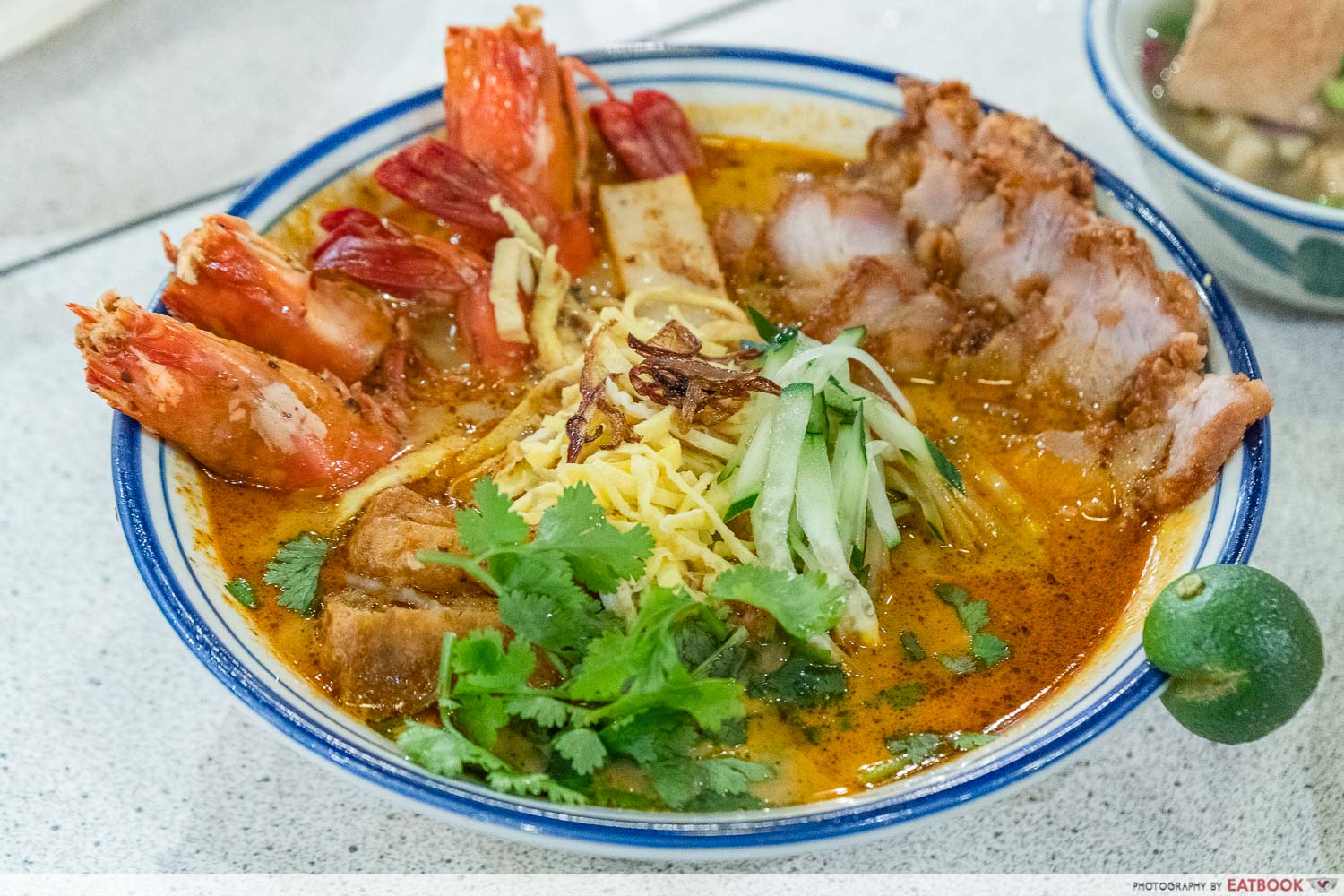 We then had Sarawak Laksa with Tiger Prawns ($12.50), another East Malaysian speciality. It sounds expensive, but this portion was huge. You can get it without the prawns. ($9.50) to keep your food here for less than $10!
Instead of the traditional skinny bee hoon we had it with mee kia which was a nice change. If you haven't had Sarawak laksa, don't expect the same creamy, lemak, curry-style laksa we're used to. It features a more delicate nose that is slightly spicy, as in herbs and spices, brightened with assam and a dash of fresh lime.
The rempah for this dish is not made by Ah Yen Traditional Fried Pork; David gets it from a 'famous supplier' in his country who makes it especially for him.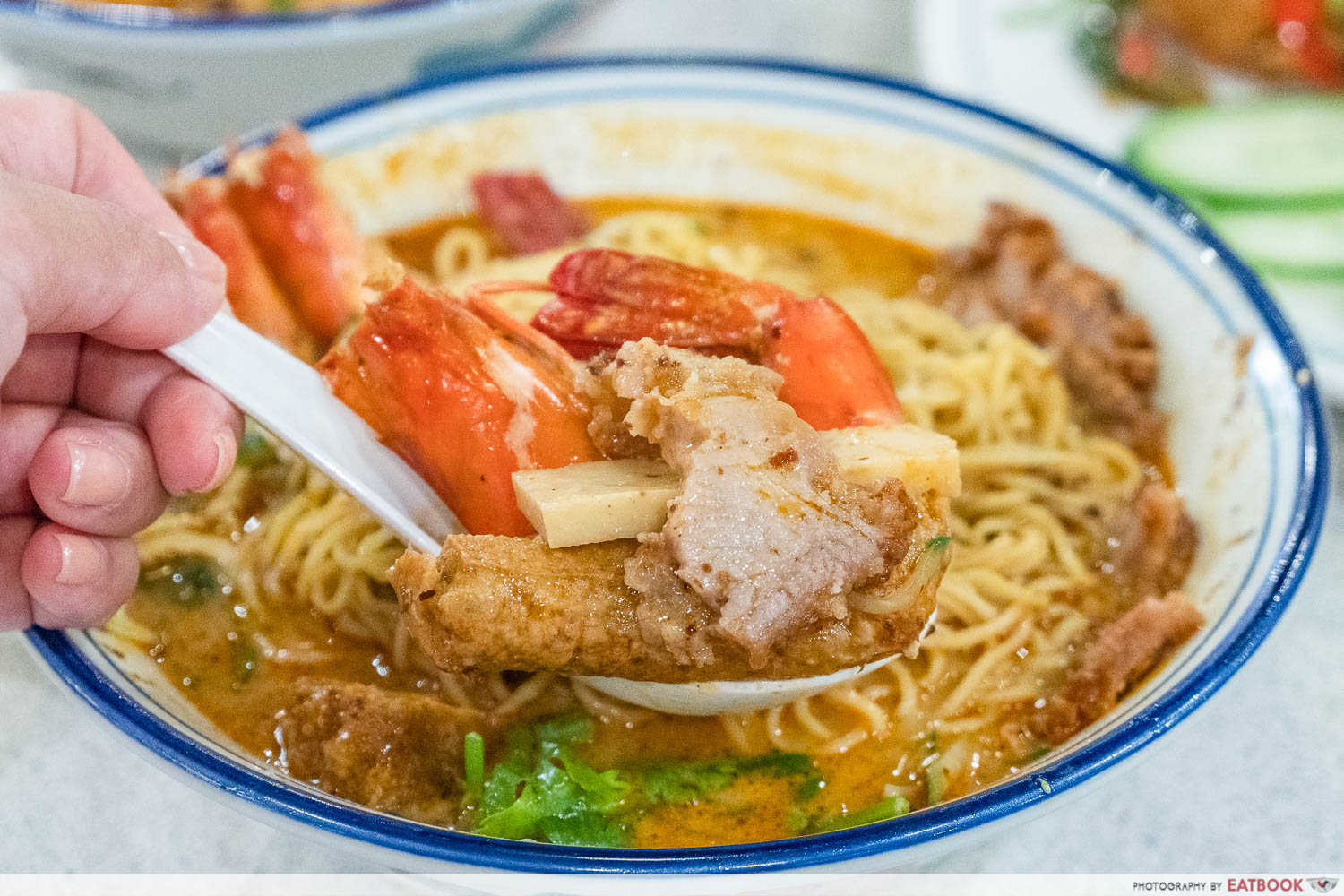 Large, fresh tiger prawns and more fried pork belly grace this dish, along with sides of cilantro, sliced ​​tortilla, tau pok, and fish cake. The pork belly added extra flavor to the dish, but as expected it got soggy pretty quickly. I also wished the prawns came peeled for convenience.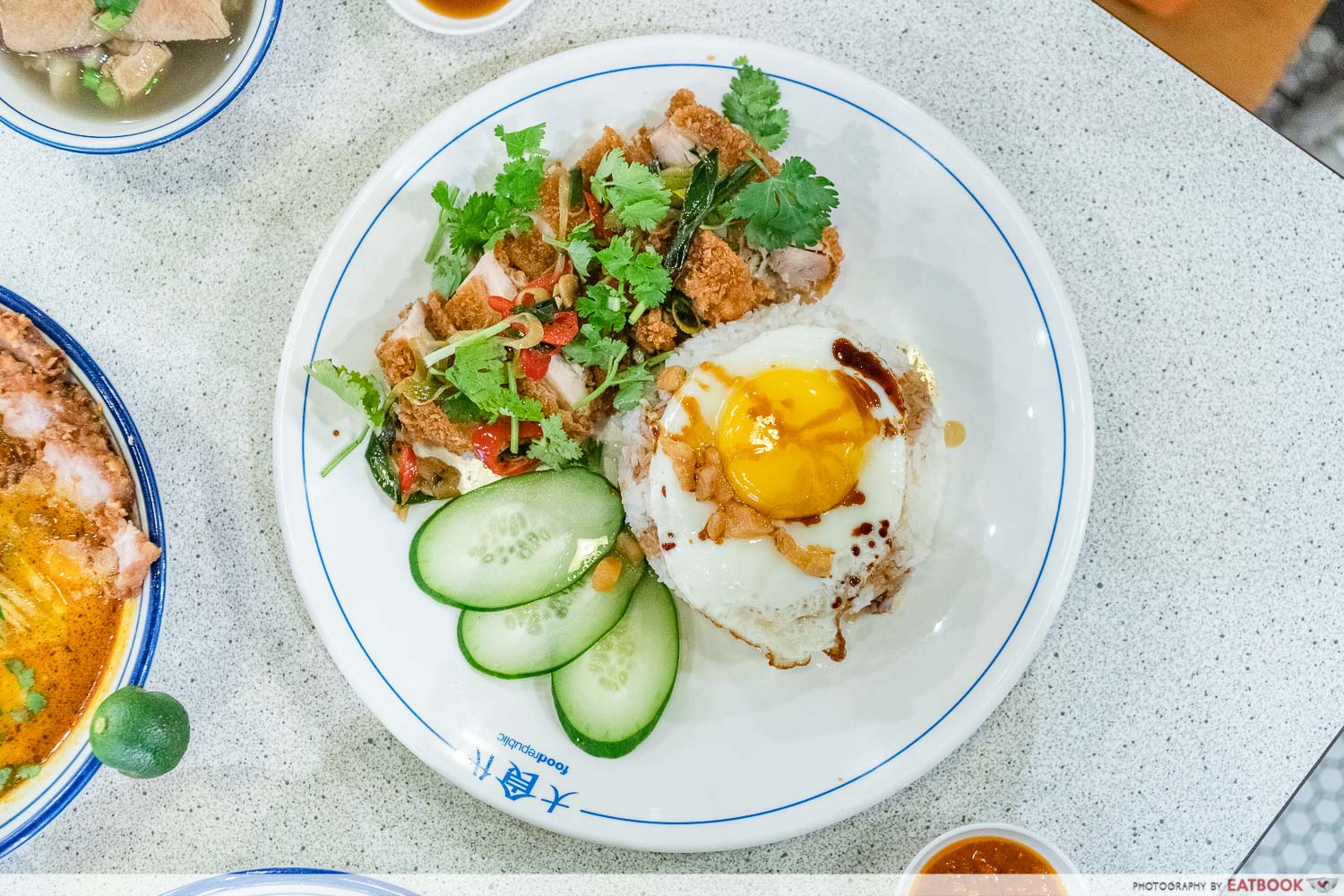 don't miss the Salt and Pepper Chicken Rice with Fried Egg ($7.50), which I see myself asking for again on the road. Not your ordinary fried chicken cutlet over rice – fresh Malaysian chicken is battered and deep-fried, then sprinkled with Sarawak pepper and salt. Dip it into the super yums, homemade chili offered self-serve at the stand for extra flavor: the chili is freshly cooked every few days, with a twist that makes it mouthwatering.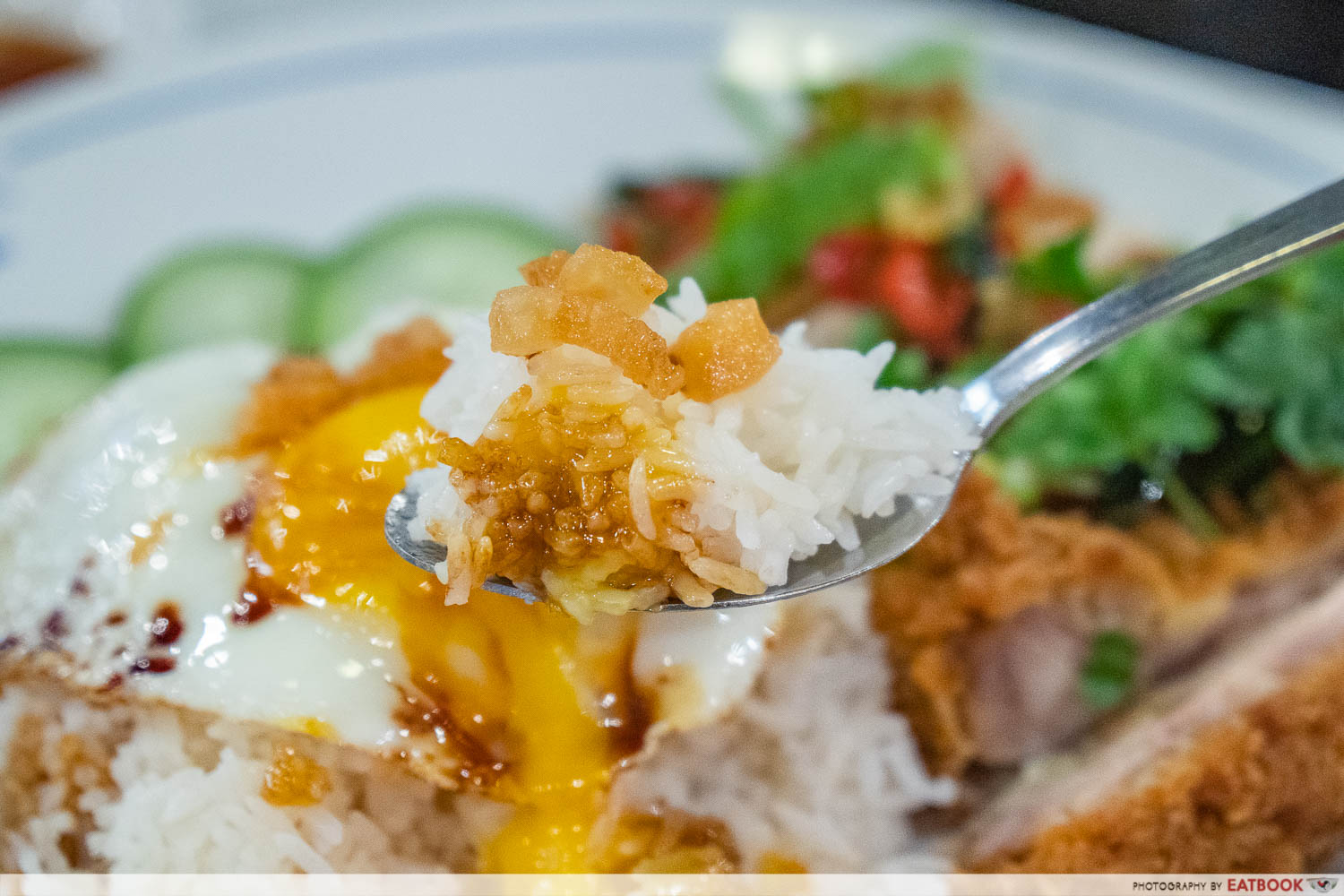 If, like me, you go for the sesame oil-based sauce that is drizzled over chicken rice, you will like the flavored rice here. It's aromatic with a trio of shallot, sesame and lard oil, smothered in their special soy sauce and then dusted with house-fried lard puffs. Cut a runny yolk and it is the 猪油捞饭 (zhū youú lāo fàn) of my dreams.
Atmosphere at Ah Yen Traditional Fried Pork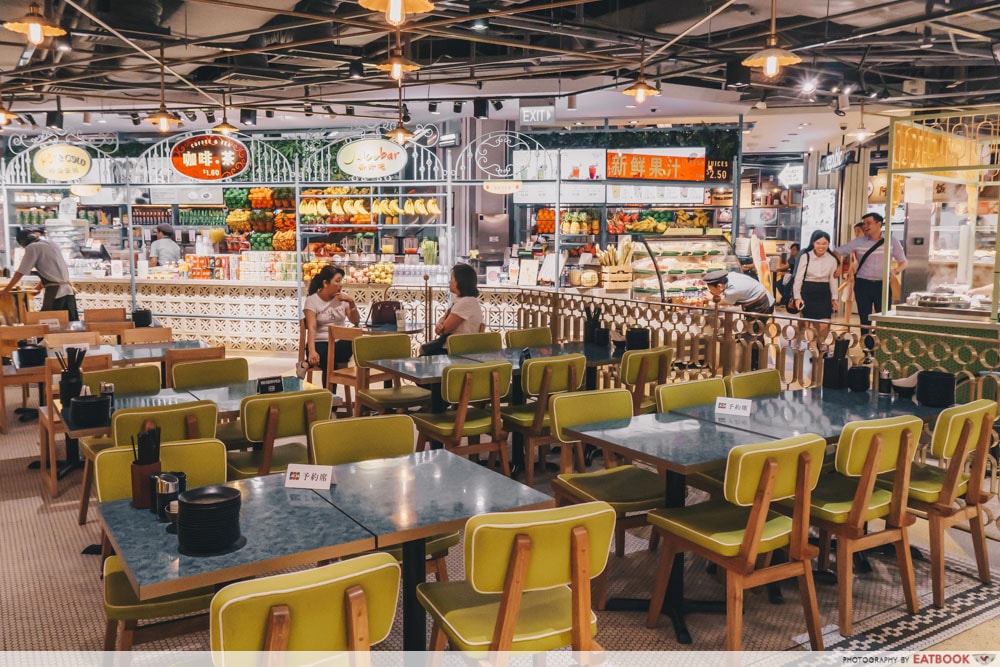 Ah Yen Traditional Fried Pork is located on level four of Wisma Atria, inside the Food Republic food court, or right next to it Orchard MRT Station, making it extremely conveniently located. There is ample seating for everyone, but it also gets quite crowded at meal times; come off-peak to avoid the office crowd.
The verdict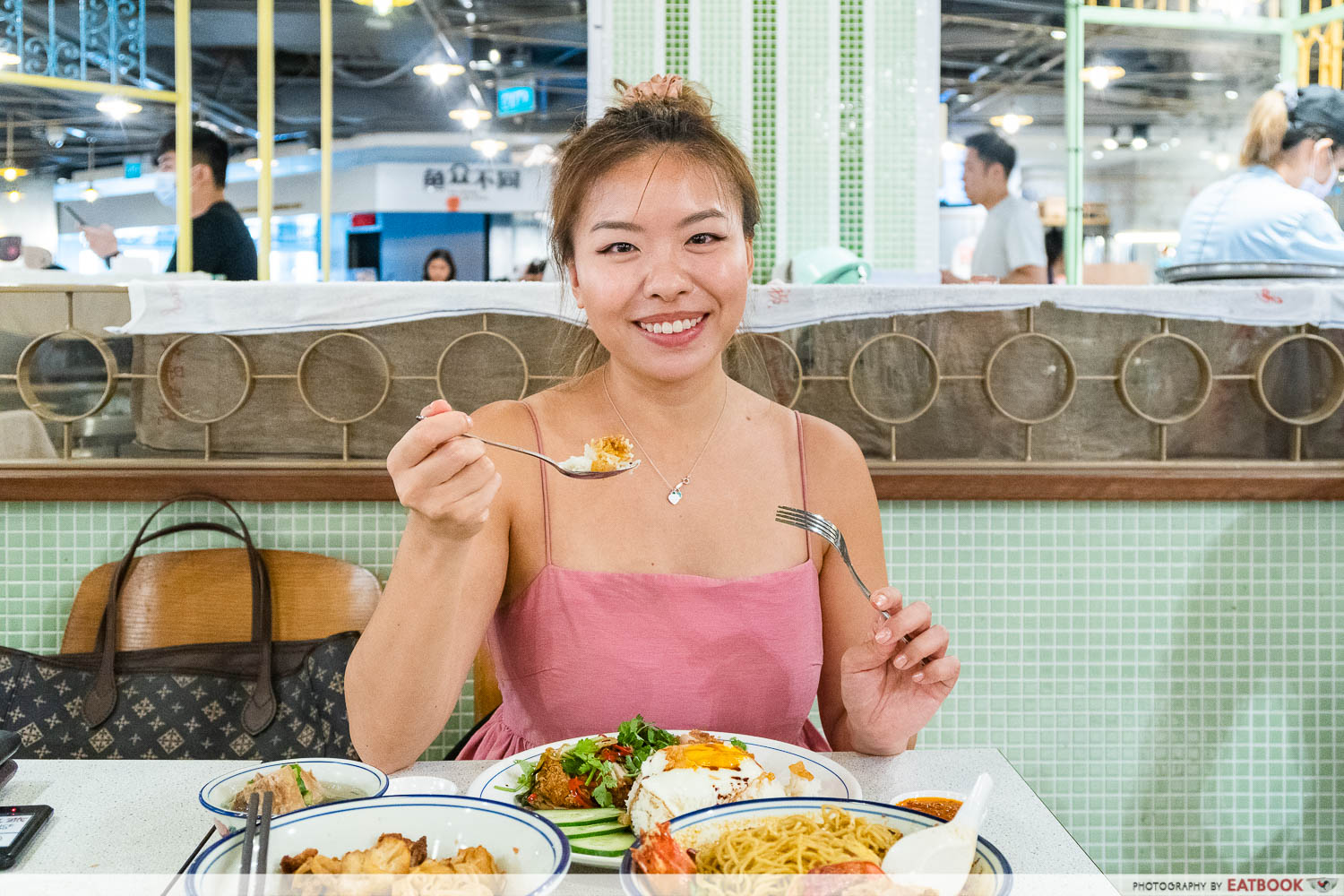 My dining partner found some of the food slightly salty, but it went down well with me. If the lines in front of the stall at lunchtime when we were there are anything to go by, I guess I'm not the only one who thinks so. I actually quite enjoyed the kway teow and the chicken rice in particular and would definitely eat this again.
For more Hakka nominations, check out Goldhill Restaurant, which serves traditional handmade Hakka yong tau foo. They also have abacus seeds which are rarely seen on the menu. Otherwise, Melbourne's Puzzle Coffee has just opened next door to Wisma, in ION Orchard.
Address: 435 Orchard Road, Level 4, Food Republic, Wisma Atria, Singapore 238877
Hours: Every day from 10 a.m. to 10 p.m.
Website
Ah Yen Traditional Fried Pork is not a halal certified restaurant
Photos taken by John Lery Villanueva
This was a media tasting at Ah Yen Traditional Fried Pork
Ah Yen Traditional Fried Pork Review: Famous Family Recipe in Sandakan Since 1940

Ah Yen Traditional Fried Pork Review: Famous Sabah Pork Kway Teow Now In Singapore – 8/10
8/10
Summary
advantage
– Large portions
– Tasty fried chicken and pork
– The dry kway teow and chicken rice were very tasty.
Cons
– Some items were a bit salty
Recommended dishes: Salt and Pepper Chicken Rice with Fried Egg ($7.50), Sandakan Fried Pork Kuey Teow Dry ($6.50)
Opening hours: Daily 10am to 10pm
Address: 435 Orchard Road, Level 4, Food Republic, Wisma Atria, Singapore 238877