Want to support the Block Club Gift Guides and our other local journalism? Subscribe here or click here to gift a subscription. If you order today, you'll get a free 16-by-20-inch print of the Chicago neighborhood of your choice!
EDGEWATER — Few areas of the city make it easier to shop local for the holidays than the Far North Side.
With a plethora of neighborhood stores to support, Block Club is highlighting some of the area's new businesses, as well as local manufacturers whose wares are available in neighborhood gift shops.
That includes a new home goods store in Edgewater with a robust online store, a recently expanded witchcraft shop and two Andersonville businesses started by neighbors whose wares are displayed along Clark Street.
This is where you can buy:
Residential area
Hearthstone and Terrace, 1329 W. Wilson Ave. Website.
This combination homewares and botanical shop opened in the heart of the pandemic, relying on its outdoor retail space to survive. It has survived those times and has grown into a stately, well-kept store with many eye-catching offerings.
The Modular Mid-Century Bookshelf ($2,000, currently out of stock) might be ideal for someone who likes the finer things in life, and the Peruvian Cactus ($150) and Angular "Pitcher Vase" ($50) are excellent gifts for your loved ones.
Open from 11 am to 6 pm Monday through Saturday and from 11 am to 5 pm on Sundays. 773-944-0467.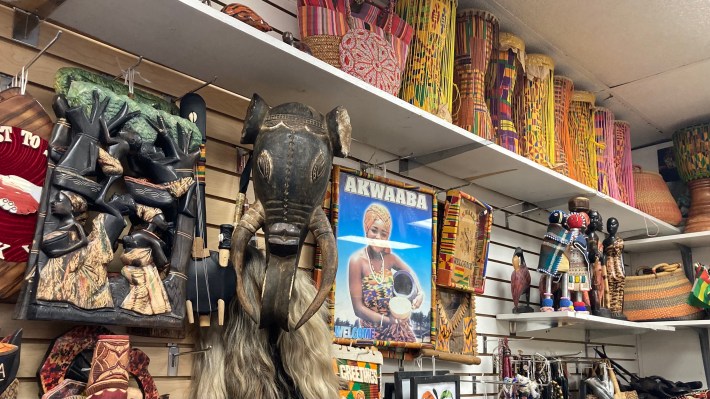 Good Shephard Enterprise African Store, 5108 N. Broadway
In addition to being known for its African cuisine, Uptown is a destination for African gift shops. The real gem is the Good Shephard Enterprise African Store on Broadway, just north of Argyle Street.
Owned by a Ghanaian husband and wife, the shop stocks imported jewelry, kitchen items, and home decor, including traditional African masks (starting at $30). The Ethiopian-made drums ($70) also double as musical instruments and pieces of art.
Open from 10 am to 6 pm from Monday to Saturday. 773-878-1433.
"Daring to Struggle, Daring to Win" by the former Uptown Ald. Helen Shiller
Uptown is about to select a new council member. Prepare for the political battle ahead by reading Uptown Ald. Helen Shiller's new autobiography, "Daring To Struggle, Daring To Win". Published this fall by Chicago-based Haymarket Books, the book's subtitle is "Five Decades of Resistance in Chicago's Uptown Community." It highlights Shiller's work alongside the Black Panther Party and political coalitions, including Harold Washington's.
Available from Haymarket Books ($17.46 at time of publication) or Women & Children First, 5233 N. Clark St. ($24.95).
andersonville
La Véxima, in local and online stores. Website.
One of Andersonville's newest businesses is The Twentieth, a maker of Art Deco-themed gifts and art. Started by Andersonville-based art historian Emma Lewis, the business features dazzling, colorful reprints of turn-of-the-century Parisian magazine illustrations (starting at $45), hardcover notebooks ($18), and art coaster sets. decor ($12). There's also a Christmas and Chicago-themed line, and some of the merchandise is stocked in stores, including the Andersonville Galleria.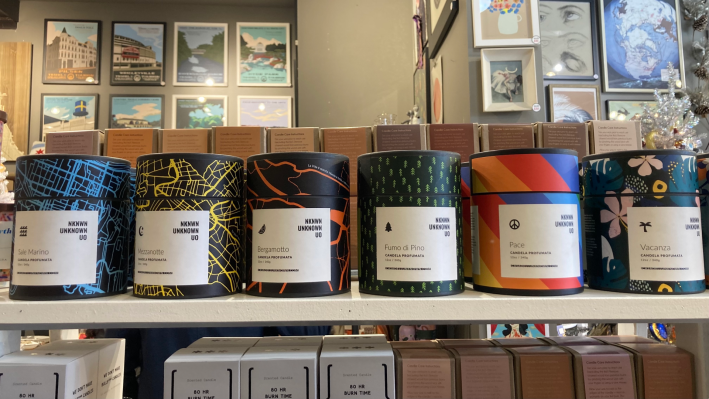 Casa dell'Unknown, in local stores and online. Website.
Dominic Ferraro of Andersonville has been making candles and other home fragrances out of his basement studio since 2020. The result is euphoric-smelling candles in thoughtful packaging.
The "Pace" candle and the "Vacanza" candles will elevate the atmosphere in your home ($48 each).
Casa dell'Unknown is available at Andersonville stores including Foursided, Ándale Market, Milk Handmade, and Winifred Grace.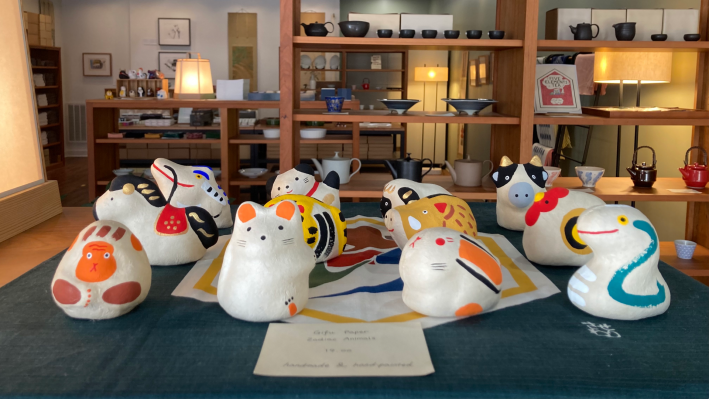 Five Elements Home, 5239 N. Clark St. Website.
If your holiday shopping spree needs a little zen, stop in at Five Elements Home. Opened in 2016, the store feels like an oasis on busy Clark Street, and its thoughtfully designed products will elevate your mood and the look of your home.
You'll find plenty of elevated Asian housewares at Five Elements Home. Items that make perfect gifts include the Hanafuda Japanese card game, with elaborate hand-painted playing cards (decks start at $25), washi paper incense sticks, and adorable zodiac figures ($19).
Open from 11 am to 6 pm Monday through Saturday and from 11 am to 5 pm on Sundays. 773-293-6872.
water edge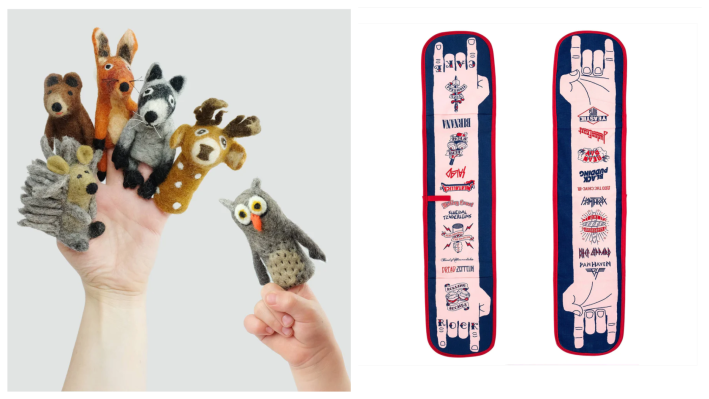 Marais Home & Garden, 1206 W. Victoria St. Website.
The most recent entry on this list is Marais Home & Garden, which opened this year at Broadway and Victoria Avenue. The homewares and decor store offers a smart selection of gifts with a robust, expert-curated online store.
Check out the tattoo sleeved baking mitts ($33) and the shop's toy section, which includes animal finger puppets made in a fair trade certified, family-owned workshop in Kathmandu, Nepal ($10 each). ).
Open 11 a.m. to 6 p.m. Wednesday through Friday, 11 a.m. to 4 p.m. on Saturday, and 12 a.m. to 5 p.m. on Sunday. 312-409-1675.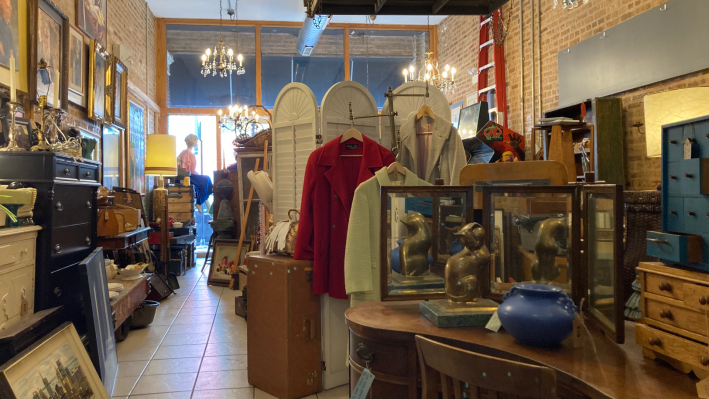 Andy's Arts, Antiques & Oddities, 1253 W. Devon Ave. Website.
Andy's is known primarily as an antique store, but the store also has many locally made items that make great gifts.
Be sure to check out the local artisans' corner at the Devon Avenue store, which stocks homemade notebooks, tie wallets and reclaimed wood frames. My favorites were the mechanical pens and pencils made with locally sourced wood by Chicago-based Wolf And Stag Wood And Iron ($50) and creepy ceramic shot glasses made by a local artisan ($25).
Open from noon to 6 pm Wednesday through Friday and from noon to 7 pm on Saturdays and Sundays. 773-654-3975.
rogers park
Charmers Horseplay, 7358 N. Greenview Ave. Facebook.
This business comes from the owners of the nearby Charmers Cafe and is a gift shop befitting Rogers Park. It's packed with fun and quirky favors that will be the talk of your white elephant party.
You might get a laugh over a toy gun that shoots dog treats ($10) or the Freudian slippers ($29), which include a plush version of everyone's favorite psychoanalyst. A more practical gift is the watering can and spray bottle combo ($18) for the plant mom and dad on your list.
Open from 10 am to 5 pm from Wednesday to Sunday. 773-856-0185.
Malliway Bros., 1407 W. Morse Ave. Website.
Rogers Park's premier witch shop moved to a larger location last year. The shop has the perfect vibe to match their retail selection, as the shop is stocked with potion and spell books, tarot cards, charms, and incense.
The deity sculptures, including Hecate and Frigga ($47), are eye-catching. There are more regular freebies, too, including a mini cast iron cauldron ($19) and colored gemstones ($23). Malliway also offers classes in witchcraft and fortune telling, among others.
Open from noon to 8 pm Monday through Friday, from 11 am to 8 pm on Saturdays and from 11 am to 5 pm on Sundays. 773-754-7546.
Listen to "Everything Is Fine: A Block Club Chicago Podcast":