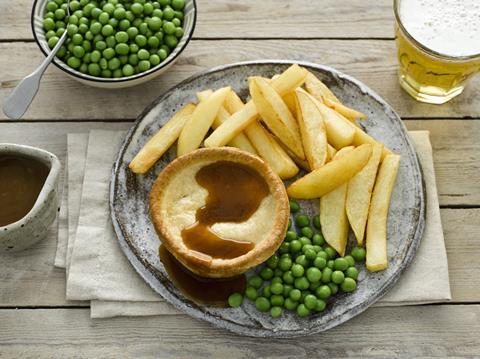 2 Sisters Food Group is close to divesting its bakery division, which includes Holland's Pies and Irish frozen pastry provider Portumna, after reaching a conditional deal with an Irish boutique investment firm.
The poultry giant expects the deal to be formally completed next week (December 6) following "several procedural steps," according to a letter to employees, seen by The Grocer, from group owner Ranjit Singh and chief executive Ronald kers.
The letter revealed that 2 Sisters exchanged contracts for the bakery assets with Arafura Ltd, an Isle of Man-based company and a subsidiary of Ireland-based Innvovest Holdings, which has interests in the manufacture of tissue paper, the production of food and commercial real estate.
"Like our other sales [of non-core assets]we have always been clear that businesses would only be sold at the right time, to the right buyer, for the right price," the letter to the employees said.
"After a long process, we believe that Hollands and Portumna would find a good new home with Arafura Ltd, and it gives both sites maximum potential for future growth."
A separate internal memo from the MD Nigel Church bakery division added: "Innovest Holdings is committed to building on the already strong Holland and Portumna businesses, with plans to support the existing management team to grow the business and diversify into new markets. in the EU and beyond. , while also growing the business in the UK."
2 Sisters hired corporate advisers in 2021 to find a buyer for the bakery division as part of an ongoing secondary asset divestment.
However, the group was unable to close a deal as potential commercial buyers were not interested, and the sale process was dropped in the summer before being revived by interest from Innovest, according to city sources.
"This latest proposed deal underscores the fact that we remain well on track to meet our strategic objectives to focus on our core businesses, improve our operational and financial performance, and deliver on all of our customers," the letter from Singh and Kers said.
"We would like to express our continued gratitude to all colleagues at Hollands and Portumna who have shown nothing but professionalism and dedication in recent times, when we know that speculation about the future of both companies can be unsettling."
A 2 Sisters spokesperson told The Grocer: "We are currently moving forward with a sales process for our Holland's Pies and Portunma pastry businesses with an interested party. We will be able to fully update once we have a result of the transaction process."
Holland's traces its roots to a Lancashire bakery in 1851, and the business moved to its Baxenden bakery near Accrington in 1929, where it now produces over a million pies a week.
Their range of chilled and frozen pies and puddings is available in supermarkets, as well as fish and chip shops and football stadiums.
This week Holland's announced a series of new listings with Tesco in the North West and national deals to expand distribution to include Iceland and Morrisons.
Brand Manager Leanne Holcroft said: "We are proud to have had such success with our national and regional charts in recent months.
"As the country's best-selling frozen tart brand, making our range widely available across the UK is important to us, and we're delighted that even more people can now enjoy a delicious taste of the North West."
Portumna has been manufacturing a range of frozen no-bake pastries for retail and foodservice customers since 1987, working with all the major supermarkets, brands such as Birds Eye and Quorn, and wholesalers such as Booker and Brakes.
Holland's and Portumna are two of the final businesses remaining from the 2 Sisters' £342m takeover of Northern Foods in 2011.
A shakeup began in 2018 as the group sought to rebound from years of losses and a 2017 food safety scandal.
It has already sold Goodfella's, Fox's Biscuits and Christmas pudding maker Matthew Walker in recent years, as well as the red meat division and Manton Wood sandwich business.
If the bakery deal is completed next week, 2 Sisters will take over the core poultry business and ready meals division.
The turnaround under Kers, the former Müller boss who joined in mid-2018, has made big strides, with Boparan Holdings' profitability rising significantly in the 53 weeks to August 1, 2020.
However, rising commodity costs and labor shortages saw the group post operating losses again in the 52 weeks to July 31, 2021. Inflation rose further in 2022 after the start of the conflict in Ukraine.